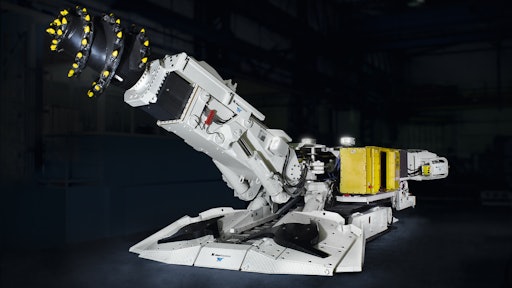 Since the beginning of 2012, Aker Wirth has been providing local contacts for its existing and prospective Russian-speaking customers. The facilities, which are jointly shared with the parent company Aker Solutions, are located in Moscow and are used for customer meetings and telephone-based support. "It is precisely with the Russian-speaking countries where we see a huge market potential, both in mining and in foundation," says Hans Greve, vice president Mining & Construction at Aker Wirth. "The facilities in Moscow are a first step in the intensive promotion of our business in this region."
Aker Wirth provides full service over the whole project from the tender phase to project execution. Experienced specialists realize intensive consultancy - from selecting the right equipment for the individual site conditions, delivery and commissioning of the product and a reliable spare parts service.
Efficient coal mining and tunnelling
Aker Wirth can offer roadheaders in the 50 to 130 ton weight class, which are suitable for rock strengths of up to 150 MPa. "Our roadheaders are 100% 'made in Germany,'" explains Hans Greve, "and this quality, together with our innovative technologies, guarantees our international customers maximum efficiency and high performance, in particular with hard rock."
The latest development from Aker Wirth is the T1.14 roadheader. The machine, with its particularly compact design plus a telescopic boom, has been optimized for coal mining. This ensures high production rates and ground-preserving driving.
New tunnel boring system for improved safety in mining applications
Together with Rio Tinto, one of the largest mining companies in the world, Aker Wirth developed a new and innovative tunnel boring system, which will markedly improve safety and efficiency in underground mining applications.
The tunnel boring system is based on Aker Wirth's innovative MTM technology (Mobile Tunnel Miner) and the experience and competence in underground hard rock mining and tunneling.
Additionally, the company offers technologies for all types of shaft constructions in mining. Pile Top drill rigs for supply and ventilation shafts with diameters of up to 4.5 meters and depths of up to 300 meters, along with L-type rigs for shafts with diameters of up to 8 meters and depths of up to 800 meters, belong to the range of products. Both technologies use the reverse circulation (air-lift) drilling method which sets the standards for cost effectiveness and versatility.