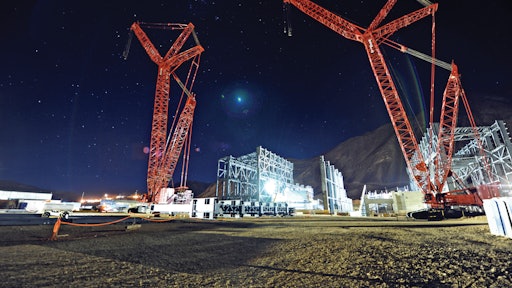 Barrick Gold didn't become the world's largest gold mining company by using inferior equipment. When it came time to assemble a massive fleet of cranes to assist with mining operations in Pascua Lama, the company chose cranes made by Manitowoc.
In all, Barrick is sending several new Manitowoc crawler cranes and Grove rough-terrain cranes to work at Pascua Lama, an especially daunting jobsite. Crane operators will work at extremely high altitudes in an open pit mining project in the Andes Mountains between Chile and Argentina, with temperatures reaching sub-zero levels and work continuing around the clock.
The Grove rough-terrain crane line is ideal for operators working at jobsites with extreme conditions, such as the Pascua Lama mine with its 5,000 m altitude and low temperatures. Many feature a 20 degree tiltable Full Vision cab and ergonomically designed crane controls. On several models, Megaform booms offer greater rigidity than other boom designs, which allow for heavier loads to be lifted.
The Manitowoc crawler crane line features tough, high-capacity cranes that are proven performers on industrial and energy job sites all over the world. Most feature the EPIC control systems, which uses CAN bus technology to offer smooth and precise control. With EPIC, the cranes can boom, hoist and swing at the same time – something that most other crawler cranes can't offer.
On the jobsite, the crawler cranes will be helping in maintaining and expanding the processing plant and other infrastructure. The rough-terrain cranes will offer support to this work and will also be used to maintain the mobile processing equipment at the site, such as the fleet of articulated dump trucks.
The mining project in Pascua Lama began in 2011. The $5 billion jobsite has estimated reserves of 17.9 million ounces of gold, along with 676 million ounces of silver. The mine's first production is anticipated to be in mid-2013.