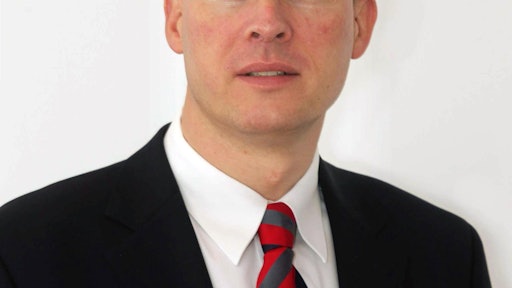 The Timken Company has made several personnel announcements, including the appointment of Andreas Roellgen to the position of vice president of process industries and managing director of Europe. Reporting to Christopher A. Coughlin, group president, Roellgen will lead all global aspects of the process industries business segment and provide leadership for the company's business in Europe.
Coughlin also announced the appointment of Brian J. Ruel to the position of vice president off- highway, light vehicle systems and rail, with responsibility to lead the company's growth in these important market sectors.
Roellgen joined Timken in 1997 in the company's European headquarters in Colmar, France. In 2000, he was transferred to the new business development team in Canton, OH. He returned to Europe in 2003 and held various positions including general manager of warehousing, logistics, replenishment and customer service, and was named director of supply chain Europe in 2007. Roellgen was named to his most recent position of managing director Europe in 2010. He holds a master's degree in mechanical engineering from Technical University of Munich in Germany and a master of business administration degree from INSEAD, France.
Ruel joined Timken in 1984 as a sales engineer. Since then, he has held position in sales management and business development including director of business development for Asia Pacific. He was named director of quality and customer satisfaction in 2004, became global light vehicle systems sales and marketing director in 2008 and, two years later, was named vice president of global light vehicle systems. He most recently served as vice president of rail. Ruel earned a bachelor's degree in mechanical engineering from the University of New Hampshire. He is a graduate of the Executive Development for Global Excellence program at the University of Virginia's Darden School of Business.
Philip D. Fracassa has been appointed to the position of senior vice president of planning and development. In this position, Fracassa leads the company in developing enterprise strategy, including identification and evaluation of growth opportunities. He reports to Glenn Eisenberg, executive vice president of finance and administration for Timken.
Fracassa joined Timken in 2005 as vice president of tax. In 2006, he was promoted to senior vice president of tax and treasury. Since 2010, Fracassa has held the position of senior vice president and controller of the company's Bearings and Power Transmission Group.
Fracassa holds a bachelor's degree in accounting and a juris doctor degree in law from the University of Detroit. Active in community affairs, he currently serves on the boards of the Canton Regional Chamber of Commerce and the Cuyahoga Valley Scenic Railroad.
Other personnel announcements include the appointment of four new leaders within Timken's Bearings and Power Transmission group, reporting to Christopher A. Coughlin, group president:
John W. Beam, vice president for supply chain;
Richard M. Boyer, vice president of manufacturing;
Hans Landin, vice president of business advancement; and
Michael P. Morgan, controller.
Beam joined Timken in 1987, working as an application engineer for several years before moving into the company's bearing operations. He subsequently held numerous positions in bearing manufacturing, ultimately serving as director of automotive operations. He went on to leadership positions in supply chain, most recently holding the position of director of small-bore supply chain and process excellence. Beam holds a bachelor's degree in mechanical engineering from Iowa State University.
Boyer joined Timken in 1984 as an associate engineer and went on to assume engineering positions of increasing responsibility in the company's technology function and manufacturing operations. He held positions in business development, operations and supply chain for the company's Steel segment before assuming his most recent role as director of manufacturing for small-bore tapered roller bearings in 2007. Boyer earned a bachelor's degree in mechanical engineering at The Ohio State University, a master's degree in mechanical engineering from The University of Akron and an MBA from Kent State University. Boyer serves on the Board of Junior Achievement of North Central Ohio.
A native of Gothenburg, Sweden, Landin began his career at Timken in 1996 as an associate sales engineer in the company's Gothenburg sales office. Since then, he has held sales leadership positions in Europe and the U.S. and operations management roles in the U.S. He also served as manager of global market development for bearings and power transmission and director of the company's global rail business. Since 2009, Landin has been director of process industries original equipment and wind energy. Landin earned a master's degree in mechanical engineering from Chalmers University in Sweden.
Morgan joined the company in 2005 as director of financial integration for Project O.N.E., serving as a member of the company's SAP enterprise-wide systems implementation team. He subsequently held finance and marketing positions in the process and mobile industries sectors, was named director of marketing and product management, and then controller for process industries in 2010, the position he held prior to this appointment. He holds a bachelor's degree in economics and political science from Miami University of Ohio and an MBA degree from the University of Notre Dame. He chairs the statistics committees for the American Bearing Manufacturers' Association and the World Bearing Association and is active on the boards of youth sports associations in Ohio.