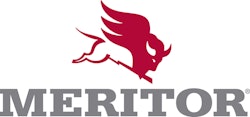 Meritor, Inc. announces that it has revised its reporting structure to drive efficiencies across the corporation. Going forward, the company expects to report future results under two segments: Commercial Truck and Industrial and Aftermarket & Trailer. The company is also announcing executive level changes associated with this action.
Pedro Ferro is appointed Vice President and President of the company's Aftermarket & Trailer segment. In this role, he is responsible for managing all aspects of the company's Aftermarket & Trailer business which supplies axles, brakes, suspension parts and other replacement and remanufactured products to commercial vehicle aftermarket customers in the United States, Canada, Mexico, Europe, South America and Asia Pacific. Through this segment, the company also supplies a wide variety of undercarriage products and systems for trailer applications.
Ferro will also assume responsibility for the company's Corporate Strategy group. He will continue to report directly to Chip McClure, Chairman, CEO and President. Most recently, Ferro was located in Shanghai, China, serving as Vice President and President of the company's Industrial segment. Prior to rejoining Meritor in 2011, Ferro served as President, Commercial Vehicle Undercarriage, for The Marmon Group, a Berkshire Hathaway company. While there, he successfully managed profitable growth strategies for the Commercial Vehicle Undercarriage division that served OE and Aftermarket customers. Ferro will relocate back to Meritor's headquarters in Troy, MI.
Joe Mejaly, formerly Vice President and President, Aftermarket & Trailer, has elected to leave the company. "During his 27 years with the company, Joe led the growth and expansion of the Aftermarket business in North America and around the world," says Chairman, CEO and President Chip McClure. "His contributions are largely responsible for the world class aftermarket distribution network we have today. We thank him for his service and wish him success in his future," says McClure.
Tim Bowes, formerly responsible for the company's Commercial Truck segment is appointed Vice President and President of the company's new Commercial Truck and Industrial segment. Bowes has led the Commercial Truck business since July 2011 after spending three years in China overseeing the Industrial group. Since assuming leadership of the Truck group less than two years ago, Bowes has led significant improvements in optimizing the capacity model for the global Truck group, realigning pricing with the company's value proposition, rationalizing the company's footprint in Europe and managing Meritor's investment in technology and product development for commercial trucks.
Bowes' responsibilities continue to include oversight of the company's drivetrain systems and components, including axles, drivelines, braking and suspension systems, primarily for medium and heavy duty trucks in North America, South America and Europe, and now include the company's Industrial segment that supplies drivetrain systems including axles, brakes, drivelines and suspensions for off-highway, military, construction, bus and coach, fire and emergency, and other industrial applications. This segment also includes the company's business in Asia Pacific. Bowes will continue to report to McClure.