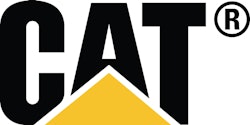 Caterpillar Inc. has announced first-quarter 2015 profit per share of $1.81, an increase from profit per share of $1.44 in the first quarter of 2014. The first quarter of 2015 included a negative impact of $0.05 per share for restructuring costs, compared with $0.17 per share in the first quarter of 2014. Excluding restructuring costs, profit per share was $1.86 in the first quarter of 2015, up from $1.61 per share in the first quarter of 2014.
First-quarter sales and revenues were $12.702 billion, down about 4% from first-quarter 2014 sales and revenues of $13.241 billion.
First-quarter 2015 profit included a pre-tax gain of $120 million, or about $0.14 per share, from the sale of Caterpillar's remaining interest in the company's former third party logistics business. Caterpillar sold a majority interest in the business in 2012, and divested the remaining interest in the first quarter of 2015.
"We delivered solid results for the first quarter of this year, including higher profit than in the first quarter of 2014. Our focus on operational improvement, including lean manufacturing and cost management, is helping in what is a tough time for some of our important cyclical businesses. We continue to execute on improving safety, quality, inventory turns, delivery performance and market position," says Caterpillar Chairman and Chief Executive Officer Doug Oberhelman.
"The first quarter wasn't without challenges. Sales and revenues were off about 4% from the first quarter of last year, mining remained weak and construction was down in most regions. On the plus side, Energy & Transportation turned in another great quarter, although we don't expect this to continue due to the oil-related portion of the business," adds Oberhelman.
The balance sheet remained strong in the first quarter and Machinery, Energy & Transportation (ME&T)operating cash flow was more than $1 billion. Consistent with Caterpillar's priorities for cash deployment, it repurchased $400 million of common stock in the first quarter of 2015 under the $10 billion repurchase authorization that was approved by the board in 2014. Given its expectations for cash flow and capital expenditures in 2015, the company currently expects to continue to repurchase stock this year. However, the stock repurchase plans are always subject to the company's cash deployment priorities and can change based on business and market conditions.
2015 Outlook
The 2015 outlook for sales and revenues remains unchanged at about $50 billion. However, the outlook for profit per share has improved slightly. We now expect that profit per share will be $4.70, or $5.00 per share excluding restructuring costs. The previous outlook for profit per share was $4.60, or $4.75 excluding restructuring costs. The expectation for restructuring costs is now about $250 million, $100 million higher than the previous outlook with the increase primarily related to facilities that produce mining products.
"We had a solid first quarter, which led to raising the profit outlook for 2015. However, we continue to face headwinds and uncertainty in 2015, and our outlook for the year reflects that. We expect sales and profit in each of the remaining three quarters of 2015 to be lower than the first quarter. We expect sales for oil applications to decline starting in the second quarter, and from a profit perspective, the first quarter included the gain on the sale of our remaining interest in the logistics business and that won't repeat. The first quarter is usually the most seasonally favorable of the year for costs, and we don't expect the rest of the year to be as favorable. In addition, we expect some increase in research and development expense as we go through the year," Oberhelman says.
"We're working to improve what we can control so that when our cyclical businesses recover, we will be ready to respond quickly, benefiting our company, our customers and our stockholders," Oberhelman says.