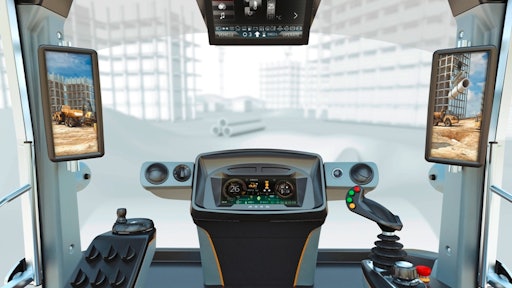 Continental
"A well-designed Human Machine Interface (HMI) system provides more than just control functions and basic information," says John J. Pannone, Vice President, HMI Systems/Key Customer Management, EAO North America. "The task of an HMI system is to make the function of a technology self-evident to the equipment operator."
As the HMI system is a key element of enabling an operator to control a machine and keep informed of performance data, it must be intuitive and easy to use, allowing the operator to perform necessary functions with minimal effort. "Ergonomics and intuitive design have a significant impact on the overall usability, efficiency and effectiveness of operator controls," says Pannone.
Because of this, HMI component manufacturers like EAO are continually evolving their product designs to ensure comfort, ease of use and intuitiveness.
Creating an ergonomic operator experience
After attending CONEXPO-CON/AGG 2017, EAO reported a more noticeable shift in the heavy equipment industry of a higher value being placed on ergonomics within the operator cab. One of the reasons for this is the amount of information now available to operators due to increased data collection from various machine systems. "With such an array of diagnostics available, ergonomic design is essential to the success of an HMI system," says Pannone. "Similar functions must be grouped together with the most important information easily accessible and visible by the operator."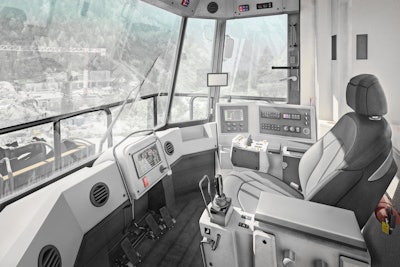 He says a blend of design and layout considerations—such as contemporary styles and colors—combined with smooth, tactile haptics can be used to create the optimal operator experience. "HMI style considerations are effective when they create a level of product differentiation that delivers a unique selling proposition without impeding overall functionality," says Pannone.
Visual, auditory and tactile feedback—or a combination of the three—can all help to create a more appealing system. Additionally, Pannone says illumination of multicolored LEDs, switches, on-screen information, as well as flashing lights or icons can be used to provide important feedback to a machine operator. Using these techniques also helps to distinguish various functions, and thus eases machine control.
Pannone says EAO works directly with customers to create intuitive and ergonomic HMI systems. "Our products and systems are designed to invoke seamless interaction between the end user and heavy-duty equipment."
Mark Smith, Business Development Manager at GS Global Resources, says many of the company's customers are looking to remove components from the machine to achieve a more ergonomic, intuitive design, and use those that remain more effectively. Instead of four or five different controls and displays, he says customers want a single HMI device for the radio, camera, engine information, and climate control.
GS Global Resources offers configurable displays which aid this desire for fewer screens within the operator compartment such as its new MD4 Bezel and Mount. It can be programmed to display and control many different components on a machine such as the HVAC system, radio and load management. Multicolored bezels enable navigation through the various display pages, even when the operator is wearing gloves or the machine is traveling over rough terrain and use of the touchscreen is not possible.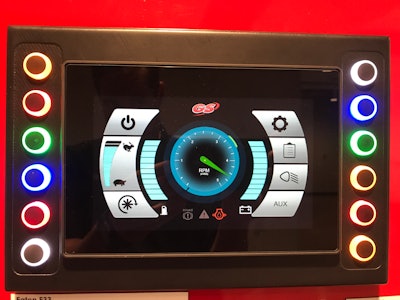 The company has also created Bluetooth modules and software that allow the machine to connect to a smartphone for diagnostics and error or event logs. Smith says this allows service personnel and operators to not only get more information from the machine, but also share that with the OEM to help track performance. "This can even allow for a real-time connection of the machine to view diagnostic and performance information while the equipment is in use," he says.
"Technology advances are driving every industry to think differently. The Internet of Things, smartphones, auto infotainment systems, and much more are forcing mobile equipment manufacturers to catch up," says Smith. "Small- and mid-sized OEMs competing with global equipment manufacturers stand to gain the most by thinking differently about cab assemblies as a whole and HMI, which is part of ensuring fluid cab design meets with proven technology integration."
As an engineering company and system integrator, GS Global Resources will work directly with an OEM to create an HMI system and overall cab design. Earlier this year the company released a case study of how it had worked with mobile crane manufacturer Broderson Manufacturing Corp. to design a Configurable Cab Solution. Ergonomic and intuitive elements incorporated into the cab design included adjustable joystick pods, a light bar for displaying load on the boom and switch panels with clear markings. Gloved operation of all machine controls was also made possible to further aid ease of use.
"Mobile equipment manufacturers have an opportunity to lower costs by requiring suppliers to assemble, integrate and test cabs," says Smith. "This ensures machines are fully operational, and cabs [are] integrated and manufactured to specifications upon delivery.
"A first step toward evolving how cabs are designed, configured, and manufactured requires fewer suppliers who take more responsibility and offer more flexibility to streamline OEMs' entire value chain," he continues. "To produce more end-user value, OEMs must extend integration beyond the cab to the entire machine, with the ability to customize it to a particular industry and equipment type."
Automotive elements head off-road
During CONEXPO-CON/AGG, Continental exhibited a vehicle cab equipped with its newest technologies to demonstrate the future trends it sees in the heavy equipment market. Many of these technologies come from, or were inspired by, the automotive industry. One such technology is a larger display on the dash on which several operating characteristics can be displayed.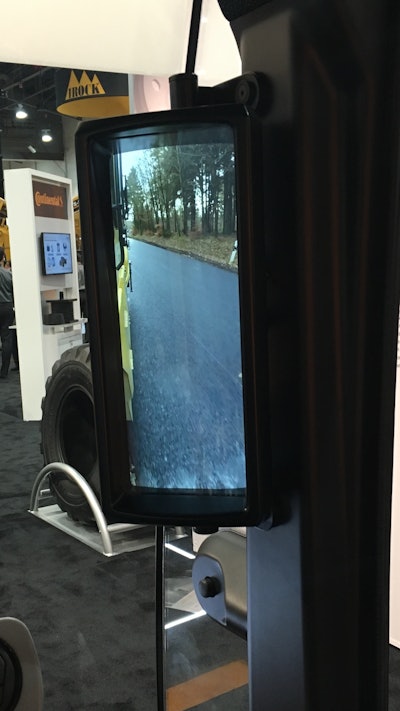 Increasing use of safety systems on heavy machinery is also part of the automotive industry's influence. The Continental cab demonstrated this through the inclusion of its ProViu ASL360 camera system combined with its ProViu Mirror which is designed to replace exterior mirrors. Instead, displays within the cab on the right and left side of the operator are used to provide visibility via the camera system. These digital mirrors provide an increased area of view as they are able to capture more of the work site than a traditional mirror. In addition, they are more accurate as they provide a high definition picture of the surrounding area.
Read more about camera systems replacing exterior mirrors in the article "Mirrorless Vehicles are Closer Than They Appear."
Also leading the push toward more automotive styling has been the increased electrification and use of computer systems within heavy-duty equipment, says Pannone. Both the automotive and heavy-duty industries have experienced this—due in part to the implementation of emissions regulations and the need to use more sophisticated technology to ensure compliance—leading to the use of cross-functional interface devices such as touchscreens and monitors, as well as multi-functional push buttons, joysticks and rotary controllers. "This progression has been evolving within the automotive market with varied degrees of success," he says. "It was not long ago that some within the industry attempted a completely touch-based interface – which was met with negative reviews."
Neither market he says has shifted completely back to the use of hard-wired, high-power switches such as pushbuttons and rockers but instead have adopted a mixed-technology blend. This approach serves the need for intuitive, ergonomic designs as colors, graphics, illumination and control types can all be customized to provide multifunctionality within one unit. Mixed technologies differentiate functions, he says, to help increase operator usability as well as control overall production costs for the OEM. "Additionally, the flexibility of this approach offers a competitive advantage to the customer and helps consolidate controls.
"Unlike the past, HMI is now considered to be a critical element of the design process," says Pannone. "It often serves as the focal point of intuitive use and can ultimately determine the equipment's success or failure in terms of usability. HMI is the core control between man and machine."
Companies in this article