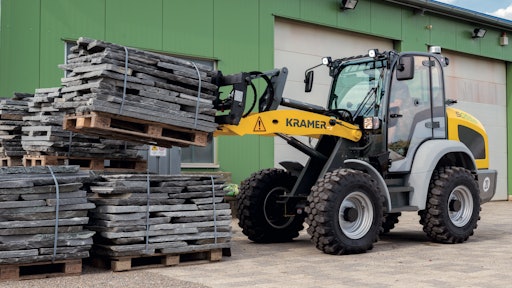 Kramer-Werke GmbH
As electrification technology continues to advance, so does the range of machine types to which it's applied. Electrically-powered wheel loaders are among some of the more recent machine introductions.
During this year's INTERMAT, Wacker Neuson exhibited two electric wheel loaders, the Kramer 5055e and the Wacker Neuson WL20e. Both machines are part of the company's range of emissions-free equipment and are capable of working up to 8 hours on a single charge, depending on the application. The company had the machines operating within an indoor demo area, demonstrating one of their many benefits—the machines' ability to be used inside buildings as they produce no emissions. This not only helps increase the applications and environments in which the machines can be used, but also ensures health and safety of those working around the machines.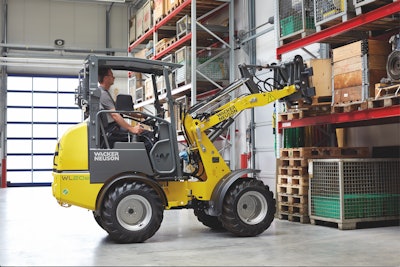 The lack of emissions will be an increasingly more important aspect as more cities begin implementing stricter emissions regulations and designating Low Emission Zones (LEZ). Read about Volvo Construction Equipment's take on the impact of LEZ on the construction industry.
Stefanie Wieland, Head of Group Brand, Marketing & Communication at Wacker Neuson SE, says there are some areas, especially in Europe, in which vehicles with a combustion engine are completely prohibited. Because of this, the availability of electrically powered equipment is important.
In addition, the noise levels of electrically-powered wheel loaders and other equipment is greatly reduced, enabling their use in residential areas or near livestock, further increasing the applications in which they can be used.
Reducing noise and emissions were major factors for Wacker Neuson's development of its electric wheel loaders—which Wieland says will soon be available in the U.S.—as well as its entire range of zero-emission electric machinery.
Electric wheel loader designs
Wieland says the concept for the WL20e and 5055e electric wheel loaders is based on time-tested large-scale technology used in material handling equipment. The company has chosen to use absorbent glass mat (AGM) battery technology, common in forklifts. It is a closed and maintenance-free lead-acid battery system especially developed for high-demand applications. In addition, Wieland says the weight of the battery provides the benefit of also being used as counterweight.
An integrated onboard charging unit for the battery means customers are not required to have fixed charging stations on site. Instead, users can plug the machine into an outlet and recharge the battery whenever necessary. "This offers maximum flexibility at every site of [use]," says Wieland.
The battery drives two electric motors on the wheel loaders—one for the drive system and one for the working hydraulics. According to Wacker Neuson, power is automatically provided by the respective motor which helps to minimize energy consumption. Wieland says designing the wheel loaders in this manner ensures low operating costs and excellent battery run times.
With an electric motor built into the drive system, high performance and tractive force can be achieved. Meanwhile, the motor for the hydraulics system delivers only the amount of power required for the application at hand, reducing unnecessary power draw. "These motors are particularly energy efficient with degrees of efficiency from 94-97%," says Wieland.
Efficiency is an important aspect of electric equipment so as not to deter customers from purchasing such machines. Last year Volvo Construction Equipment (Volvo CE) presented field test results for its LX1 prototype electric hybrid wheel loader which showed an average fuel efficiency improvement of 50%.
The LX1 is a series hybrid machine featuring electric drive motors mounted on the wheels, electric driven hydraulics, a smaller diesel engine, and battery energy storage system. According to Volvo CE, using this combination of technologies enables the significant fuel efficiency increase.
While still just a prototype, and no concrete plans to bring the machine to market, the LX1 provides a demonstration of potential capabilities for the future. "Volvo CE has long-term plans to develop products and services for electromobility, including electric hybrids and electric sites," said Scott Young, Electromobility Director at Volvo CE in the press release announcing the field test results. "Although we believe that there will be a major shift towards electric hybrid technology in the future, our customers, quite rightly, want improved efficiency now. This requires a balance in our development activities. Therefore, we are also optimizing more conventional technologies and soft offers which will compete with hybrid technology for some years. Before we launch a machine like the LX1, you can expect to see elements of this design incorporated into our products. This supports short and mid-term developments and requirements while the market continues to accept hybrid technology, technology improves and the cost of new technologies decreases."
Read more about Volvo CE's electric work site.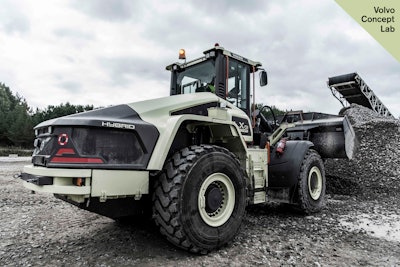 During GIE+EXPO 2017, Avant Tecno introduced its e5 fully-electric battery powered articulated loader. The e5 features a 240Ah (11.5 kWh) lead acid battery and two electric motors—a 6 kW motor for driving the machine and a 2 kW motor for loader boom operation as well as auxiliary hydraulics.
Similar to the Wacker Neuson wheel loaders, the e5 features an integrated battery charger to recharge the battery anywhere a 230V/10A power outlet is available. Operators can also continue using the machine while it's plugged in and charging. The battery is fully charged in approximately 5 hours, but is capable of reaching 80% capacity in 3 hours, says the company.
Also like the Wacker Neuson machines, the e5 does not produce any emissions, and can be used indoors or outdoors. It offers reduced noise and lower operating costs, as well, as fuel is no longer needed to operate the machine and the electronic componentry used has less wear.
Avant Tecno also offers the e6 battery powered loader as part of its eSeries line of fully-electric loaders which uses a 288 Ah (14.5 kWh) lithium-ion battery. For the e6, customers have the option of a 400V/16A or 400V/32A rapid battery charger. The company says the rapid charger considerably reduces charging time of the battery compared to the built-in charger on the e5; a 100% charge can be achieved within 1 hour.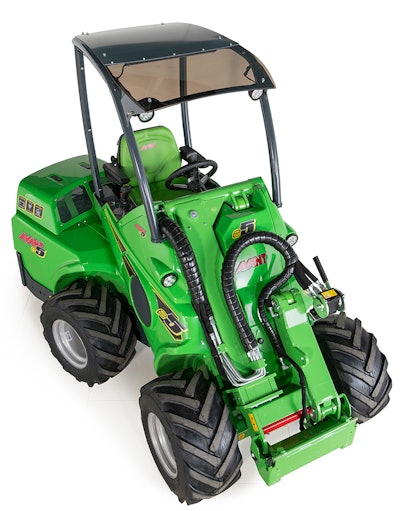 Both eSeries wheel loaders include the Avant Tecno Optidrive drive circuit which improves the performance of the machines by as much as 10%. The typical drive system in the company's loaders consists of a variable displacement hydraulic pump, four hydraulic drive motors—one on each wheel of the loader—and a combination of hydraulic valves, hoses and fittings. Hydraulic oil is used to provide drive power from the machine's 6 kW electric motor to the four hydraulic drive motors. According to the company, this system offers a lot of pushing power, and a compact design while maintaining a low center of gravity.
Optidrive is the updated version of this drive system, featuring fewer hydraulic hoses and fittings to reduce the amount of heat generated when hydraulic oil flows through it, and thus reduce fuel consumption and power draw from other componentry. Avant Tecno says there are 20% fewer hoses and 60% fewer fittings.
Reducing the number of hydraulic components enables Optidrive to reduce power loss by up to 1.5 kW, roughly 10% of the total power used in the drive circuit. It also helps improve maintenance as there are fewer components that may need fixing or which could prohibit accessibility to other parts of the machine.
Emissions reduction and improved efficiency will continue to be key drivers for equipment design for years to come. With more manufacturers applying electrification technologies to more types of equipment, there will be more options available for end users to get their work done while complying with evolving environmental requirements.
Companies in this article