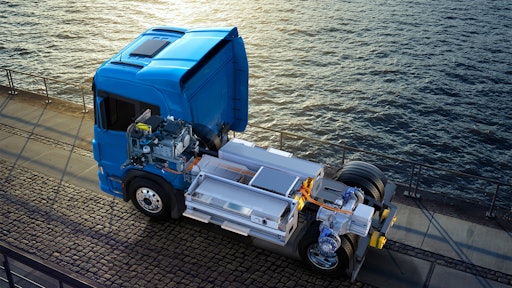 Danfoss Editron
Industry partnerships are nothing new in the heavy-duty equipment design industry. However, their prevalence has seemed to grow in recent years particularly as development efforts for electrification have progressed.
In late 2020, Daimler and Volvo Group announced they would work together on a joint venture aimed at advancing development of fuel cells for heavy-duty on-highway vehicles. Both companies have been actively working in the electrification space and will be able to bring together years of experience.
When it comes to electrification of mobile applications, there are a variety of technologies coming together and no single company can master and integrate those technologies in order to provide customers an optimized solution, says Kimmo Rauma, Vice President of Danfoss Power Solutions.
Because of this, company collaborations are becoming increasingly important to help advance new technology. Companies which collaborate with one another can bring their individual expertise to a project. Rauma says each company's engineering team can focus on designing the components it already knows best; then the teams can work closely together to bring their technologies into a single, cohesive system that will meet customer requirements.
Creating optimized solutions
Danfoss Editron—a business division of Danfoss Power Solutions—announced in April 2021 it was partnering with Meritor Inc. and Electra Commercial Vehicles to form the Meritor-led Electric Powertrain Integration for Heavy Commercial Vehicles (EPIC) consortium. The consortium's goal is to develop advanced electric powertrains.
Each company will bring its own industry expertise to the project. Danfoss Editron, for instance, will bring its knowledge developing electric motors and inverters. According to Rauma, the company will be looking at how it can increase power density further through adjustments to the mechanics, cooling and total system package.
He says Danfoss Editron will work together with Meritor and Electra to create an e-axle package which uses less materials to provide a more optimized solution in terms of cost and performance.
Ensuring a high level of efficiency and performance is a key aspect of the project, as well. To achieve this, Rauma says new technologies for the motor and power electronics used for the controller will be necessary. "We want to introduce a silicon carbide design so that we have the most sophisticated control methods in this application area."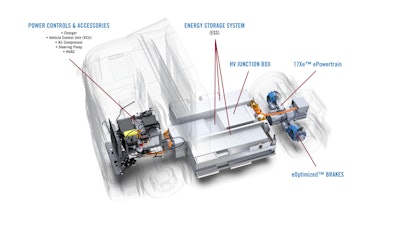 When developing these types of systems, Rauma says companies can optimize the components individually or look at the whole picture and optimize all the components as a single unit to get the best solution package. "Our target with Meritor is to be close partners so we can optimize the package in a way that the competition cannot match us," he says.
"The cooperation really brings all the key understandings of these companies together so that we can make an optimal solution for the end customer," he adds.
Rauma says the partnership with Meritor is a very close one "because otherwise we are not able to meet the timetables and the technology targets that we have put ourselves against." The companies don't want to create technology that is already available in the market, but instead bring something new to the industry.
"The engineering teams are working more or less as one, sharing information and trying to find out the methods that [enable] the next steps of what is available or possible," says Rauma.
Partnership can expand application uses
In January 2021, Proterra announced it was collaborating with Komatsu on the development of a battery-electric hydraulic excavator which Komatsu expects to begin commercial production on in 2023-2024. Proterra will be providing its battery technology.
This is the first off-highway equipment project for Proterra which is probably best known for its electric buses. However, its Proterra Powered business offers battery packs for use in other OEMs' vehicles and equipment. Claire McConnell, Vice President of Proterra Powered, says the company's battery systems are now utilized in everything from its own transit buses to school buses and delivery vehicles.
"One of the segments that we've actually been most excited about and believe is especially right for electrification is construction equipment," says McConnell. "It's a major contributor to air pollution, especially in our cities and neighborhoods where most construction projects are located."
She says Proterra is very flexible in how it works with OEM partners and that it is able to bring its full electrification expertise to partnerships like the one with Komatsu.
Proterra's battery technology platform is flexible, as well, which enables it to easily be customized to various applications. McConnell notes the battery platform offers a high level of energy density and ruggedized housing to withstand use in harsh operating environments.
"Packaging flexibility helps enable optimal placement of the Proterra batteries within the Komatsu electric excavator and actually replaces the need for a normal counterweight used to balance the excavator's hydraulic arm movements," she explains.
Additionally, she says Proterra designs its battery packs for commercial vehicles from the ground up, which enables it to ensure they provide the durability and safety required in heavy-duty applications.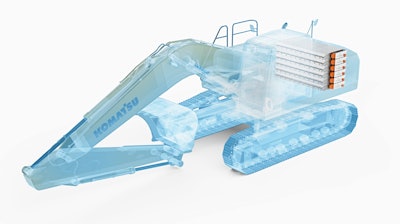 Ensuring good electric design
ABB announced in March 2021 it will work together with Hitachi Construction Machinery to create solutions which reduce emissions in mining applications, including through electrification of mining equipment. ABB will bring its electrification, automation and digital solutions to the project while Hitachi will provide its expertise in developing heavy equipment.
According to ABB's press release announcing the partnership, it is looking to further develop OEM collaborations like this to help accelerate the transition to all-electric mines. "ABB is calling for more collaboration between OEMs and technology companies to fast-track the development of new emissions-reducing systems with electrification and automation of the whole mining operation the goal. We are ready to work more with OEMs to establish a common approach for the market, and through strategic collaboration provide solutions that can help enable a low-carbon society and make mining operations more responsible," said Joachim Braun, Division President, Process Industries, ABB, in the company's press release. "New emissions-reducing technologies can transform the energy-intensive mining industry to achieve an even more productive, but also sustainable future."
"Nobody can achieve this transformation alone. Co-creation of solutions with OEMs and mining companies is needed to successfully integrate electrification in mines," said Max Luedtke, ABB's Global Head of Mining.
Many OEMs looking to electrify their equipment or vehicles do not necessarily have the expertise in-house, particularly smaller OEMs, making partnerships with technology suppliers vital.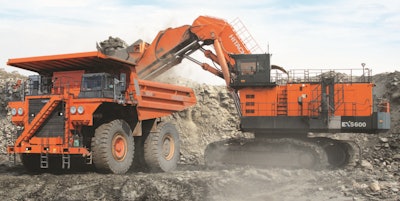 "We've learned a lot of lessons not only in the development process for commercial electric vehicles, but also how to ultimately bring them to market and we can share that knowledge and those learnings with our partners," says McConnell.
Rauma says the electrification space is booming at the moment, and everyone is hurrying to the market. Because of this, some solutions may not be as thoughtfully done. With industry collaborations and projects like EPIC, the electrification technology can be more thoroughly tested. Industry partnerships enable the development of technology that can feasibly be utilized in a full system integration.
He notes there are likely only a few companies in the world that have the resources and capabilities to develop a complete electrification package themselves. For everyone else, it is important to have good partners that can be trusted.
While these kinds of partnerships can be scary for some companies who have been solely focusing on their own technology for decades, Rauma says electrification is bringing together a variety of components and technologies, necessitating industry collaboration.
It is the first time in 20 or 30 years where everyone is working on the same thing—electrification. "Everybody needs to be part of it. And at the same time, no one can handle it all," says Rauma. "So you need to find partners, whereas you didn't need them before.
"The whole market has changed; it is a super exciting area to be in," he concludes.
Listen to our podcast interview with Kimmo Rauma to hear more about the benefits of collaboration and the EPIC project.
Companies in this article