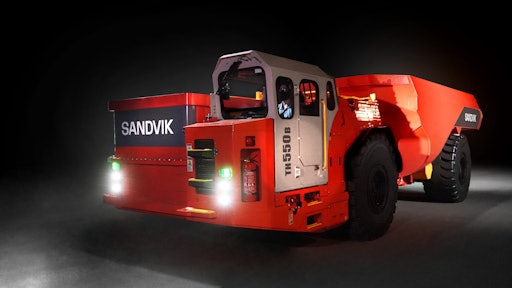 Sandvik
OEM Industry News Briefs provides a weekly round up of the latest news and company announcements you may have missed in the heavy equipment engineering and manufacturing industries.
NFPA announces details for 2022 executive leadership cohort
The National Fluid Power Association (NFPA) has announced registration is open for its 2022/24 Executive Leadership Program which is coordinated in conjunction with the Kellogg School of Management at Northwestern University.
NFPA's cohort consists of six full-day in-person sessions (health standards allowing) combined with seven virtual sessions. These sessions are focused on concept applications and networking over a total of 24 months. NFPA says the program is designed to provide a fluid power industry-specific experience that accelerates leadership and fosters long-term connections. Hard and soft skills are focused on to help those in the program be more successful.
Topics for the 2022/24 program include:
VS1 (Virtual Session One) - The Executive Leadership Journey Ahead - July 2022
IPS1 (In–person Session One) - Executive Foundations– August 15, 2022
VS2 – Session 1 Review/Preview Session 2 – November 2022
IPS2 - Strategy & Execution – February 13, 2023
VS3 - Session 2 Review/Preview Session 3 – April 2023
IPS3 - Negotiating with Excellence – May 2023
VS4 - Session 3 Review/Preview Session 4 – July 2023
IPS4 - Presentations with Presence – August 14, 2023
VS5 - Session 4 Review/Preview Session 5 – November 2023
IPS5 - Leading Under Pressure – February 25, 2024
VS6 - Session 5 Review/Preview Session 6 – April 2024
IPS6 - Cultivating Culture, Values, and Virtues – May 2024
VS7 – Summary - What We Learned from the Program – How We Will Use It – July 2024
Further details about the program, topics and instructors can be found on the NFPA's website under the Membership tab.
Proterra opening battery system manufacturing facility
Proterra Inc. plans to open a new electric vehicle battery system manufacturing plant in South Carolina. At this facility the company will produce battery systems for its Proterra Powered brand which provides batteries for various types of commercial electric vehicles.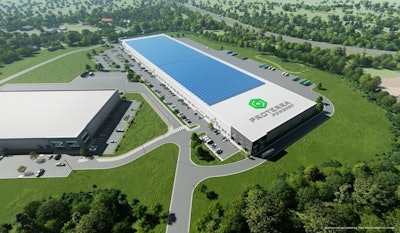 The company will make an initial investment of at $76 million in the new manufacturing facility, and additional investments in the coming years. Proterra plans to open the 327,000 sq. ft. plant in the second half of 2022 with additional production capacity anticipated by 2025. In addition to batteries it will produce ancillary systems necessary for proper operation of electric vehicles. The new facility will be located near Proterra's electric bus manufacturing facility in Greenville, SC which will aid logistics for its own needs as well as that of customers in the region.
DEUTZ completes acquisition deal with Blue World Technologies
As part of its efforts to expand its alternative powertrain options, DEUTZ has completed the due diligence necessary to purchase the first of two tranches of fuel cell manufacturer Blue World Technologies. Purchase of the second tranche is expected in the first half of 2022 the company says in its press release announcing the acquisition.
A total of €7.5 million will be invested to take an 11.91% stake in the company, says DEUTZ.
"The investment in Blue World Technologies, is a perfect fit for our sustainable growth strategy," says DEUTZ's CEO, Dr. Frank Hiller in the company's press release.
Investment from DEUTZ will allow Blue World Technologies to set up further automated handling processes throughout production over the course of 2022 to help increase its production capacity.
Danfoss Editron names new VP of On-Highway business
The Danfoss Editron division has announced Eric Azeroual as the new Vice President, On-Highway. In this position he will lead the company's On-Highway business unit; he will have responsibility for sales, delivery of customer programs and oversight of electric powertrain development.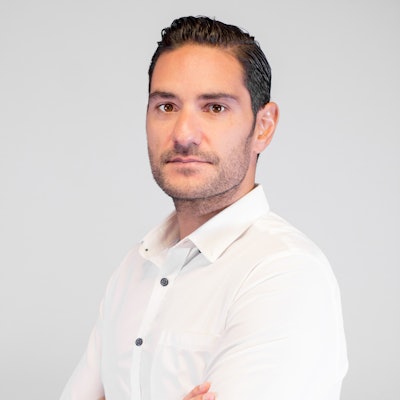 Azeroual is succeeding Thorsten Boger and brings two decades of experience to the business. Danfoss says in its press release announcing the appointment that Azeroual is an experienced executive in the electric automotive industry with specialization in automotive engineering, electrical motors and inverters. He joined the company in 2021, and previously worked at Dana Inc. where he was in charge of Dana's electric component business.
"I see an endless array of possibilities for Danfoss' Editron division in the electrification of the on-highway sector, where we can see a growing demand for high-power electric drivetrains. There is a tremendous opportunity for Danfoss across the commercial vehicle space, with more OEMs demanding electrification solutions than ever before. Electrification is truly here to stay and will be the dominant trend in the on-highway industry for years to come," said Azeroual in Danfoss' press release.
Vanguard brings battery technology to Scott Industrial
Briggs & Stratton is partnering with Scott Industrial Systems—a full line fluid power distributor offering expertise in hydraulics, pneumatics and electronic control systems—which will employ the Vanguard Commercial Lithium-Ion Battery Pack as part of a completely engineered e-drive solution.
"By partnering with Vanguard to offer the Commercial Lithium-Ion Battery Pack, it allows Scott as a fluid power distributor to maximize our software and controls solution. It also expands our technology offerings with a new capability in electric power," said Kevin Smith, vice president of sales at Scott Industrial, in Briggs & Stratton's press release announcing the partnership. "With electric power, we can now provide a whole system solution to help our customers meet sustainability goals by migrating conventional fuel to electric."
"We look forward to collaborating with Scott and being a resource for them as they utilize our battery lineup to create new, customized solutions for OEMs of mobile and stationary equipment," said Chris Davison, Briggs & Stratton senior marketing manager, commercial power, in the company's press release.
CNH completes 90% stock purchase of Sampierana
CNH Industrial has completed yet another acquisition. As previously announced, the company had agreed to purchase 90% of the capital stock of Italian earthmoving manufacturer Sampierana S.p.A.
CNH announces it has completed the stock purchase, and plans to acquire the remaining 10% over the next 4 years.
According to the company, this acquisition will help it to further grow its construction equipment business, particularly in Europe where the Sampierana brand is well known.
Sandvik testing battery-electric mining equipment in underground mine
Sandvik will test its TH550B battery-electric truck and LH518B battery-electric loader in LKAB's underground iron ore mine in northern Sweden. The two companies will test the vehicles over a 12-month period as part of LKAB's efforts to make underground mining more sustainable.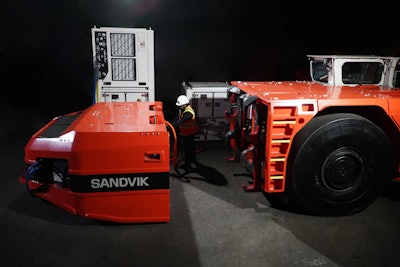 "With no exhaust emissions, less heat, fewer vibrations and lower noise levels, electric motors improve underground conditions and operator comfort while considerably reducing ventilation requirements," said Andreas Östdahl, Key Account Manager at Sandvik Mining and Rock Solutions, in the company's press release announcing the testing project. "Our BEVs (battery-electric vehicles) provide even more freedom and flexibility than our well-proven cable-electric equipment, and we're proud to support LKAB's mission to implement pioneering technology and mine more sustainably."
LKAB expects its Kiruna mine, where the electric mining equipment is undergoing testing, to exceed depths of 2,000 m (6,561.7 ft.) by 2030. As such, it is looking to implement smart solutions to be more sustainable while mining at such depths. Use of the battery-electric equipment will help to reduce emissions, improving safety for workers.
Per Sandvik's press release, the TH550B 50-tonne truck and LH518B 18-tonne loader have been designed from the ground up entirely around their battery systems and electric drivelines to fully leverage the battery system possibilities. Both the loader and truck feature Sandvik's patented self-swapping battery system, including the AutoSwap and AutoConnect functions, improving equipment availability and safety. Sandvik offers the industry's fastest BEV "pit stop," enabling its equipment to return to operation significantly sooner than 'fast-charge' mining BEVs. In less than six minutes, the equipment disconnects and puts down a depleted battery, trams to pick up a new one and automatically connects while the operator controls the swapping without leaving the equipment cabin, all without need for overhead cranes, forklifts or major changes to mine infrastructure.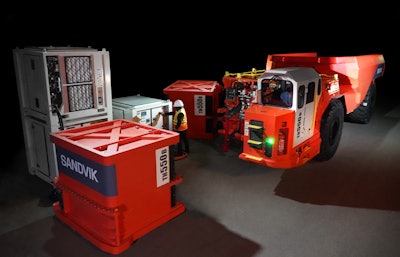 Companies in this article