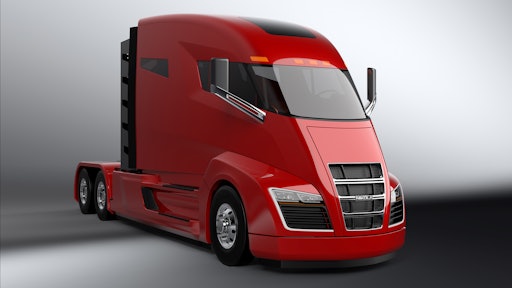 Nikola Motor Co.
Automakers Tesla Motors and Toyota Motor North America (TMNA) recently announced they will be bring their technology expertise to the commercial vehicle market.
On April 13, Tesla founder Elon Musk announced on Twitter the company will unveil its Tesla Semi truck in September.
Details of the truck are still under wraps, but according to the "Master Plan, Part Deux" he released last year, it will reduce the cost of cargo transport while increasing safety. In addition to the semi, the master plan noted the development of an electric city bus and a pickup truck.
Toyota, meanwhile, announced on April 19 its new "Project Portal" in which it will test the use of hydrogen fuel cells to power a Class 8 truck at the Port of Los Angeles. The zero-emission truck will be powered by two of Toyota's Mirai fuel cell stacks and a 12 kWh battery which will produce 670 hp and 1,325 lbs.-ft. of torque. The concept vehicle's gross combined weight capacity is 80,000 lbs. and has an estimated driving range over 200 miles under normal port drayage operation.
Toyota's concept truck operates on two Mirai fuel cell stacks and a 12 kWh battery.Toyota Motor North America
Bob Carter, Executive Vice President of TMNA, said in a press release announcing the project that Toyota believes hydrogen fuel cell technology has potential to become the powertrain of the future. Project Portal is one of several projects the company has involving fuel cell technology. In addition, it is working to expand hydrogen refueling stations in California—which is continually working improve air quality—and recently announced a partnership with Shell to do so.
While better known names, Tesla and Toyota are not the first to venture into the world of alternatively fueled trucks. They join the growing ranks of companies who have already started developing and testing those which operate on electric and other alternative power sources.
Nikola Motor Co., is one of the most recent to unveil a fully-electric truck, the Nikola One. In the U.S. and Canada, the truck will be powered by a custom hydrogen-electric 800V fuel cell which provides a range of over 1,200 miles and can be recharged in about 15 minutes. For other markets where hydrogen is not readily available the company has developed a CNG turbine version.
Read more about the Nikola One in the article "Electrification Enables a Re-Evaluation of the Class 8 Truck Design."
"Imagine what this could do for the air in every city in America. We knew our emissions would be low, but to have the ability to achieve true zero emissions is revolutionary for the worldwide trucking industry," said Nikola founder and CEO Trevor Milton in a press release announcing the Nikola One achieved 100% zero emissions.
While passenger cars and city buses tend to be the better-known electric vehicle applications by the general public, its use in the heavy-duty truck market could provide big benefits toward emissions reduction. Figures from the U.S. Dept. of Energy (DOE) show Class 8 trucks use more than 20% of the fuel consumed in the U.S. and haul approximately 69% of all freight tonnage; additionally, Environmental Protection Agency data (EPA) says these vehicles account for about 20% of greenhouse gas (GHG) emissions.
With such a large impact on fuel use and emissions output, it's no wonder many OEMs are looking to develop vehicles operating on more sustainable means of energy. Plus, many consumers and governments are looking to be more environmentally conscious, further driving the push toward more commercially available alternative energy vehicles.
Of course there is still skepticism about the feasibility of electric trucks, particularly when it comes to range and charging time. Long-haul trucks typically operate close to 500 or more miles a day, requiring a very large battery—which would potentially mitigate some of the weight reduction and thus fuel-saving advantages of going electric. This is why the Nikola One pairs a hydrogen fuel cell with electric motors and battery pack to provide the extended range necessary for long-haul operations.
The Mercedes-Benz Urban eTruck.Mercedes-Benz
It's also why thus far, most demonstration electric trucks have been operating over shorter routes, such has regional distribution or port applications. Like a city bus, these vehicles typically have a designated route and return to a depot where there is a charging station.
For long-haul applications, the lack of charging infrastructure is a concern. While it has grown in recent years, there is still a long way to go if electrification is the route the industry wants to take. Tesla and Nikola Motor Co. are both working to expand that infrastructure, so only time will tell how that will continue to progress.
The real question is, will the fact companies such as Tesla and Toyota—who've had success with vehicle electrification on the passenger car side—have joined the commercial vehicle space, will that have any sort of effect on the industry? it push the industry to full vehicle electrification, or have other impacts?
Established brands such as Volvo, Mack and Daimler have all been investigating alternative energy sources for heavy-duty trucks for some time now, including electrification. But now that name like Tesla has entered the game, will that push the industry more toward full-vehicle electrification? Will it be beneficial to the industry or harmful?
Obviously there's no one, easy answer to this, and only time will tell, but it'll be interesting to see how—if at all—these new additions will impact the industry?
What are your thoughts? Do you think a company like Tesla entering the commercial vehicle space will be beneficial or harmful? Is full-vehicle electrification for long-haul trucking even feasible? Let us know!
Want to read more?
Interested learning about other work being done within the industry to develop alternatively powered commercial vehicles? Check out the below news and articles, or visit our Trends channel to view the latest industry topics regarding Electrification, Emissions, Hybrids and more.
Volvo partners with Oberon Fuels to develop heavy-duty trucks operating on dimethyl ether (DME)
Mercedes-Benz Trucks Brings Electric Heavy-Duty Truck to Market
Mack Trucks and Oberon Begin Customer Demonstration of DME
The DOE's SuperTruck program, established in 2010, has challenged the industry with developing a 50% more efficient Class 8 truck. Read our articles about the challenge—technologies being developed, how the teams faired at the end of the challenge, and what the SuperTruck II program will challenge the industry to achieve.
The Volvo Trucks SuperTruck design.Volvo Trucks
It's a bird…it's a plane…it's SuperTruck
SuperTruck rides towards completion
Companies in this article