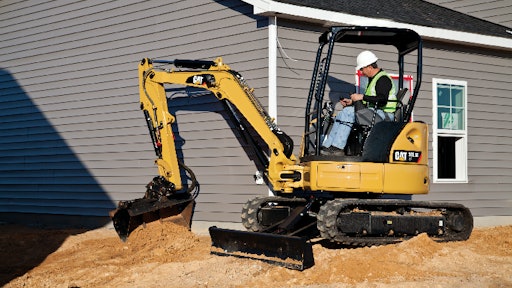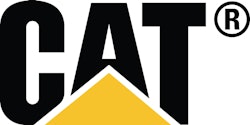 The five new compact-radius Cat E Series Mini Hydraulic Excavators—303.5E CR, 304E CR, 305E CR, 305.5E CR and 308E CR SB—all use new engines that meet Stage IIIA /Tier 4 Interim emissions regulations and incorporate new features such as the COMPASS control panel, standard high-ambient cooling package, more efficient auxiliary hydraulics and redesigned control layout. The new models are designed to carry on the solid performance of their D Series predecessor, while adding even greater value for the customer.
All the E Series models are equipped with a new digital control panel that is specially designed for Cat Mini Excavators—COMPASS—Complete Operation, Maintenance, Performance, And Security System. Built into the COMPASS monitor are an anti-theft system, which requires a five-digit alphanumeric password to start the machine, and an Economy Mode feature (3.5- to 5.5-ton machines), which potentially can lower fuel use up to 20% by adjusting engine speed. An automatic engine-idle system drops engine rpm to idle after four seconds of inactivity.
Also available through the COMPASS panel is a continuous-flow feature for auxiliary hydraulics, which maintains selected flow without operator intervention. An adjustable auxiliary-flow control for work tools also is new. Both main-line and optional secondary auxiliary-hydraulic systems can be adjusted on a scale of 1-15 via the monitor for added control when handling, for example, a tilting bucket/coupler or thumb. Also, a number of different work-tools come preset into the control panel for the operator to choose.
Additional refinements for the five E Series models include a standard high-ambient cooling package, electric fuel-pump-priming system, a four-post canopy (3.5- to 5.5-ton machines), new ergonomic joysticks, and relocation of a number of controls for operator convenience—for example, two-speed travel switch to the blade lever, secondary auxiliary hydraulic engagement to the left joystick, and manual pattern changer from the floor to the COMPASS monitor.
All new E Series machines use an end-damping system in both the boom and stick cylinders to reduce shock loads and to reduce material spillage. E Series sticks are thumb-ready, with brackets welded in place and relief valves already built into the main valve.
308E CR SB
The 308E CR SB will be available only in a Swing Boom configuration. The new model is designed with enhanced stability, compared with its predecessor, and, optional counterweights are available for use in extreme situations when added stability is required. The 308E CR SB also gets a 17% boost in engine horsepower, which translates into faster hydraulics for improved travel speed, maneuverability and grade climbing.
In addition, the 308E CR SB is fitted with a larger cab than its D Series predecessor, and is available only as a cab model, with standard air conditioning, heated air suspension seat, and radio. Other E Series models can be configured as a four-post ROPS canopy or with a cab.