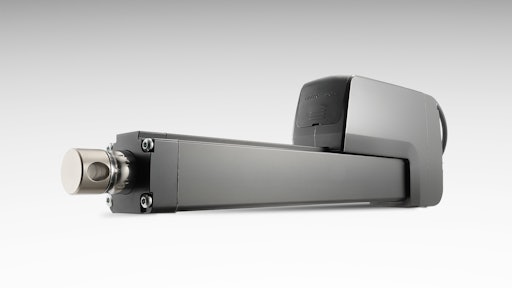 Thomson Industries Inc., a leading manufacturer of mechanical motion control solutions, has extended the capability of its popular Electrak HD electromechanical linear actuator line to loads of up to 16 kN (3,600 lbs.). This new offering delivers heavy load handling capacity comparable to hydraulic technologies but with greater controllability, smaller footprint and low maintenance. The Electrak HD expansion also sets a new stroke length and durability performance benchmark for electromechanical actuators.
"Hydraulic cylinder users are increasingly converting their hard-to-maintain, hard-to-control systems to low-maintenance electromechanical technology with onboard electronics," says Chad Carlberg, Product Line Manager - Industrial Linear Actuators-Americas at Thomson. "By expanding our popular Electrak HD capacity to 16 kN, we offer clean, compact and smart electromechanical replacement for hydraulic actuators in just about any size application. And along with that comes best-in-class electromechanical stroke length and durability."
Replacing hydraulic systems
Hydraulic systems require integration of many components, including a motor, pump, reservoir and hoses, as well as the cylinders themselves. Any control capability desired, such as position feedback or dynamic braking, requires additional equipment, and the fact that hydraulic systems are prone to leakage adds additional operating and maintenance costs.
Smart electromechanical actuators accomplish all operation and control functions with onboard electronics, dramatically reducing footprint, installation and maintenance costs. Electrak HD actuators simply connect to a power supply and PLC or other control source to bring the benefits of onboard electronics to high load applications for construction and agriculture, material handling, and factory automation.
Best-in-class performance
By expanding from 10 kN (2,250 lbs.) to 16 kN and enabling that capability at stroke lengths up to 500 mm (20 in.), Thomson has also set a high performance and durability benchmark for electromechanical actuators with onboard intelligence. Its minimum duty cycle of 25% among stroke lengths up to 500 mm is the highest in the industry, assuring maximum continuity of operation with minimum current draw. For 16 kN loads at those stroke lengths, Thomson also offers speed options up to at least 5 mm/s (0.197 in./sec).
It pays to be smart
With enhanced functionality provided by an advanced onboard Electrak Modular Control System (EMCS) and its optional functions, the Electrak HD line offers a simpler method of control and communication, which reduces operating costs, requires less space and simplifies setup and installation. Optional out-of-the-box J1939 CAN bus communication enables control and monitoring, while optional low-level switching, end-of-stroke indication output, choice of analog or digital feedback, and a customer control interface provide additional versatility.
Environmental resistance
Contributing to durability in high-load operations are unrivaled environmental resistance ratings of IP69K static, IP67 static and IP66 dynamic. Even with high loads, the actuators will operate in temperatures ranging from -40-85 C (-40-185 F), can withstand salt spray for 500 hours, and are CE, RoHS and REACH (EU) compliant.
Designed-in Thomson quality
Likewise, when operating at loads of up to 16 kN, Thomson still delivers unique functionality such as manual override, anti-rotation features, integral thermal overload protection, load lock in case of nut overload failure, a high-quality ball screw, and flexible front and rear clevis options. Higher load options also comply with Thomson test plan requirements, which certify optimal performance regardless of the severity of the application.