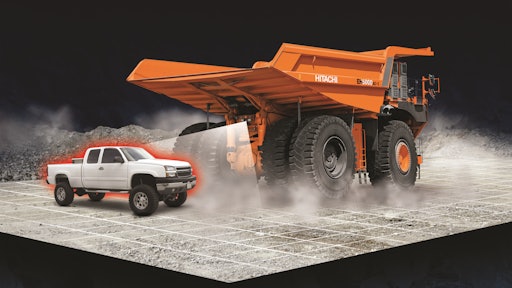 Hitachi Construction Machinery Co. Ltd.
Safety on the job site continues to be an area of concern for the heavy-duty equipment industry as operator visibility is often restricted due to the large size of the equipment. Because of this, object detection and other safety systems have become more prevalent on heavy equipment within recent years.
The Cat MineStar Detect Object Detection system provides specific camera views to show the operator where potential hazards are detected.Caterpillar Inc.
At this year's MINExpo INTERNATIONAL, both Caterpillar Inc. and Hitachi Construction Machinery announced the availability of object detection systems on their equipment. Caterpillar is expanding the number of machines on which its Cat MineStar Detect Object Detection systems will now be available; in addition to being available on more Caterpillar machine models the systems can also now be used on surface mining equipment from other OEMs to help mixed fleets standardize the safety technologies they employ.
During the show Hitachi introduced its new Aerial Angle vision display system with object detection technology. The system features a Stationary Mode which uses camera image processing technology to warn operators of nearby objects when the vehicle is stopped or starting to move. When the vehicle is in motion, Forward Mode warns the driver of an approaching vehicle on the road head. Forward Mode uses millimeter wave radar technology developed by Hitachi Ltd. to detect oncoming vehicles.
PRECO Electronics also introduced its new PreView Sentry Object Detection System at MINExpo 2016. One of the key features of the system is its ability to accurately detect objects up to the "face" of the radar. Doug Whitfield, Director of Marketing at PRECO Electronics Inc., says this capability, which is standard across the company's entire suite of offerings, is critical to ensuring operators receive active and accurate alerts when people or objects are in close proximity to a piece of equipment.
Competitive systems, he says, have had difficulty accurately and consistently detecting objects within the first 4 ft. (1.2 m) of the radar sensor, creating a potentially dangerous situation. For the PreView Sentry, PRECO developed proprietary digital signal processing algorithms to reliably detect people and objects from the face of the radar all the way out to almost 100 ft. (30.5 m).
How the system works
Depending on the desired detection zone, the radar sensor is mounted on the back, sides or front of a piece of equipment and provides up to 360-degree object detection. The sensor is connected by heavy-duty cabling and sends messages to an in-cab display to provide operators with audible and visual alerts when objects are detected. Up to 16 objects can be detected and tracked at one time; the radar is capable of determining both the location and velocity of the objects it detects.
The PRECO PreView Sentry Object Detection System is capable of detecting objects from the face of the radar up to almost 100 ft. (30.5 m) from the vehicle.PRECO Electronics Inc.
Providing audible alerts in addition to visual ones prevents operators from having to constantly monitor a screen to determine whether or not there is an object in their path; instead, they can stay focused on their work and look at the system's camera display once the alerts are sent.
The PreView Sentry system can be used on nearly any size machine—from a small skid steer to a 400-T mining haul truck—and features an IP69K rating to ensure durability in harsh operating environments. Built-in safety alerts notify an operator if there is something blocking the radar or if there are communication issues within the system, further assuring the reliability of the system.
Whitfield notes that PRECO spent 2 years researching and developing the system, and over a year testing it with OEMs before determining it was ready to bring to market. The system operates over a 24 GHz bandwidth; of the three main frequency bandwidths typically used for object detection systems, the company chose to use 24 GHz to maximize the flexibility, accuracy and power it could provide.
The company says its system is one of the most flexible on the market as it allows the range and width of detection to reach up to 30 m (98.4 ft.) and be adjusted as needed. It can also be programmed by an OEM to fit a specific vehicle design which Whitfield says is usually the preferred method. However, PRECO can also program the system for a manufacturer if necessary.
Beyond object detection
If an OEM wants to further enhance the safety capabilities of its equipment, Whitfield says the PreView Sentry system can be connected to a vehicle's electronic control unit via CANbus to create a full safety system that goes beyond just object detection. For example, a manufacturer could have CAN messages sent which trigger the machine's brakes once an object is detect by the PreView Sentry system. In this manner the OEM could help ensure corrective actions are taken when an object is detected in case the vehicle operator is not able to react in time.
Evasive Maneuver Assist uses multiple system integration to detect and avoid objects within a vehicle's path.ZF Friedrichshafen AG
ZF and WABCO's recently introduced Evasive Maneuver Assist (EMA) system is an example of how this type of multi-system integration is being employed in on-highway applications. EMA utilizes sensors to detect an object in the vehicle's path and then intelligent control units and physical maneuvering performed by actuators steer the vehicle away from the object if the operator does not react within a certain amount of time.
Telematics systems can be connected with the PreView Sentry, as well says Whitfield, to provide reports on near misses, distance and angle of objects within the system's field of view, driving habits, whether an operator breaks in time, and more.
Whitfield says safety systems will continue to evolve in order to provide more comprehensive information about the environment in which machines are operating and work together with other vehicle systems to provide a safer working environment. The market is rapidly moving toward active operator assist features. One key feature is the market adoption of a vehicle braking and slowing as it detects an obstacle in its course.
Sensor fusion—linking data from several sensors (such as radar, image recognition system and LIDAR sensors) to compute something that could not be determined by a single sensor—is one of the evolutions Whitfield foresees. When applied to safety, he says the applications are limitless. Sensor fusion allows the linking of disparate systems, including collision mitigation technology with an Advanced Driver Assistance System (ADAS). Based on the ultimate goal, the combination of the systems can actively alert the operator or directly engage the vehicle's braking, suspension and steering controls to mitigate potential collisions. These capabilities are currently being used within various autonomous vehicles, and, Whitfield concludes, are helping lead the way toward greater acceptance of unmanned equipment.
Companies in this article