PRECO Electronics
Obstacle detection and avoidance systems are becoming more prevalent on heavy-duty vehicles as a means of not only improving safety but also creating more automated features—and eventually achieving fully autonomous vehicle operation.
Radar (RAdio Detection And Ranging) and lidar (LIght Detection And Ranging) are used for object detection as they are both capable of measuring the speed and distance of an object. Radar uses radio waves to do so, while lidar uses laser light. "Both technologies are utilized in safety systems because they detect and measure the distance of objects near the vehicle, thus helping to prevent or minimize the impact of collisions, whether it be with other vehicles, pedestrians or other objects," says Simon Dean, Director of Engineering at WABCO Americas.
Lidar versus radar
As with any technology, both radar and lidar have their advantages and disadvantages. Among the advantages Dean says lidar offers is its ability to detect smaller objects since it uses a short wavelength. It is also capable of scanning more than 100 m (328.08 ft.) in all directions, generating a precise distance and angular position measurement of a vehicle's surroundings. In addition, he says lidar is able to develop a more precise "image" of an object in view in terms of distance and angular location.
Radar, on the other hand, can operate in low visibility conditions—including foggy weather—and more precisely measure relative speeds. Dean says it also has a longer operation distance than lidar.
WABCO's OnGuardMAX advanced emergency braking system uses state-of-the-art 77GHz radar in combination with a high-resolution camera to alert drivers of impending rear-end collisions with vehicles ahead. Dean says radar was used because it detects objects in a forward direction with a small opening angle. This is beneficial for detecting objects directly in front of the trucks and buses on which the system is designed to be installed as that is often an area of low visibility for the vehicles' drivers.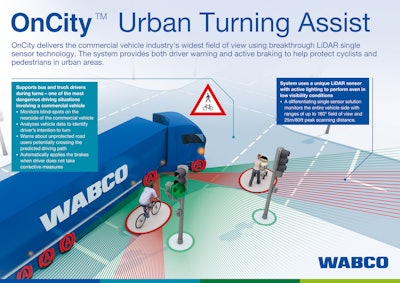 For its OnCity Urban Turning Assist system, WABCO utilized lidar technology. Dean says it was the best option for this system because it provides a wider field of view around the vehicle, not just in front of it, which is important to ensure the vehicle does not come into contact with surrounding pedestrians or objects. A field of view of up to 180 degrees is possible with the system, and a single sensor is used to detect vulnerable road users (e.g. pedestrians, cyclists) that may be within a vehicle's blind spot.
Dean says the key differences between the systems is that OnGuardMAX requires precise information on relative speed in order to prevent collisions, which radar technology provides. OnCity, on the other hand, necessitates the use of lidar to provide precise angular location information in order to monitor and detect objects along the side of a vehicle.
Volvo Trucks North America announced in July its Volvo Active Driver Assist will now be standard on its new VNL and VNR Series trucks. It includes the Bendix Wingman Fusion camera- and radar-based collision mitigation system to detect stationary and moving objects in the surrounding area of the truck. Utilization of radar to determine speed and distance of other vehicles in front of the truck enables drivers to better maintain a safe driving distance. When a truck gets too close to the vehicle ahead of it, the system sends alerts to warn the driver he or she should slow down.
New to the system is a heads-up warning that flashes a red light on the windshield of the truck if corrective action is not taken. Unlike other systems which have a buzzer or warning signal coming from drivers' peripheral view, the heads-up alert allows drivers to keep their focus on the road ahead.
Working toward autonomy
As manufacturers continue to develop more automated features, and eventually fully autonomous vehicles, Dean says radar and lidar will become an increasingly larger part of the technology mix. The collision avoidance and object detection capabilities they provide are already enabling the use of advanced driver assistance systems, which are stepping stones along the road to autonomy.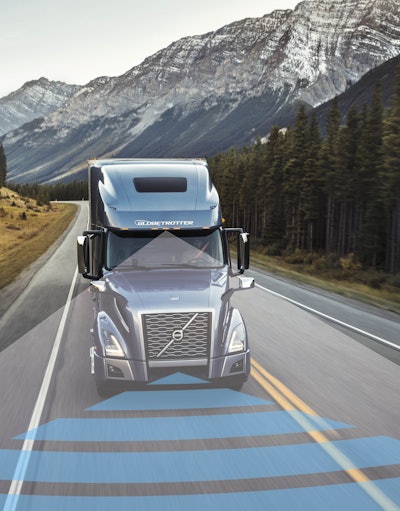 The Volvo system for instance, goes beyond just alerting drivers to potential collisions. If the radar detects a vehicle ahead and even after the heads-up alert is sent a driver does not take corrective action, the system steps in by reducing throttle and disengaging cruise, as well as applying the brakes to slow or stop the truck. Active safety systems capable of taking action on behalf of the driver are a key step to achieving fully autonomous vehicle operation as the ultimate goal in many cases is to completely remove the need for an operator. Having the ability to create vehicle systems which can detect and avoid other vehicles, objects and people without the need for human interaction is essential to ensuring safe operation of these vehicles on roadways.
All-around sensing will be important, as well, said Tom Loutzenheiser, Vice President of Business Development at Preco Electronics, during a presentation of the company's PreView Side Defender radar-based side object detection system at CONEXPO-CON/AGG 2017. The system monitors the lane beside a truck—20 ft. forward and 20 ft. (6.09 m) back—and provides audible as well as visual alerts when a vehicle in that blind spot zone is detected. Loutzenheiser said the system can differentiate between moving and stationary objects so as not to alert drivers unnecessarily.
Side Defender can be used in conjunction with the company's Sentry radar system to provide visibility around an entire vehicle, helping to further increase safety. This all-around object detection capability will be beneficial for development of autonomous vehicles as they will need to be aware of other objects in their surroundings to avoid collisions. Loutzenheiser said autonomy will most likely be an evolution, progressing first to driver assistance systems that provide warnings to operators, then on to the systems which can take corrective actions without operator interference—such as the Volvo system—and eventually full autonomy.
Dean says radar, lidar and all of the other safety system technologies will continue to evolve in order to enable higher levels of automation.
"It's hard to predict exactly how the technology will progress in the coming years, but there is no doubt we will see it continue to evolve and improve," he says. "In the near-term, ground transportation applications are likely to remain focused on collision avoidance. Continued focus on vehicle safety and the movement toward fully autonomous vehicles will see more trucks and buses equipped with lidar, radar, cameras, and other systems that will combine their signals to obtain an even more accurate representation of the environment."
Companies in this article