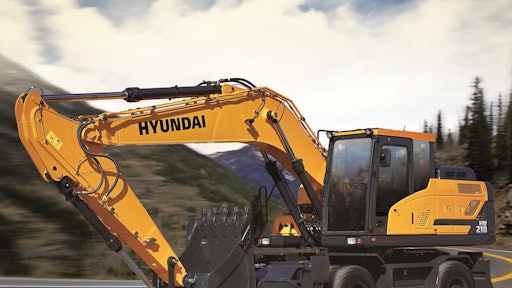 Hyundai is introducing new HX and HW crawler and wheeled excavators to the Hyundai range – these machines will make their world debut at the forthcoming bauma exhibition in Munich. The new machines from the South Korean manufacturer come packed with high-end features that come as standard, not options.
At bauma 2016, the following machines will see their world premiere:
HX235 LCR Crawler excavator, first short tail machine in Stage IV generation     
HX145 LCR Crawler excavator, first short tail machine in Stage IV generation     
HW140 First Wheeled excavator in the Stage IV generation  
HW210 First Wheeled excavator in the Stage IV generation  
Hyundai's design philosophy
Hyundai's R&D department has been working hard on this new range, with the needs of both the owner and the operator of the machine in mind. Hyundai has put a strong focus on quality and safety, which includes the addition of the Advanced Around View Monitoring system. A cost efficient approach has also been adopted, with the increase in productivity and the higher fuel efficiency of the machines – these factors - combined with the added focus on maximum operator comfort, with the larger touchscreen monitor and more leg room – make these machines offer a sound investment for construction companies and the ultimate machine for operators.
"After the initial launch at Intermat 2015 of the first new generation HX models equipped with Stage IV engines, we have received confirmation from the market that this new series performs even better than expected. Excellent driver's comfort, high quality and durable engines supplied by leading engine manufacturers with reduced fuel consumption and several state of the art novelties make our new HX Series well accepted by a highly demanding European market. We are confident to launch the latest models at bauma 2016 and trust that Hyundai excavators will be recognized as high quality and durable machines. The progress in gaining market share and brand recognition in this highly competitive segment of industry will continue," comments Alain Worp, Sales Director Construction Equipment Hyundai Heavy Industries Europe.
Enhanced Instrument Panel for Easier Monitoring Simplifying the Control Settings
One of the most important innovations on the new HX and HW Series is the new and larger 8-in. touchscreen monitor – the cluster monitor displays information which mirrors what you would see on your smart phone and is 30% larger than previous models. It's also easy to read and the main view of the screen can be adjusted according to the preferences of the driver. It can be controlled via touch control and/or new haptic controller. Connecting to a mobile phone is easier than ever with the bluetooth connection to the machine's radio.
Fuel Efficiency – Systems to Reduce Consumption
The new HX and HW ranges are fitted with an ECO Gauge which enables the economic operation of the machines. The gauge level and color displays engine torque and fuel efficiency level on the touchscreen monitor. In addition, the gauge indicates the status of fuel consumption such as average rate and the total amount of fuel consumed. The range can offer a reduction in fuel consumption from 6-12% - depending on the type of operation – in comparison to Hyundai's 9A Series of machines.
Hourly and daily based fuel consumption can be checked and detailed too which helps the operator run the machine more economically and efficiently.
The HX and HW Series of excavators have a function that turns the machine off when it enters an 'idling' state which also minimizes unnecessary fuel consumption and emissions. Operators can select operating mode and 'idling' time depending on work environments which improves its efficiency even further. 
The IPC (Intelligent Power Control) controls power depending on work environments. Its mode can be selected and released on the monitor – on the excavation mode – pump flow can be more cleverly controlled, reducing fuel consumption.
The new Electronic Fan Clutch offers the highest in control efficiency and the best in fuel efficiency. There is also an Eco Breaker Mode where two hydraulic pump summation is available for breaker operation.
Flow and pressure setting for attachments – new options available
The new machines can offer up to 10 breaker and 10 crusher settings. The boom can float freely by connecting to the cylinder head and/or the rod directly to the tank. A power boost button is available to over-ride floating boom.
Other new options include - Fine Swing Control which can be installed in order to ensure a softer stop of the swing with minimal shock load. A Swing lock is an operator-controlled locking mechanism which cuts off swing pilot signal. A Straight Travel Pedal is also an option – the straight travel pedal reduces operator fatigue while traveling greater distances. Instead of holding down both right and left pedals the operator can easily travel by just holding down one pedal.
Cycle time improvement
The HX Series provides higher productivity onsite by faster operation and can load trucks up to 5% faster and levels up to 4% faster than the 9A Series. In order to achieve efficient grading, the HX Series can apply boom floating control using arm-in and arm-out operation only, allowing stable operation even in high-load work.
New, Exclusive Safety Features
New safety features include Hyundai's exclusive AAVM (Advanced Around View Monitoring) System for 360-degree surround virtual operating view – which displays on the 8-in. cluster-monitor. The system consists of an Around View Monitoring (AVM) system that give a 360-degree surround virtual operating view and an Intelligent Moving Object Detection (IMOD) system that senses and warns the operator when objects come within working distance of the machine.
New exterior design increases durability and safety
HX and HW ranges have newly designed cabins -  a new larger front screen has been incorporated and the driver's door is now easier to open from the inside with an additional handrail. The interior of the HX and HW cab offers 13% more space for the operator (compared to 9A Series). A newly developed air conditioning system provides better air circulation in the cab.
Hi-mate (Remote Management System)
The machines are also fitted with Hi-Mate, which is a remote management system, developed by HHIE. Through its satellite powered technology, customers can now enjoy an unmatched level of service and product support. With one press of the button, users are able to remotely evaluate machine performance, access diagnostic information and verify machine locations. It's even possible to program a virtual 'geo-fence' to prevent the machine from leaving a specific area.
Reliability and Serviceability
Enhanced reliability features on the HX and HW Series include reinforced longer-life pins and bushings coupled with wear-resistant polymer shims and newly designed cab shock mounts with dual shock absorption for reduced vibration and noise, which also improves operator comfort. Serviceability enhancements include ground-level access to the fuel filter and convenient exterior access to the cab air filter. Additional guard rails provide greater safety while performing maintenance and inspections on the upper structure deck.