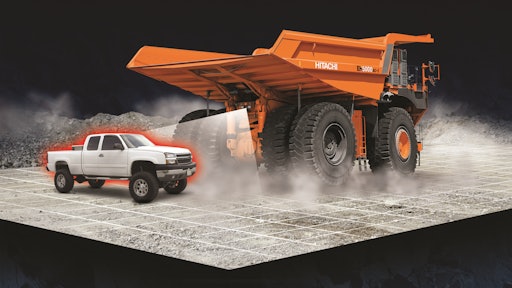 Hitachi Construction Machinery introduced a peripheral vision display system with object detection technology called Aerial Angle at MINExpo INTERNATIONAL in Las Vegas.
The technology enhances the visibility for operators of mining equipment by alerting them to obstacles when driving, stopping or starting their dump trucks.
"Customers around the world are striving to enhance efficiency of the entire mining supply chain," says Craig Lamarque, Division Manager, Hitachi Construction Machinery. "As a result, there is an increasing demand for machinery manufacturers to incorporate information communications technology (ICT) into mining machinery and management systems, and to provide solutions that integrate these technologies. This technology addresses the important customer issues of enhancing operator awareness, improving productivity and reducing life cycle costs."
Hitachi Construction Machinery previously provided full-perimeter display systems for dump trucks and hydraulic excavators used in mining. The new object detect assist technology features two operating modes – Stationary Mode, which incorporates camera image processing technology used in the AROUND VIEW MONITOR with Moving Object Detection System developed jointly by NISSAN MOTOR CO., LTD. and Clarion Co., Ltd., and Forward Mode, which incorporates millimeter wave radar technology developed by Hitachi, Ltd.
In Stationary Mode, a warning is provided to the dump truck operator when the vehicle is stopped or starting to move, if any moving objects such as other vehicles are detected nearby. The warning is displayed in the driver's seat monitor with accompanying sound. Moving objects are recognized through images captured by cameras mounted on the front, rear, left and right sides of the dump truck. By quickly notifying the operator of any changes to the surrounding environment, the system contributes to improved operator awareness.
In Forward Mode, a warning is provided to the operator while driving, when approaching another vehicle on the road ahead. The approach warning is displayed in the driver's seat monitor with accompanying sound. This mode uses millimeter wave radar, which is effective in poor visibility conditions such as rain, snow, fog or dust.
Two types of warnings are provided to the operator based on the radar data, according to factors such as the approach distance and relative speed of the object. Through these warnings, the system contributes to the operator's awareness of the surroundings.
In addition to its use in the Aerial Angle system, the object detect assist technology is also being integrated into Hitachi's driverless autonomous dump trucks that are currently in development.
"Hitachi Construction Machinery Group embraces the 'One Hitachi' concept of using the construction machinery technology that it has accumulated over many years in combination with its strengths in ICT, control and Internet of Things technology," says Lamarque. "Moving forward, we will continue to serve as a familiar and trusted partner by providing reliable solutions that resolve customer issues through collaborative creation."