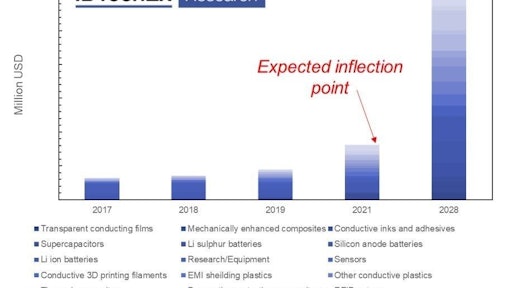 The recently updated IDTechEx report Graphene, 2D Materials and Carbon Nanotubes: Markets, Technologies and Opportunities 2018-2028 covers graphene, carbon nanotubes and non-graphene 2D materials. This long-standing and comprehensive report provides detailed and segmented market projections, granular overview of the business landscape in terms of investment, revenues, and/or production capacities by player, 140 interview-based company insights, and data- and results-driven application assessments.
Out of the lab and into the market
Graphene commercialization is making steady progress. This progress is evident in several key trends which are summarized and analyzed below:
Increasing industry experience: In the early days graphene was oversold as a wonder material or a magic dust that would overnight revolutionize just about every industry. Naturally, with time, realism has set in. Today, graphene platelets are increasingly, and rightly, viewed as part of the expansive continuum of carbon additive materials.
Furthermore, the market now realizes that there are many graphene materials and not all are equal. As such, the users now accept that the winning materials cannot be determined a priori as final application-level results are influenced by many parameters such as graphene morphology and formulation/compounding technique and conditions.
Consequently, users have engaged with many parallel qualification processes to find the graphene that works for their specific circumstances. This development, which now might appear banal, took some years to complete and was essential to the industry's learning curve.
Increasing availability: Graphene has diverse useful properties and as a result a diverse application pipeline. Most target applications however are volume markets. Therefore, suppliers have had to take the risk to invest in sizable production in the face of small and uncertain demand.
This has been inevitable because otherwise suppliers could never progress past the phase of prototyping or performance demonstration. This process (of installing capacity) has made such significant progress worldwide that availability, in the medium term, is not a major industry concern.
Interesting, and now familiar in many industries, China has become the leading territory in terms of nominal production capacity. Its rise to prominence has also made direct liquid phase exfoliation the leading process by share of production capacity. This is because many Chinese producers were not part of the first wave of graphene companies who relied upon the then-available rGO process.
Further progress on this front is still needed. In particular, quality control and consistency needs to further improve.
Increasing affordability: Graphene is largely a substitute material. As such, it must compete on price as well as performance with incumbent solutions. As a new specialty material, graphene suffered from high and divergent (by orders of magnitude) prices and pricing strategies.
This has changed. Graphene platelet prices have fallen and are beginning to converge, for now, around the 75-125 $/Kg mark. There is still a range with some charging much more as they still serve research markets and with a few charging much less. The latter group, IDTechEx believe, sell at a loss to get market share or kick-start projects. These prices will continue to come down further as utilization rates creep up, enabling more effective cost amortization.
The prices will however not settle around a single point, reflecting the diversity of graphene types and giving it a speciality chemical character. Furthermore, suppliers will be reluctant to further cut costs out of fear of premature commoditization although the continuation of this trend has an air of inevitability to it.
Increasing revenue and volume sales progress: Our data suggest that income at the graphene company level has been rising steadily since 2013. This rise, which is reflected largely across the board, will continue at similar rates until 2021/22 around which time our model suggests an inflection point will occur, putting the market into its rapid volume growth phase.
This rise in revenue however, has not always been accompanied with increasing profit. In fact, the opposite is often true in that losses have grown in line with revenues. Indeed, the industry, as a whole, is still loss making despite the existence of several profitable companies.
This is no surprise but is likely to soon change. Experience has demonstrated that new materials take years, if not decades, to commercialize and early phases of the commercialization process demand extensive investments. Graphene is also no exception, therefore this behaviour is in our view a natural part of growth process of the industry.
Medium- to long-term prospects
Graphene market has an intrinsic robustness. This is because the application pipeline is incredibly diverse. This means that whilst graphene will not win in every application it will also not fail every application. Consequently, this diversity gives resilience to the future commercial prospects of this new material.
IDTechEx assess that 2021/2022 is likely to be an inflection year for graphene. This is because, by that point, it is likely that market reference for several use cases will exist, that more qualification processes will have been completed, that cost of production will have been further reduced thanks to increased volume demand, that issues with supply consistency will have been addressed, and so on.
The IDTechEx report forecasts that a circa. $300M market, at the material supply level, will be formed within the next 10 years. Since graphene is still largely an additive material, this means that we will find graphene, of different types, in numerous volume applications in the years to come. This success, it is worth remembering, will not have come overnight but will have been the results of almost two decades of steadfast global research and commercialization efforts.