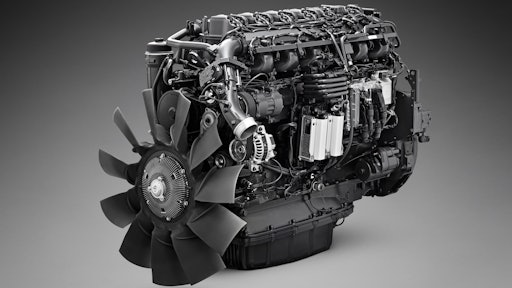 Scania launches a groundbreaking Euro 6 gas engine with a power output of 410 hp. The 13-L engine can be used both for long-distance transport and construction-site movements. The performance is comparable to a diesel engine of the same size. The newly developed engine is the latest addition to Scania's range of sustainable transport solutions, offering CO2 reductions of 15-90%.
"There is considerable interest in Europe for long-distance, gas-powered transport solutions," says Henrik Eng, Product Director Urban, Scania Trucks. "The engine meets these needs with all the total operating economy benefits of gas and no disadvantages."
The new engine provides 410 hp and gives 2,000 Nm from 1,100 and up to 1,400 rpm. These figures compare well with diesel engines of a similar size. With LNG (liquid gas), a semi-trailer truck of up to 40 tonnes can drive 1,100 km without refuelling. With twin LNG tanks on rigid trucks, a range of up to 1,600 km is possible.
"Until now, most gas engines have either been too weak or had an insufficient range to be really useful for heavy, long-distance transports. But Scania has solved these issues with this engine and can now offer reduced CO2 levels as well as increased customer profitability," says Johan Mühlbach, Product Manager Gas, Scania Trucks.