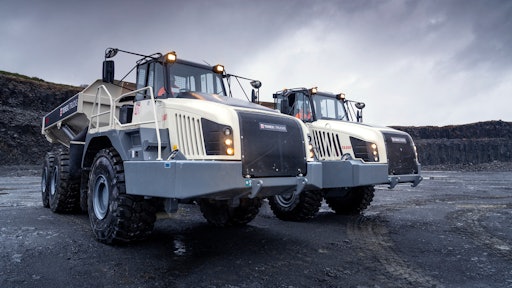 Terex Trucks
OEM Industry News Briefs provides a weekly round up of the latest news and company announcements you may have missed in the heavy equipment engineering and manufacturing industries.
The past week saw Cummins announce the launch of a new integrated powertrain for natural gas vehicles and a new market report which forecasts the off-highway engine market will grow 7% over the next 10 years, a good sign for engine manufacturers and the global economy as it begins to recover.
New equipment entered the market as well with Volvo Construction Equipment, Epiroc and Komatsu all introducing new models. JCB also announced it has modified as well as designed a new armored excavator specifically for clearing minefields.
This past week was also the return of The Work Truck Show but in digital format. During the event truck OEMs provided updates on their electrification developments, Cummins and Hino Trucks announced a new partnership for medium-duty diesel engines, and the Dept. of Energy announced new funding initiatives to further expand sustainable transportation R&D. Read our daily update article to learn more about these and other news topics from The Work Truck Show 2021.
READ MORE: Taking a New Approach to Industry Events in the Age of COVID
Monarch Tractor closes funding round
Monarch Tractor, a manufacturer of fully electric and autonomous capable tractors, has closed its Series A funding round. This included investments from various global equipment manufacturers including CNH Industrial, as well as automotive suppliers and venture capitalists. The company says these investments will support rapid growth of its tractor development.
"The food ecosystem is ready for transformation with farmers demanding sustainable tools that can increase efficiency and farm profitability. Thus, we have seen an incredible and accelerating demand for our Monarch Tractor," said Praveen Penmetsa, CEO, Monarch Tractor, in the company's press release announcing the funding round. "The strategic investments by global leaders like CNH Industrial validate the Monarch Tractor platform's broad application globally and beyond farm products. We are excited to have a group of investors who share a commitment to supporting the sustainable development of agriculture and positive global impact on farm economics and sustainability."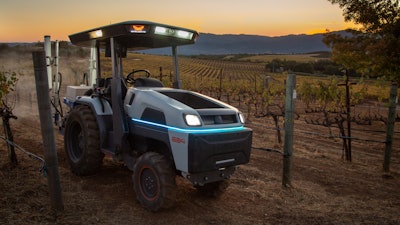 Hydrogen advancements continue
This past week saw several announcements related to advancements in hydrogen technology development and use. Loop Energy, a provider of fuel cell technology, announced a new partnership with Morello Giovanni S.r.l. (Morello). Loop Energy's eFlow fuel cell modules will be used in Morello's heavy-duty tractors which are custom designed for handling heavy loads in industrial applications.
Toyota has developed a new fuel cell module which aims to help ease the design and installation process for other OEMs. The module combines many of the necessary fuel cell system components including the fuel cell stack, cooling and hydrogen supply into a single, compact unit.
The new fuel cell module can be customized to fit a variety of mobility applications, and will be available in four models.
Meanwhile Westport Fuel Systems has begun testing the use of hydrogen as a fuel option for internal combustion engines. The engine is equipped with its High Pressure Direct Injection (HPDI) 2.0 System.
Initial tests have shown promising results for the hydrogen fueled engine to reduce emissions in heavy-duty applications including trucking, mining and others.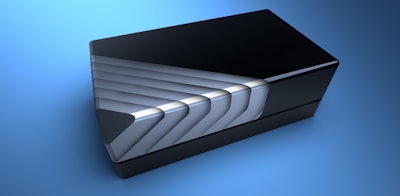 New Flyer unveils new electric bus
New Flyer of America Inc. has introduced its next generation battery-electric heavy-duty bus the Xcelsior CHARGE NG. The bus features high-energy batteries which extend its range up to 13%. Advanced protective battery packaging eases installation and service while a new lightweight electric traction drive system provides up to 90% energy recovery.
"The Xcelsior CHARGE NG harnesses the best technology on the market. It includes a streamlined design that reduces maintenance, increases energy density, and improves energy recovery while significantly reducing weight – offering a lighter, more energy efficient, and longer range electric bus," said Chris Stoddart, President, New Flyer and MCI, in the company's press release announcing the bus launch. "As EV demand continues to build, so too has our innovation. With better manufacturability, higher energy recovery, fewer parts, and improved system durability, our Xcelsior CHARGE NG is a high-performance bus that is more sustainable and easier to maintain."
New Flyer designs and manufacturers its batteries, helping it to control performance characteristics. Features of the batteries include:
single waterproof enclosure
reduced weight and simpler maintenance
90% reduction in parts
better insulated for optimized temperature maintenance and prolonged life
active liquid cooling system maintains temperature and responds to power increases
streamlined design allows technicians to plug in or unplug individual battery packs for easier maintenance and reduced downtime
Siemens ELFA 3 traction system provides 90% energy recovery and weighs 69% less than ELFA 2
Deutz announces changes to Board of Management
The Supervisory Board of DEUTZ AG has appointed Dr. Markus Müller to the Board of Management and the role of Chief Technology Officer (CTO). As CTO, he will be responsible for the company's research and development efforts.
Müller has been with DEUTZ for over 13 years in various capacities related to R&D.
Dr. Bernd Bohr, Chairman of the Supervisory Board of DEUTZ AG, says, "The appointment of Mr. Markus Müller to the Board of Management strengthens R&D, enabling DEUTZ to address the growing demands placed on drive technologies of the future even more effectively. We wish him every success in his new role."
Schroeder Industries expanding Fast Fifteen education program
Schroeder Industries has announced it will continue its Fast Fifteen Program, focused on providing online education opportunities to OEMs and MRO operations, in 2021.
Topics for the education series have included techniques for reducing oil consumption, optimizing hydraulic equipment space and methods for improving aftermarket revenue streams. In 2021, session topics will include:
Filter Systems and Diagnostics
Process Filtration
Hydraulic and Lube Filtration
Fuel Filtration
Element Technology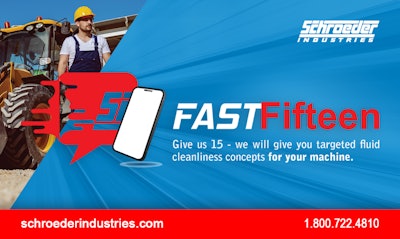 JLG changes nomenclature for large rough terrain scissor lifts
JLG Industries Inc. has announced new model designations will be given to the JLG LRT series of large rough terrain scissor lifts. Doing so will ensure they better align with the company's entire line of scissor lifts.
The company says the models — 330LRT, 430LRT and 530LRT, respectively — will feature "RT" at the front of the model designation with the numerals to reflect maximum platform height and machine width. Going forward they will be known as RT3394, RT4394 and RT5394, respectively. A refreshed decal design will help provide easy identification of the updated models.
Despite the new name, JLG says the machines' specifications, features and benefits will remain the same. These include oscillating axles for easy maneuverability over difficult terrain, a large platform workspace and smooth joystick operation for precise machine movements.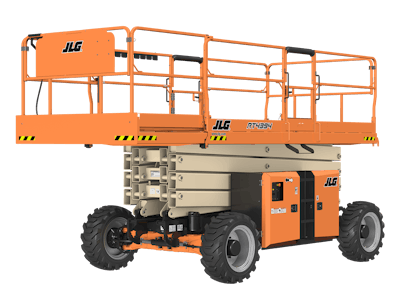 Terex Trucks introducing new Stage V articulated haulers
During Hillhead Digital 2021, Terex Trucks will provide attendees an overview of its new Stage V TA300 and TA400 articulated haulers. The machines have been updated with engines which meet EU Stage V emissions regulations while also providing a 7% reduction in fuel consumption.
Use of a Variable Geometry Turbo (VGT) enables the Stage V engine to provide faster response at all speeds as well as efficient combustion performance. An engine exhaust brake is installed on the engines as standard to increase operational safety and control; it also helps to reduce brake component wear.
Watch our video interview with Jacobs Vehicle Systems to learn more about the growing use of engine brakes in off-highway equipment.
The TA300 features a maximum payload of 28 tonnes (30.9 tons) and a headed capacity of 17.5 m³ (22.9 yd³). It has a maximum speed of 55 km/h (34 mph) and eight forward gears as well as four reverse gears to help increase operational efficiency and smoother shifting.
The TA400 is Terex's largest articulated hauler, featuring a payload of 38 tonnes (41.9 tons) and a heaped capacity of 23.3 m³ (30.3 yd³). A planetary gear transmission provides smooth, efficient gear shifting for optimized fuel consumption and reduced cost of operation, the company says.
Terex says the first machines have started rolling off the production line and will be delivered to the first customers in March.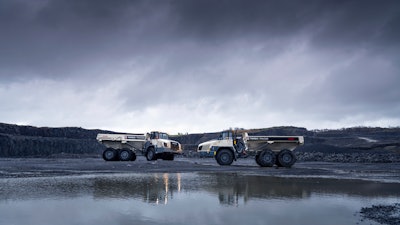 Solaris delivering hydrogen buses to Cologne
Solaris Bus & Coach was selected in March 2020 to provide 15 of its Urbino 12 hydrogen buses to German operator Regionalverkehr Köln GmbH (RVK). The first of these vehicles have been delivered and are undergoing testing with the transit agency; the remaining buses will be delivered by the end of 2021.
The Solaris buses use a set of 70 kW fuel cells capable of providing the vehicle a range of up to 350 km on a single fill. This is an important factor for RVK as it serves customers in city districts as well as rural areas and needs to be able to reach all of them without interruption.
A Solaris High Power traction battery is included on the buses to provide a boost of power to the fuel cells when there is increased demand for electric power. Energy derived from hydrogen and regenerative braking help to recharge the battery as needed.
Advanced technologies on the bus help to provide a comfortable and safe ride. HVAC technology is located throughout the bus to ensure optimal heating and cooling, while inclusion of the MobilEye Shield+ system detects possible collision risks.
Read more about the Solaris Urbino 12 hydrogen bus.
Companies in this article