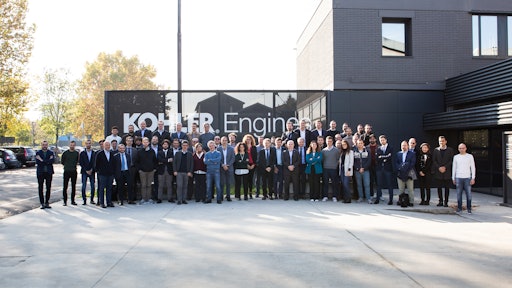 Kohler
This industry update includes research report, awards, acquisitions, partnerships and new hires. It also details a recent workshop gathering the industrial and academic communities to discuss alternative fuels.
CALSTART Research Forecasts Strong Growth in Zero-Emission Off-Road Equipment
CALSTART, a global non-profit focused on clean energy and transportation, released the results of a new research project that gives a wide-ranging technology and market assessment of zero-emission off-highway equipment. This research was conducted in partnership with Interact Analysis to support the California Air Resource Board's Long-Term Heavy-Duty Investment Strategy, including the Clean Off-Road Equipment Voucher Incentive Project. The research shows how off-highway equipment lags on-highway equipment in terms of electrification despite concerns over public health and greenhouse gas emissions.
The analysis finds that off-road equipment electrification is progressing rapidly, with more than 200 electrified equipment models currently available on the market across eight distinct off-road categories. Several categories, such as light forklifts, airport ground-support equipment, yard trucks and transportation refrigeration units, are classified as technologically mature, meaning that only market barriers stand in the way of widespread deployment. Furthermore, technological progress in these segments is helping to transition the mining, rail, cargo-handling, marine and agriculture sectors.
Two of the most successful segments have been forklifts and underground mining equipment. In underground mining, deployment of electrified machinery is already widespread because of the need for these machines to operate in enclosed environments where exhaust fumes are a health concern. The report argues that mining companies need to more rapidly electrify other categories of equipment to meet the environmental goals that they set for themselves.
The report also points out that beyond the air quality and associated health and financial benefits of eliminating exhaust fumes, additional benefits to electrification in mining include higher low-end torque, which offers greater hauling power at low speeds. Meanwhile, in forklifts, the big story is the battle between lead-acid and lithium-ion batteries. Currently, the market is 80/20 in favor of lead-acid. By 2030, it is projected to be 30/70 in favor of lithium-ion.
Learn more from this CALSTART press release.
Siemens Digital Industries Software announced that it has signed an agreement to acquire Avery Design Systems, Inc., a simulation-independent verification IP supplier. Siemens plans to add Avery's technology to the Siemens Xcelerator portfolio as part of its suite of electronic design automation integrated circuit verification offerings.
Learn more from the Siemens press release.
Oshkosh Corporation, a manufacturer of mission-critical vehicles and essential equipment, announced that it has entered into a definitive agreement to acquire Hinowa S.p.A., a privately held international company and manufacturer of track-based aerial work platforms, mini dumpers, lift trucks and undercarriages. Once complete, Hinowa will become part of the Oshkosh access equipment segment.
Learn more from the Oshkosh Corporation press release.
Kohler Hosts Alternative Fuels Workshop
On November 16 and November 17, 2022, the Reggio Emilia's plant of Kohler Engines sponsored and hosted the event Alternative fuels: A sustainable path to engines decarbonization," a workshop organized by SAE-NA, STEMS-CNR and Kohler.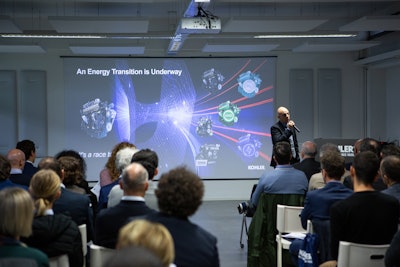 It was an international forum dedicated to alternative fuels in the on-road and off-road industries. The event brought the technical and scientific community together for two days of discussions. Attendees included engine and component manufacturers, fuel producers, engineering companies, associations, and the world of research and academia, establishing an unbreakable bond between education and industry.
What emerged from the forum is the need to broaden the business vision and move from a simple economic perspective to a broader responsibility to the environment and the community that puts sustainability at the center of business strategies.
DuPont Teijin Films and Mitsubishi Electric Europe Partner with Meta Materials
Meta Materials Inc. (META), a developer of smart materials and nanocomposites, announced it has entered a memorandum of understanding in partnership with DuPont Teijin Films and Mitsubishi Electric Europe. Using META's PLASMAfusion, the parties plan to scale a proprietary, high-volume, roll-to-roll manufacturing system for film-based, coated-copper current collectors. The film-based products will:
Reduce battery weight and cost
Improve energy efficiency
Extend vehicle range
Enhance safety against the risk of battery fires (known as thermal runaway) compared to standard lithium-ion batteries for electric vehicles and other use cases
Learn more from the META press release.
Caterpillar and Axenox Strike Intellectual Property Acquisition Agreement
Caterpillar Inc. announced that it entered into an agreement with construction solutions supplier, Axenox Inc., to acquire the intellectual properties of two of the company's asphalt paving screed products. Under the agreement, Oxclaw textured screed plates and Bullox modular screed plate system will be available options exclusively for Cat asphalt paving customers.
Learn more from the Caterpillar press release.
PACCAR a Top Company for Women to Work in Transportation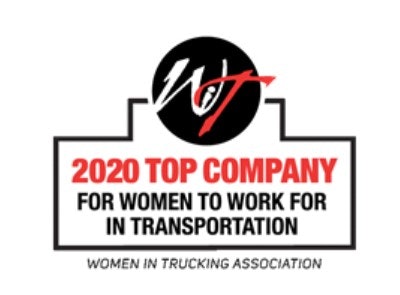 PACCAR Parts was recognized as a 2022 Top Company for Women to Work for in Transportation by the Women in Trucking Association (WIT). This is the fourth consecutive year PACCAR Parts has received the designation.
Companies included on the list were chosen for maintaining a corporate culture that fosters gender diversity as well as providing competitive compensation and benefits, flexible hours and work requirements, and professional development and advancement opportunities.
Learn more from the PACCAR press release.
Ignite Attachments Launched
Ignite Attachments launched on November 15, 2022, offering accessibly priced attachments and three-point implements for compact equipment in the agriculture, landscape, rental and construction industries in a digital, direct-to-consumer storefront. The new-to-market brand's goal is to deliver on speed, quality and equipment compatibility with an upgraded customer experience.
Learn more from the Ignite Attachments press release.
Perkins Appoints Monarch Power Supply as a Distributor for the Western United States
Perkins Engines Company Limited has entered into an agreement appointing Monarch Power Supply as an authorized Perkins distributor for the Western United States, effective November 14, 2022.
The territory covers Alaska, Arizona, California, Colorado, Hawaii, Idaho, Montana, Nevada, New Mexico, Oklahoma, Oregon, Texas, Utah, Washington, Wyoming and the United States Territory of Guam.
A family owned and operated business, Monarch Power Supply has more than 100 years of experience in the industrial and construction industries.
Learn more from this Perkins press release.
ClearFlame Engine Technologies, a company that takes the diesel fuel out of diesel engines and empowers rapid decarbonization for hard-to-electrify heavy-duty industries, announced that it has been named to Fast Company's second annual "Next Big Things in Tech" list in the Transportation category. This list honors technology breakthroughs that promise to shape the future of industries—from agriculture and environment to productivity and artificial intelligence.
This year, 83 technologies developed by established companies, startups or research teams are highlighted for their advancements and potential to impact consumers, businesses and society overall. While not all the technological developments are available in the market yet, each one is reaching key milestones to have a proven impact in the next 5 years. Fast Company also recognized 41 honorable mentions.
ClearFlame's energy technology allows heavy-duty diesel engines to operate on any 100% renewable, clean-burning liquid fuel while maintaining performance within industries that are among the largest contributors to greenhouse gas emissions and air pollution such as long-haul trucking, agriculture, power generation, construction, and other nonroad diesel sectors.
Learn more from ClearFlame's press release.
Genie Founder Bud Bushnell Inducted into AEM Hall of Fame
The Association of Equipment Manufacturers (AEM) inducted Sherman Ward "Bud" Bushnell, founder of Genie, into its Hall of Fame for a broad range of contributions in developing and advancing technologies that support the construction and agriculture industries worldwide. The AEM Hall of Fame recognizes the pioneers whose inventions, ideas, leadership and courage have contributed to the industry and our community's quality of life. The award was presented to Genie President Simon Meester at AEM's Annual Conference in Napa, California, on November 18, 2022.
CNH Industrial announces Senior Leadership Team Changes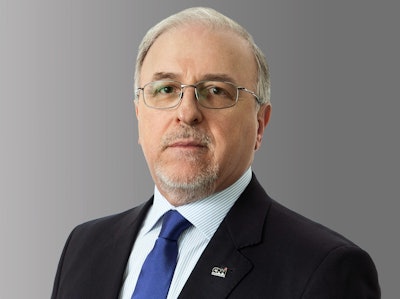 CNH Industrial N.V. announced the appointment of Vilmar Fistarol as president, North America and Rafael Miotto as President, Latin America. Vilmar Fistarol will lead the North America region as of late January 2023, following more than a decade as president, Latin America. During his time as president, Latin America, he continually grew CNH Industrial's brands' sales in the region to market leading positions. Fistarol has served CNH Industrial and its predecessor companies for more than 31 and replaces Brad Crews, whose upcoming transition to a new role in the agriculture segment was announced in September 2022.
Rafael Miotto will assume responsibility for the Latin America region as of January 2023. This appointment will see him join the company's senior leadership team. Miotto has successfully led the New Holland Agriculture brand in Latin America for the last 5 years. During his 18 years, the company has gained extensive experience in sales and marketing, aftersales and commercial operations.
Learn more from the CNH Industrial press release.
moveero Appoints New CEO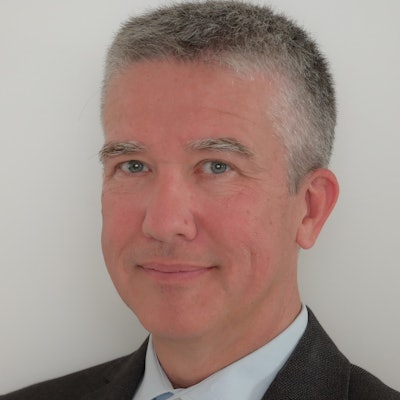 moveero appointed Hugo Burgers to the position of chief executive officer, with effect from December 1st, 2022. Hugo joined moveero in September 2021 with a background at a senior level from across the off-highway-industry.
During his time with moveero, Burgers has reorganized the sales functions across North America and Europe, focusing on the needs of current customers and acquiring new sales. In his role as CEO, he will continue to focus and direct the sales and commercial function and will work on the strategic development of the company going forward. This will include expanding moveero's footprint into new markets and geographies and product development. Burgers will be based in moveero's corporate headquarter in Armstrong, Iowa, and will continue to work with all moveero plants and locations.