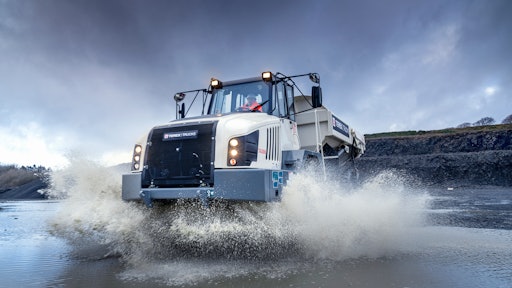 Terex Trucks
OEM Industry News Briefs provides a weekly round up of the latest news and company announcements you may have missed in the heavy equipment engineering and manufacturing industries.
Bridgestone acquires tire management business
Bridgestone Corp. announces its group company Bridgestone Mining Solutions Australia Pty. Ltd. will acquire Otraco International Pty Ltd (Otraco), a developer of Off-the-Road (OTR) tire management solutions, from Downer EDI Limited. The acquisition will help the company accelerate growth of its global mining solutions business as well as expand its service networks in several key markets including Australia, Chile and South Africa.
Per the company's press release announcing the acquisition, all business assets, including Otraco's sales offices and training facilities, OTR customer relationships and the company's approximately 860 employees will transfer to Bridgestone upon completion of the sale. The transaction is expected to close by the end of 2021.
Epiroc receives large mining order, acquires hydraulic breaker manufacturer
Epiroc announces it has received a large order from Rio Tinto for mining equipment which will be used in its iron ore mines in the Pilbara region in Australia. Machines ordered by the global mining company include Epiroc's Pit Viper 271 and SmartROC D65 rigs, both of which Epiroc says are equipped with intelligent features.
The company also announced recently it has agreed to acquire DandA Heavy Industries, a manufacturer of hydraulic breakers based in South Korea. DandA manufactures hydraulic breakers for customers in construction, demolition, rock excavation, quarrying and infrastructure.
"The acquisition of DandA Heavy Industries will strengthen our leading position on hydraulic attachment tools for the construction industry and supports our long-term growth strategy," says Helena Hedblom, Epiroc's President and CEO, in the company's press release announcing the acquisition.
Epiroc says the acquisition is expected to be completed at the end of the second quarter of 2021. DandA will become part of Epiroc's Tools & Attachments division and will keep its brand and channels, and continue to be based in South Korea.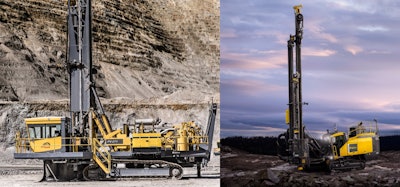 JLG adds remote boom control for select telehandlers
JLG Industries has added remote boom control as an option for its JLG 1644, 1732 and 1075 telehandlers. The company says this feature enables operators to control the boom from outside the machine cab which helps improve visibility during load placement.
In addition, the company says remote boom control can potentially eliminate the need for two people working on the same task—one in the cab and one at the location where the material is being placed—improving efficiency on job sites.
Telehandlers equipped with the remote boom control feature allows operators to wirelessly operate machine functions including:
engine startup
boom raise/lower
boom extend/retract
fork tilt up/dow
auxiliary hydraulics.
The company says when operating the remote boom control from the fork-mounted work platform, a platform docking station is required as it provides a stable surface to magnetically mount the remote-control box.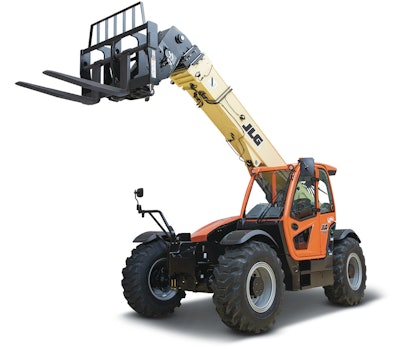 Voith Turbo names new head of mobility division
Voith Turbo announces Martin Wawra will take over as the Head of the Mobility Division and become a member of the company's Management Board starting June 1. Per the company's press release announcing the appointment, he will succeed Cornelius Weitzmann, who will take over from Dr. Uwe Knotzer as Chairman of the Board of Voith Turbo on June 1, 2021.
Wawra joined the Voith Group in 1994 and has worked in various positions with the company since then.
Daimler Truck AG makes organizational changes
Daimler Truck AG announces it has formed its new board of management in preparation for its previously announced spin-off from Daimler AG. Several organizational changes are also set to take place as of July 1 which the company says are aimed at increasing its efficiency and to better serve customers.
Per its press release announcing the changes:
Daimler Truck AG has decided to realign its business structure. This means that the operating units and brands, which are globally active in the most important sales regions of North America (Freightliner, Western Star, Thomas Built Buses), Europe & Latin America (Mercedes-Benz Trucks) and Asia (FUSO & BharatBenz), will be given more entrepreneurial independence and room to maneuver in the future.
Going forward, decision-making authority and the necessary product development resources will be organized alongside the respective Daimler Truck brands in the regions. This will include the Chief Engineer functions for the entire vehicle development, previously structurally anchored in the central development of Daimler Trucks & Buses, being assigned to the corresponding regions. This is designed allow vehicle brands such as Freightliner in North America, Mercedes-Benz Trucks in Europe and Latin America, FUSO in Asia to deliver the best possible product and service offering for their customers.
Terex Trucks expanding footprint in Canada
Terex Trucks has announced it plans to expand into the Canadian providence of Ontario as major construction and mining projects are currently planned in the region. It also notes demand for heavy machinery in general is expected to increase, further necessitating the push to expand its offering.
The company notes in its press release announcing the expansion that economic activity is expect to grow 4% in 2021 in Ontario which has the largest economy in Canada. It goes on to cite ReportLinker's forecast that the construction equipment market in Canada is expected to grow 2.4% through 2027 due to the number of major construction projects planned in the country.
To meet anticipated demand, it is looking to expand its dealer network in Canada and bring its TA300 and TA400 dump trucks to customers in the country. "This is a good time for us to expand our dealer network in Canada," says Greg Gerbus, regional sales manager for Terex Trucks, in the company's press release. "We're seeing an influx of funds into construction projects that will boost equipment sales. Our robust, high-quality haulers are well-suited to the Canadian market as they perform well in cold conditions and can handle rough terrain."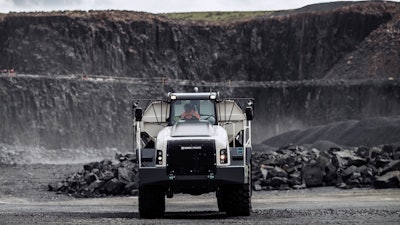 Earth Week brings new electrification developments
With Earth Day taking place on April 22, there was an abundance of news leading up to and the day of which emphasized companies' continued electrification developments. U.S. President Biden announced on April 22 during a White House climate summit new emissions reduction targets of 50-52% by 2030.
DTNA opens charging site to the public
Daimler Trucks North America (DTNA) and Portland General Electric (PGE) announced on April 21 they have opened their heavy-duty truck charging site to the public. Called Electric Island, it will help provide insight into the charging and infrastructure needs of electric vehicles.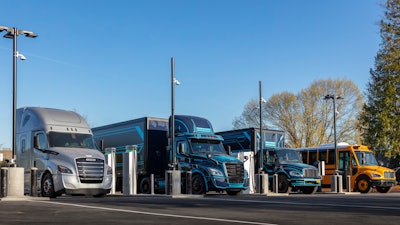 Eight vehicle charging stations are currently available on Electric Island for electric cars, buses, box vans and semi-trucks. Electric Island will not only provide charging, but also enable DTNA and PGE to study energy management and charger use and performance. DTNA will also be able to evaluate the charging performance of its own electric vehicle designs through use of the charging site.
The charging site is located across the street from DTNA's headquarters and is less than 1 mi. from 1-5 to allow easy access for its use.
Per DTNA's press release, the charging site will allow the study of:
Use of vehicle chargers featuring power delivery of up to over one megawatt (over 4 times faster than today's fastest light-duty vehicle chargers), enabling PGE and DTNA to develop best practices for cost-effective future deployments;
Integration of heavy-duty charging technology into PGE's Smart Grid, such as vehicle-to-grid technologies, second-life use of Daimler's battery packs, and onsite energy generation; and
Testing information technology opportunities like fleet and energy management by captive solutions and services.
Infrastructure is a key aspect to ensuring market uptake of alternatively powered vehicles and heavy equipment, making projects like DNTA's an important step along the development process.
DTNA also announced Hub Group will begin a pilot project with the company's electric trucks as part of Freightliner's Customer Experience (CX) Fleet. The 6-month test will take place in Southern California across various freight environments and conditions.
According to DTNA's press release on the subject, the Freightliner eCascadia pilot will operate 7 days per week over the 6-month test. Hub Group engineers will analyze performance across multiple data points including range, payload, traffic conditions, charging scenarios, maintenance, and safety.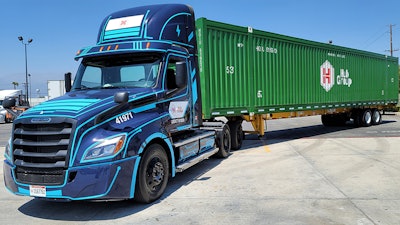 Nikola forms partnership for hydrogen fueling
Nikola Corporation also announced this past week it will collaborate with TravelCenters of America Inc. (TA-Petro) through its Nikola Energy division to install hydrogen fueling stations for heavy trucks. They will be installed at two existing TA-Petro sites in California as part of a partnership which aims to evaluate and develop a nationwide network of hydrogen fueling stations.
Per Nikola's press release on the collaboration, the fueling network will be available to any truck customer and will follow a common industry standard for heavy-duty fueling protocols, ensuring compatibility across all hydrogen fuel-cell truck manufacturers.
"Our collaboration in southern California will form a basis for building an expanded network of hydrogen fueling stations for Nikola vehicle customers and for industry use overall. This collaboration forms an essential part in delivering the hydrogen-based ecosystem required to advance zero emission solutions for commercial trucks," said Nikola President of Energy and Commercial Pablo Koziner, in the company's press release.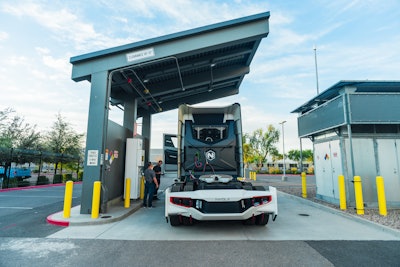 Allison Transmission expands electric powertrain use
Allison Transmission made two partnership announcements this past week regarding its eGen electric and hybrid technology portfolio. It announced it will collaborate with New York City Transit to install its eGen Flex electric hybrid propulsion system into buses used in revenue service. Doing so will help the city on its journey toward reducing emissions.
The company also announced a strategic Memorandum of Understanding (MOU) with Emergency One (UK) Ltd., a manufacturer of fire and rescue vehicles. Allison Transmission says the companies will work together to integrate its eGen Power 100D electric axle into Emergency One's fire rescue and emergency vehicle platforms.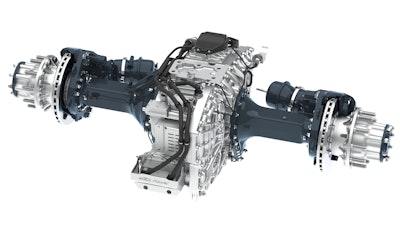 Allison's eGen Power 100D electric axle combines a multi-speed transmission and two high-speed electric motors; this eliminates the need for additional drive shafts and support structures the company says. It can easily fit between vehicle wheels, and provides continuous power of 536 hp (400 kW) and peak power of 738 hp (550 kW). The company says the axle has been tuned for high gradeability and high top speed to enable vehicles to achieve the performance they would with traditional power systems without sacrificing efficiency.
In addition, the company announced this past week its model year 2021 Allison Hybrid 40/50 Electric Propulsion (H 40/50 EP) system paired with the Cummins B6.7 and L9 diesel-electric hybrid engines have received annual certification from the California Air Resources Board (CARB).
Per Allison's press release on the subject, the H 40/50 EP has been proven to reduce emissions, ensure quieter operation and improve fuel economy up to 25% over similar diesel buses. It has also shown to provide fast acceleration for an overall smoother ride.
Volvo Group acquires electromobility design firm
Volvo Group has signed an agreement to acquire 60% of Designwerk Technologies AG, an engineering company which develops and sells electromobility products and engineering services. The company says the new investment will complement its current capabilities for development of niche solutions and will aid its transition toward development of climate neutral transportation.
Designwerk Technologies currently offers customized electric trucks under the Futuricum brand, as well as mobile rapid chargers and high voltage battery systems. It will continue to operate as a standalone company.
Drive System Design increases electric commercial vehicle testing capacity
Drive System Design (DSD) recently expanded its test facilities by adding to more test cells for high-performance hybrid axles and e-machines. It says it increased its testing capacity to meet growing demand for testing suitable for electric commercial vehicle powertrains.
Per the company's press release, the first of the new facilities can deliver input torque up to 2,500 Nm and power up to 525 kW, with 350 kW and 1,100V of battery emulation; the second accommodates e-machines up to 350 kW. The new cells complement existing DSD facilities, which include a 450 kW highly transient ETPS machine (Engine Torque Pulse Simulator) for hybridized powertrains and three battery emulators.
"As global pressure grows to reduce transport's contribution to climate change, commercial vehicle manufacturers are turning to electrification in the same way as passenger car manufacturers," explains David Kelly, Director, Drive System Design, in the company's press release. "This has resulted in a significant increase in worldwide demand, not only for design and development work but also for outsourced validation testing. These additional facilities have extended our ability to provide this for a wide range of hybrid and electric powertrains, and have been configured with sufficient torque capacity to accommodate most commercial vehicles below Class 8.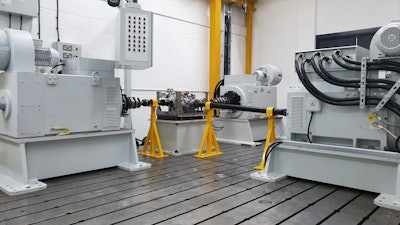 "The duty cycles appropriate for electrified CV powertrains are very different to those for passenger cars, so we are providing engineering support to customers moving into this sector for the first time," says Kelly. "On the other hand, even customers with long experience in CVs are being surprised by the speed with which the market is changing and are struggling to accommodate the upsurge in test requirements using solely in-house facilities."
Companies in this article