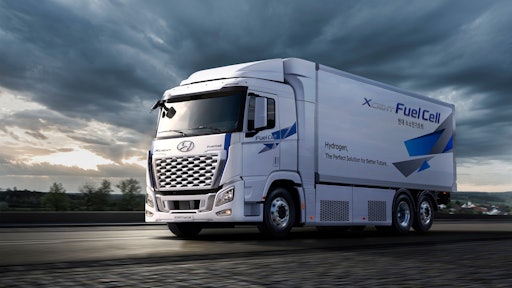 Hyundai Motor Company
OEM Industry News Briefs provides a weekly round up of the latest news and company announcements you may have missed in the heavy equipment engineering and manufacturing industries.
Hyliion forms new fleet electrification partnership
Hyliion has announced a partnership with Detmar Logistics LLC—a frac sand solutions provider—which is the company's first such collaboration in the oil and gas industry. The two companies will work closely together to develop Detmar's electrification strategy in the coming years.
Detmar has made an initial order for 10 Hyliion Hybrid Electric units as part of its efforts to power 100% of its fleet using low-emissions solutions. "Oil and gas will continue to be an important part of the world's energy future, and it's imperative that we align with climate efforts to make our operations sustainable for generations to come. Hyliion's approach to electrification by making improvements to our existing semi-trucks makes the most sense for us. We also see natural gas playing a significant role as an energy source for powering electric vehicles in the years ahead," said Detmar Logistics President and CEO Matthew Detmar, in Hyliion's press release announcing the partnership.
The initial hybrid units will be installed on Volvo trucks currently in Detmar's fleet. Hyliion notes its system can be installed on most major Class 8 commercial trucks.
Watch our video interview with Hyliion to learn more about the company's technology.
New business locations help expand capabilities
Truck-Lite has announced it is relocating its headquarters to Knowledge Park at Penn State Behrend in Erie, PA. The company says it has chosen to do so in order to improve access to future engineering and technology talent.
"As the transportation industry shifts toward electric vehicles, developing new innovations for customers relies on our ability to attract, develop and retain qualified talent," said Brian Kupchella, CEO of Clarience Technologies, parent company of Truck-Lite, in the company's press release announcing the move. "Relocating our headquarters to Knowledge Park and expanding our association with Penn State Behrend—a major college of one of the country's top universities and a long-standing Truck-Lite partner—creates a strong pipeline of future electrical engineers, data scientists and business leaders in the years to come."
In addition to Truck-Lite leasing close to 30,000 sq. ft. from the college, Penn State Behrend plans to make enhancements to its Advanced manufacturing and Innovation Center (AMIC). AMIC will house Truck-Lite's laboratory and test space the company says in its press release.
Per its press release, Truck-Lite believes the future research and development capabilities needed to design components in next-generation electric vehicles will require its workforce to have deeper electrical engineering, software programming and advanced analytics expertise. By locating its new headquarters at Knowledge Park at Penn State Behrend, the company seeks to elevate its viability with future job seekers to unlock access to a larger talent pool. Existing employees will also benefit from this move, as the proximity of subject matter experts at Penn State Behrend means future technology advancements will stay within close reach.
Brokk has also announced a move for its headquarters which it says will help consolidate services to a single location. The company will bring administration, sales, training, parts and service together in a single facility to help streamline operations. The new facility adds more space for the company and will become its North American headquarters.
"Brokk has grown exponentially in North America over the years — expanding to include three facilities and a sales network that reaches every corner of the continent," said Lars Lindgren, President of Brokk Inc., in the company's press release announcing the facility relocation. "We're always looking for ways to better support our customers, such as continued training. The new facility gives us ample room to stock more inventory and offer more services to better serve our West Coast customers."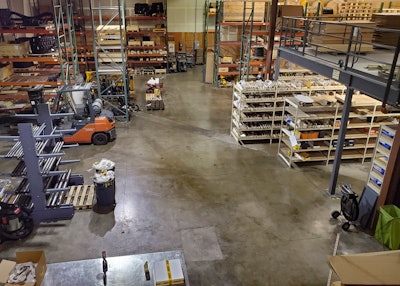 Hyundai Motor updates fuel cell truck
Hyundai Motor Company recently released images of its newly updated XCIENT Fuel Cell heavy truck powered by hydrogen. The company is expected to begin production on the truck in August 2021.
According to the company's press release announcing the updates, it has made changes to both the design and performance of the XCIENT Fuel Cell with the goal of creating an improved driving experience. Exterior updates include a new radiator grille designed to reflect the high-tech nature of the truck as well as decal graphics to visualize the truck's use of a more environmentally-friendly fuel (i.e. hydrogren).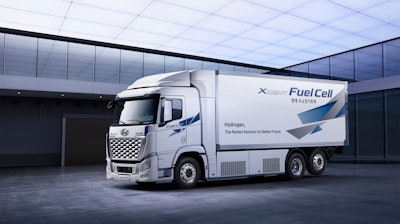 Power is provided by a 180 kW hydrogen fuel cell system with two 90 kW fuel cell stacks which the company says in its press release have been newly modified for this latest version of the truck. Durability of the system has been improved, as has the truck's overall fuel efficiency to help better meet the needs of truck fleets. A 350 kW electric motor helps power the hydrogen truck, as well, providing maximum torque of 2,237 Nm.
Hyundai has already delivered several trucks to Switzerland and plans to send more by the end of the year. It will also bring the hydrogen truck to the North American market; the company is also evaluating the potential of introducing it to the Chinese market which has a strong interest in using hydrogen fueled vehicles.
Daimler expands infrastructure partnerships
Daimler Truck AG is working with Shell New Energies NL B.V. (Shell) to expand adoption of hydrogen trucks and infrastructure in Europe. For its part, Shell plans to initially roll out a hydrogen refueling network in Germany which will include heavy-duty refueling stations in time for Daimler Truck to begin delivering hydrogen fueled trucks to customers. Shell will then continue to expand the number of refueling stations.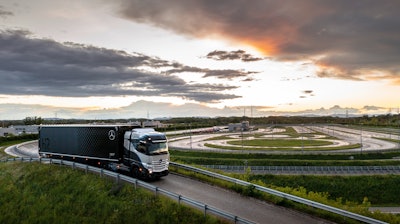 The companies will work together to ensure the refueling network meets the needs of customers and their usage patterns. According to Daimler's press release announcing the partnership, the two companies will also work to establish an open refueling standard to help make uptake of hydrogen fueled trucks easier for customers.
"We want to help our customers lower their emissions by accelerating the speed at which hydrogen trucks become a commercially viable alternative to diesel equivalents," said Ben van Beurden, Chief Executive Office of Royal Dutch Shell plc (ultimate parent company of Shell New Energies NL B.V.), in the press release from Daimler Truck announcing the partnership. "Shell and Daimler Truck intend to work together to support policies that will help to realise this key moment for fuel-cell trucks, and we invite other interested OEMs and industry partners to join us."
On the battery-electric side of things, Daimler's Mercedes-Benz Trucks business has formed a partnership with Siemens Smart Infrastructure, ENGIE and EVBox Group to aid customers with their electromobility efforts.
Through this partnership Mercedes-Benz is looking to provide customers with advice on their shift to electromobility as well as the various aspects which enable them to make the transition, including necessary infrastructure. The products being offered by the project partners have been verified by Mercedes-Benz Trucks to ensure interoperability with its current and future electric vehicles.