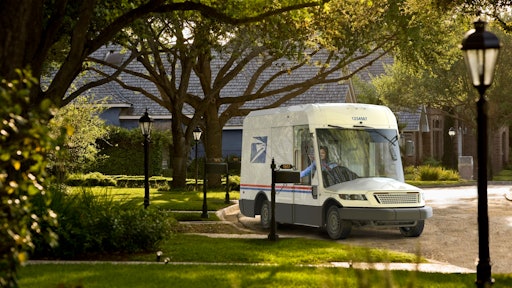 U.S. Postal Service
OEM Industry News Briefs provides a weekly round up of the latest news and company announcements you may have missed in the heavy equipment engineering and manufacturing industries.
New CEO named for understand.ai
understand.ai, a dSPACE company since 2019, has named Jürgen Daunis CEO; he will begin his tenure July 1. According to the company, Daunis brings extensive knowledge of connected, autonomous, shared, and electrified (CASE) mobility, and has held several leadership positions at global companies.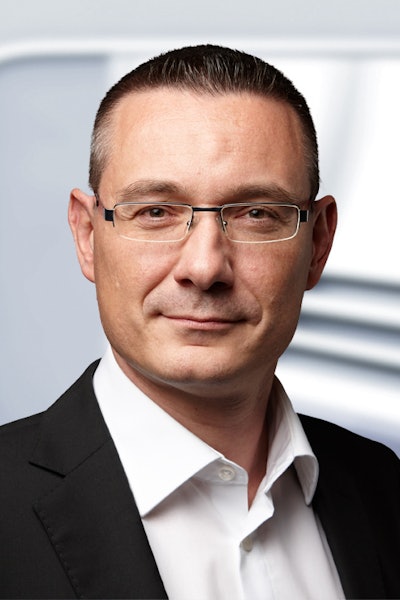 "With Jürgen Daunis, we are gaining an experienced manager who is active at the interface between business and technology. Under his leadership, understand.ai will continue to invest in AI- and cloud-based solutions that help our customers launch autonomous vehicles on the road faster," says Martin Goetzeler, CEO of the dSPACE group, in the company's press release announcing the new CEO appointment.
Daunis succeeds Marc Mengler, one of the company's two founders, who will be active as a founder in other fields of research in the future.
ClearFlame receives funding for diesel-free truck demonstration
Clean engine technology startup ClearFlame Engine Technologies has received $2.5 million in financing from investors to help the company deploy pilot Class 8 trucks using its patented technology. The company says it plans to have demonstration trucks on the road by the end of 2021.
"This new investment and our recent technological progress allow us to rapidly put our solution in the hands of our future customers," said Dr. BJ Johnson, ClearFlame CEO and co-founder, in the company's press release announcing the new funding. "Our new investors believe in the need to make an impact on climate change as soon as possible by replacing diesel fuel with a solution for cleaner, heavy-duty engines. Putting trucks on the road is the final step towards our full commercialization."
Clearflame has also recently announced partnerships with Jacobs Vehicle Systems to utilize its technology as well as with Alto Ingredients to demonstrate decarbonization using ethanol.
Listen to our podcast interview with the co-founders of ClearFlame to learn about its technology.
Bosch supplying fuel cell components to cellcentric
Bosch announces it has signed a long-term agreement to supply fuel cell components to cellcentric, the fuel cell joint venture formed by Daimler Truck AG and Volvo Group. Bosch will be providing electric air compressors that will be used as part of cellcentric's fuel cell system.
According to Bosch, the air compressor is a critical component of the fuel cell system because it ensures the right amount of filtered air is delivered. "Bosch is devoting a huge effort to developing this component. For example, we have 15 cross-divisional teams working to commercialize the electric air compressor," says Dr. Uwe Gackstatter, president of the Bosch Powertrain Solutions division, in the company's press release announcing the supply agreement.
"The combination of a high-speed electric motor with integrated power electronics enables easy system integration at competitive manufacturing costs," says Gackstatter.
The air compressor is available in two power classes, 20 and 30 kW. The 30 kW version is rated for voltages from 450-850V and the 20 kW compressor for either 250-450V or 450-850V.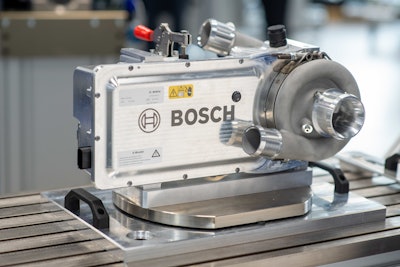 Blachford UK announces company reorganization
Blachford UK Ltd., a location of the Blachford Acoustics Group, announces Managing Director Jason Lippitt will be resigning from the company effective this November. Upon his exit from the company, Patrick Thompson, Blachford UK's current Sales Director, will transition into a new Sales and Innovation Director position where he will oversee Sales, Research & Development, and Project Management.
Thompson will report to the President of Blachford Acoustics Group, Matt Taub, who rejoined the company in Summer 2020.
Owner and Chairperson John Blachford said in the company's press release announcing the reorganization, "I am very pleased that Patrick has accepted the Sales and Innovation Director position. [Company leadership] have all made big contributions to the success of BUK. Although Matt has been with us only since last August, he is doing a terrific job managing our acoustical materials business in North America. I am very confident that he will lead BUK to significant improvements in many areas and build upon Jason's many achievements."
FEV collaborating with Wipro on software defined vehicles
FEV has announced a partnership with Wipro—an information technology developer—to develop and market solutions for next-generation Software Defined Vehicles (SDV). Intelligent vehicles of the future, and even many available today, are software based which has increased the need for real-time data management.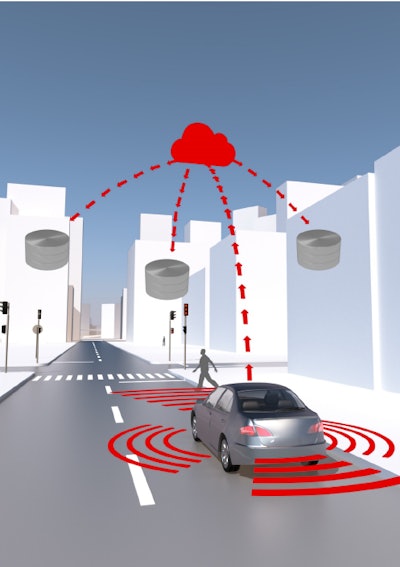 The companies have formed a new innovation lab which will be used to drive development for core vehicle use cases, says FEV in its press release announcing the partnership. Integrated system features, scalable and service-oriented software and E/E architecture—accounting for both global and localized market requirements—will be a part of the development process as well.
Solutions will be engineered specifically with SDV needs in mind and include functionality features such as wireless connectivity and cloud-based computing capabilities says FEV.
"We believe that this collaboration will yield breakthrough solutions and innovative products for Software Defined Vehicles," said Dr. Thomas Hülshorst, Global Vice President Intelligent Mobility & Software at FEV, in the company's press release. "By leveraging our respective competencies, we expect to accelerate the product development activities and achieve a significant competitive advantage."
Oshkosh manufacturing next-gen postal vehicles in South Carolina
Oshkosh Defense was selected in February 2021 to develop the U.S. Postal Service's (USPS) next generation of postal vehicles—known as the Next Generation Delivery Vehicle (NGDV). As such, the company plans to repurpose a warehouse facility in Spartanburg, SC, to create a dedicated manufacturing facility for the vehicles.
Oshkosh says in its press release announcing the new manufacturing site that it expects to hire over 1,000 local team members at the Spartanburg facility, and on-site supply chain partners are expected to have additional hiring needs.
The facility will be equipped with the features needed to accommodate a large-scale manufacturing operation that meets the technical requirements of producing cutting-edge vehicles for the USPS, says Oshkosh in its press release. It also notes production of the vehicles is expected to begin summer 2023.
"We're proud to bring this historic undertaking to Spartanburg," said John Bryant, Executive Vice President, Oshkosh Corporation and President, Oshkosh Defense, in the company's press release. "Upstate South Carolina has a skilled workforce and a proven history in advanced automotive manufacturing—it's the perfect place to produce the NGDV. More importantly, we know the people of Spartanburg take pride in their work and their community. What we build together here will reach every home in the country."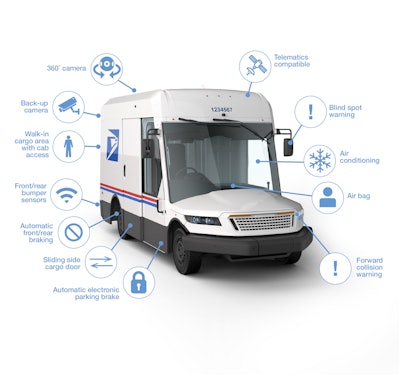 Propane autogas featured at multi-alternative fuel travel center
The Pride Travel Center is the first known fuel travel center in the U.S. to provide multiple alternative energy options; it recently opened in Hartford, CT. Propane autogas, electric vehicle and hydrogen refueling are among the available options at the travel center.
Superior Energy Systems (SES) provided the state-of-the-art propane infrastructure at the travel center says the Propane Education and Research Council (PERC) in its press release announcing the new facility. The system features an 18,000-gal. tank and dispenser as well as SES software that tracks data like driver and vehicle identification, mileage, and gallons pumped, providing a convenient experience for fleets says PERC.
"Propane autogas plays a critical role in clean transportation, and the addition of this essential energy source at the Pride Travel Center underscores the vital position propane autogas has in achieving net-zero emissions goals," said Tucker Perkins, President and CEO of the Propane Education & Research Council, in the organization's press release. "This is especially true for medium-duty fleet owners looking for an alternative energy that can improve air quality without sacrificing on range, payload, or torque."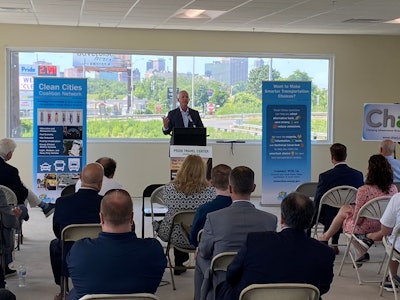 Curtiss-Wright providing in-cab operator controls to Hyster-Yale
Curtiss-Wright Corp. announces it has received a contract to supply Hyster-Yale Group with a suite of in-cab operator controls. They will be utilized on Hyster-Yale's new modular family of internal combustion and electric powered lift trucks ranging from 1-10 tons.
The company says it will be fitting the lift trucks with customized operator controls which includes modular armrests, steering column controller and electronic throttle control.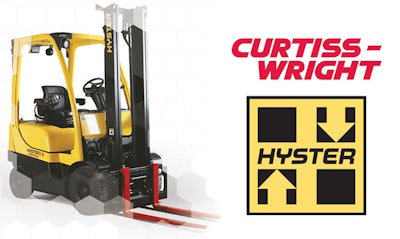 Per the company's press release on the subject, Curtiss-Wright worked closely with Hyster-Yale to develop an armrest capable of accommodating over 50 variants into an easy-to-use set of controls. The ergonomic design enables the machine operator to use a combination of levers and joysticks to control key machine functions such as movement of the forks, directional control, emergency stop and horn, all with the use of just one hand.
Companies in this article