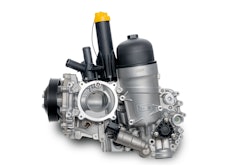 Hengst
Component manufacturers are continually developing new products and further enhancing their offerings to provide OEMs with solutions that will best fit their equipment designs and end use customer needs.
Each week we'll provide an overview of the latest components which have entered the heavy-duty mobile equipment market to help you find the products you need for your machine designs.
And be sure to check out our Component Directory for even more products. There you can also search by component categories and type.
Hengst Oil-Coolant Module
Hengst has launched an oil-coolant module that optimizes fuel savings and extends service intervals of up to 150,000 km (93,205.68 mi.). The oil-coolant module is also equipped with a stack filter that includes Hengst's partially synthetic medium.
Per the company's press release about the module, special intermediate plates embedded in the filter insert shorten the pleats, giving a significant boost to stability. At the same time, these plates keep the pleats open, thus keeping differential pressure and filtration performance at optimum levels.
Features of the Oil-Coolant Module include:
Topology-optimized design provides greater sturdiness against pressure and pulsation and improves Delta P performance by 30%

Smart interface integration reduces number of parts, making the module 10% lighter than

the

previous

model

High functional density consists of oil filtration, oil-water-heat management, water pump and an oil pressure regulating valve
Learn more about the Hengst Oil-Coolant Module
Delta-Q XV3300 Battery Charger
Delta-Q has introduced the XV3300, its first three-in-one charging solution for powertrain electrification. Its compact package combines a high- performance 3.3 kW (4.43 hp) charger, a 500W DC-DC converter, and an EV charging station interface.
"The launch represents a significant product development milestone for Delta-Q. The XV3300 answers our OEM customers' need for on-board charging power up to 20 kW (26.82 hp) delivered in a compact, fully sealed IP67 package," said Steve Blaine, co-CEO and executive vice president of Engineering & Quality with Delta-Q. in the company's press release about the battery charger.
Features of the XV3300 Battery Charger include:
Available in 58.8V, 65V, and 120V models

Ruggedly designed and IP67 rated

Complies with SAE J1772 (levels 1 and 2) and IEC 61851 (modes 2 and 3) to charge from standard EVSE AC charging stations across North America and Europe

Fully sealed aluminum die-cast enclosure protects against dust, liquids, and effects of immersion in up to 1 m (3.28 ft.) of water
Learn more about the Delta-Q XV3300 Battery Charger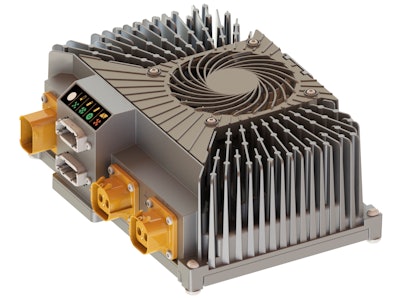 Sy-Klone RadialSHIELD HEPA Filter
Sy-Klone has introduced the RadialSHIELD HEPA filter which is designed to reduce machine operators' exposure to dust, debris, and harmful respirable particulates.
Per the company's press release about the filter, it increases filtration efficiency by orders of magnitude. It is also effective against smaller particles like toxic diesel soot (diesel particulate matter or DPM), viruses (COVID-19 and influenza), and biological particles at 99.95% efficiency.
Features of the RadialSHIELD HEPA filter include:
Designed to be more durable, as well as vibration- and drop-resistant

Tested and third-party-validated to conform to the HEPA filter test manufacturing standard, ISO 2946, and operator enclosure air quality standard ISO 23875

Improved durability protects filter media from harsh work environments and promotes sustained performance
Provides better sealing capabilities that prevent harmful particulates from bypassing the filter
Learn more about the Sy-Klone RadialSHIELD HEPA filter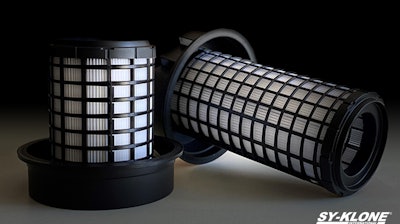 Enovation Controls has released the MC4-26-20 controller, the first controller in the MCx series of machine controllers. The controller withstands heat and vibration inside engine compartments of various equipment.
The controller hardware can be configured with Enovation Controls' ACE software to meet specific application needs.
"MCx controllers were designed for mobile machine control systems where survivability in the harshest environments is necessary. With MCx controllers, we can now offer our customers a solution that is rugged, robust, and ready to meet the needs of complex electro-hydraulic mobile control systems," said Brandon Coursey, distribution sales manager in the company's press release announcing the launch of the controller.
Features of the MC4-26-20 controller include:
Wide operating temperature range of -40-105 C (-40-221 F)

Soft-gel potted for shock and vibration resistance

Universal inputs and software-selectable, current-regulated PWM outputs
Learn more about the Enovation Controls MC4-26-20 controller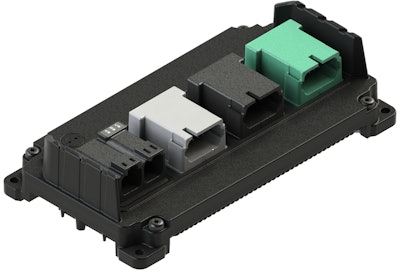 Balluff Inductive Sensors with Preinstalled Deutsch or AMP Superseal Connectors
Balluf has launched a line of inductive sensors with preinstalled Deutsch or AMP superseal connectors. The sensors are available in three connector types, as a 3-pole Deutsch triangular connector, 4-pole Deutsch square connector and AMP Superseal 1.5 mm (0.06 in.) 3-pole flat connector. Inclusion of 1P67-rated connectors helps make the sensors resistant to oil, grease, and abrasion which helps them withstand the demands of off-highway mobile equipment.
"By offering them preinstalled on our Balluff proximity sensors we can provide manufacturers Balluff's high-quality sensors while also delivering the go-to connectors that simplify their builds and repairs," said Rob Crumley, Balluff industry manager for mobile equipment and rail in the company's press release announcing the launch of the sensors.
Features of the Inductive Sensors with Preinstalled Deutsch or AMP Superseal Connectors include:
Sealed for added protection

Different sizes and ranges available including M12 4 mm (0.16 in.) flush-mount; M18 8 mm (0.31 in.) flush-mount; M18 16 mm (0.63 in.) non-flush-mount; and M30 15 mm (0.59 in.) flush-mounts

Product line includes 12 standard inductive proximity sensors
Learn more about the Balluff Inductive Sensors with Preinstalled Deutsch or AMP Superseal Connectors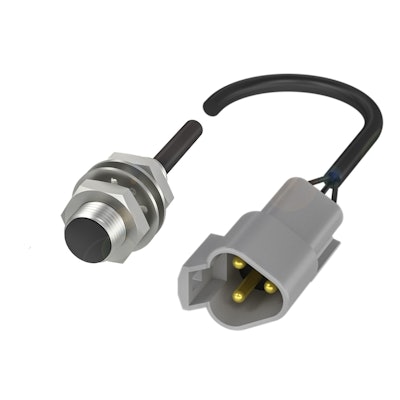 Companies in this article