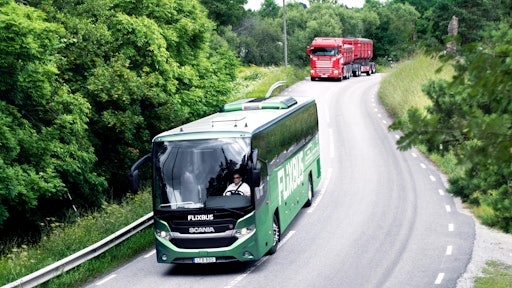 Scania AB
OEM Industry News Briefs provides a weekly round up of the latest news and company announcements you may have missed in the heavy equipment engineering and manufacturing industries.
Epiroc wins large mining equipment order
Epiroc has announced it received a larger order for underground mining equipment from CoMinVi, a customer in Mexico who plans to use the equipment in several mines.
The mining company has ordered several pieces of equipment including face drilling rigs, production drilling rigs, rock reinforcement rigs, loaders and mine trucks. In addition to the equipment, Epiroc will also provide aftermarket services.
According to Epiroc, all of the machines will be equipped with its Certiq system which enables intelligent monitoring of machine performance in real time. Epiroc's Rig Control System will also be installed on some machines to enable them to be ready for automation and remote control.
"We are proud to partner with CoMinVi to enhance safety, productivity and sustainability in their operations," says Helena Hedblom, Epiroc's President and CEO, in the company's press release announcing the order. "The equipment and services will support CoMinVi to successfully execute on their mining projects."
"The acquisition of this new equipment is a historical part of CoMinVi's growth in recent years and represents a competitive advantage for us. It will ensure our ability to respond immediately to our potential customers by having the necessary resources that allow us to be one step ahead of our competition," says Rafael Villagómez Contreras, CoMinVi's CEO. "We are very satisfied with the commercial partnership with Epiroc as this is a long-term relationship that will be supported with a high-level technical backup and a reliable supply."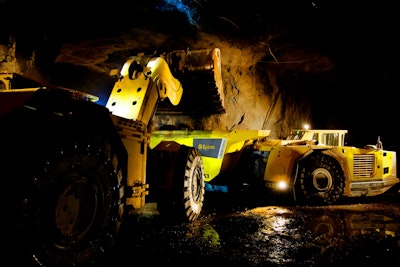 OTTO celebrates 60 years of business
OTTO Engineering Inc. marks 60 years of business in July 2021. The company says it has seen consistent growth over the past six decades.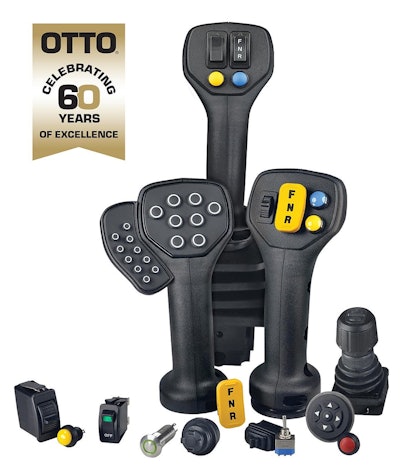 President Tom Roeser says in OTTO's press release announcing the anniversary that the company's success can be traced to some fundamental principles and values, "A belief in total customer satisfaction and responsiveness is a key element of the business. Innovation and new products drive market expansion and growth even in difficult economic times. High quality for demanding applications has been an integral characteristic of all OTTO products."
TRATON and Navistar close merger
Navistar International Corp. recently announced it has received all necessary regulatory approvals for its merger with Dusk Inc., a subsidiary of TRATON SE. Navistar will become a part of the TRATON family, expanding its transportation offering.
"Today is a sensational day for the TRATON GROUP and for our new colleagues at Navistar joining the global TRATON family. From this day on, we will be working side by side to bring sustainable transportation of the future one step closer. This is something the entire group is looking forward to," said TRATON CEO Matthias Gründler, in the company's press release announcing closure of the merger. He added, "The fact that this merger has been implemented so quickly and smoothly, despite the obstacles presented by the COVID-19 pandemic, is testament to the impressive team work on both sides of the Atlantic. I would like to thank each and every one involved."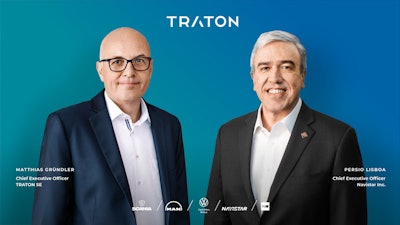 "Over the past 5 years, Navistar and the TRATON brands have worked very well together and it is exciting to become now part of the global TRATON GROUP," said Navistar President and CEO Persio Lisboa. "Our common understanding of the future of transportation and our joint heritage create a very solid basis for our common way forward. The transport industry is changing rapidly. And together we will shape this change – for the sake of our customers. The Navistar team is ready for the next step of collaboration."
Septentrio partnering with XenomatiX on LiDAR solutions
Septentrio has announced a partnership with XenomatiX—a provider of true-solid-state-LiDAR technology for autonomous applications and road management solutions—to enable creation of high-quality LiDAR solutions.
XenomatiX will use Septentrio's AsteRx SBi3 Pro+ GNSS/INS receiver as part of its Road LiDAR system, XenoTrack, to provide millimeter accuracy of pavement conditions. Septentrio explains in its press release announcing the partnership that its receiver features a dual antenna setup which helps to ensure centimeter-accurate geotagging of the XenoTrack point cloud frames for relative and global millimeter accuracy over large distances.
Use of Septentrio's technology will help to ensure the accuracy of information captured by the XenomatiX solution.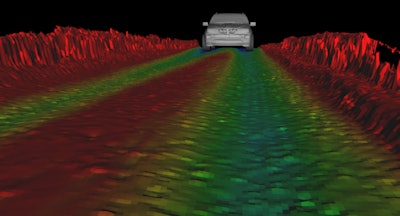 Rolls-Royce expanding mtu Aiken plant
Rolls-Royce has announced it will make a $17.4 million investment at its mtu Aiken manufacturing facility in South Carolina. Through this investment the company will add a new Remanufacturing and Overhaul Regional Center.
The company plans to add 109,000 sq. ft. of space to provide a dedicated remanufacturing and overhaul operations which will support growing customer demand in this area. The work is currently outsourced, but will be brought in house through the expansion.
"Investing in a remanufacturing and overhaul center in the United States is the next milestone in implementing our global strategy to optimize the value of our installed base, with regional centers and supporting workshops offering the best support for our customers," said Dr. Otto Preiss, Chief Operating Officer at Rolls-Royce Power Systems, in the company's press release announcing the expansion.
"Our investment in remanufacturing and overhaul solutions is also in line with our initiatives toward more environmentally-friendly solutions," said Steve Blaszczak, Senior Manager, Remanufacturing and Overhaul – US. "By remanufacturing and overhauling engines, we are able to extend their useful life while also bringing them to the latest emissions standards. This benefits our customers as well as the environment."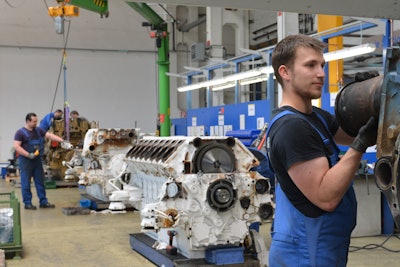 Bosch Rexroth introduces e-commerce portal for engineers
Bosch Rexroth has created a new e-commerce portal to make it easier for design engineers to find the components they need for their system and equipment designs. The company based the design of the online store on consumer shopping sites. According to the company, it offers a streamlined specification and ordering process with the ability to download CAD files. There are also detailed product descriptions, filter and comparison tools, as well as the ability to live chat with product engineers.
The Rexroth Store provides customers with access to a variety of solutions from the company including motion control systems and radial piston motors. Key features of the store include: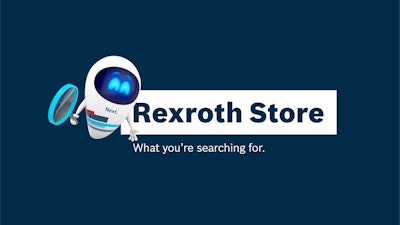 Guided selection
Product details, including technical specifications, documents and spare parts
Lead time information
Customized account pricing
CAD downloads
Live technical support
Order tracking, plus account activity and history
Updates based upon user feedback and interest
"The business to business e-commerce experience is becoming more personalized every day," said Mike Hams, Vice President of Sales at Bosch Rexroth, in the company's press release announcing the new online store. "Our new Rexroth Store is a natural extension of our ongoing commitment to ensure our customers have an experience catered to their needs and enables them to be more efficient."
Volvo Trucks partners with Bendix on driver safety
Volvo Trucks North America has announced it is offering the fifth generation of Bendix Commercial Vehicle Systems' SafetyDirect Processor (SDP5 FULL) as a factory-installed option on the Volvo VNL, VNR and VHD models.
Per Volvo Trucks' press release on the subject, the SDP5 Full processor features a driver-facing camera, added digital video recorder (DVR) storage and internal battery backup to help prevent data loss. These help to improve the capabilities of the SafetyDirect platform, which can be fully integrated with Volvo Active Driver Assist.
The driver-facing camera produces a high-resolution color image and is supported by infrared technology to improve visibility in low light conditions, Volvo Trucks explains in its press release. "The camera's wide field of view helps capture the adjacent cab environment for a more complete analysis of what happens inside the cab during an event – including driver behavior and decision making or the presence of a passenger – providing critical information that aids in driver coaching," said TJ Thomas, Director of Marketing and Customer Solutions – Controls at Bendix.
"By leveraging data in near real time, the SafetyDirect system and its family of SDP5 processor technology enables fleet managers to assess driving trends and develop targeted training that addresses the actual issues taking place on the road," said Ashley Murickan, Product Marketing Manager at Volvo Trucks North America, in the company's press release.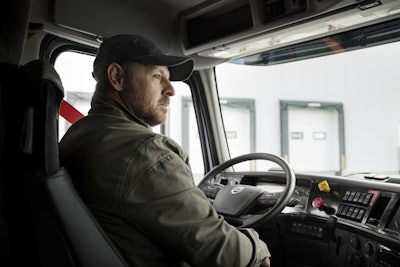 Scania premieres first international biogas bus
Scania has collaborated with Flixbus and Gasum to put the first long distance coach running on biogas into operation along a route from Stockholm to Oslo. The bus is powered by liquid biogas (LBG), enabling transport of people in a manner which reduces emissions.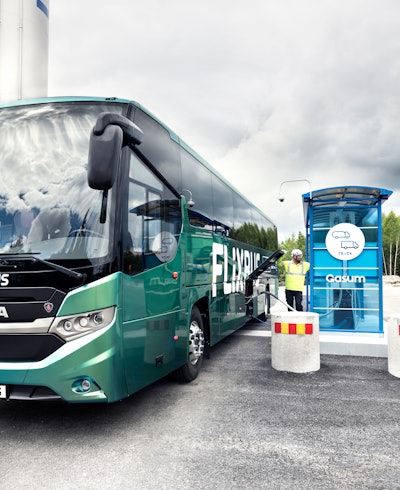 "Biogas is not only the fuel with the lowest CO2 emissions – it also solves local waste problems, creates local jobs and brings carbon and nutrients back to the soil. It is the Swiss Army Knife of circular economy," says Jonas Strömberg, Sustainability Director at Scania, in the company's press release announcing operation of the biogas coach.
"Biogas will be one of the key tools for decarbonization of heavy-duty transport – especially for long distance operations like intercity and long-haulage. Half of Europe's heavy-duty gas fleet could be powered by biogas in 2025," Strömberg concludes.