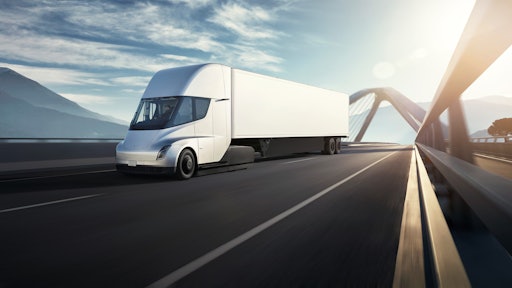 Courtesy of Tesla, Inc.
OEM Industry News Briefs provides a weekly round up of the latest news and company announcements you may have missed in the heavy equipment engineering and manufacturing industries.
Hatz adds product manager for fiPMG product
Hatz Diesel of North America has named Ben Froland as Product Manager, fiPMG (Flywheel-Integrated Permanent Magnet Generators). He will be tasked with helping accelerate sales of this latest product line from Hatz.
Froland has over 25 years of experience in the automotive and equipment manufacturing industries. Most recently he was Vice President of Engineering at Hy-Brid Lifts, and previously held positions with Wacker Neuson and Pierce Manufacturing.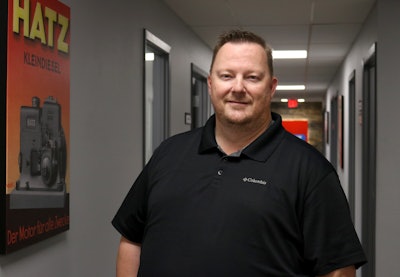 Per the company's press release announcing his appointment, Folder will coordinate and manage all aspects of fiPMG product sales and service through the Hatz Diesel organization, serving as a liaison between sales, engineering, marketing, dealers, and customers. He will be responsible for the strategic planning and tactical execution of all activities and functions associated with the fiPMG product family.
Mechanical Simulation adds Autonomous Platooning to simulation software
Mechanical Simulation Corp. has added tests for development of truck platooning to its TruckSim version 2022.0 software which is scheduled to be released later in 2021. Because platooning requires use of vehicle-to-vehicle communication and a range of vehicle systems—including sensors, GPS and cameras—accurately proving out designs is critical.
The company's TruckSim and other vehicle dynamics simulation software tools are designed specifically to help create complex and realistic testing environments so engineering teams can ensure they are developing the best products possible.
Platooning is an area of development that has been under investigation by many truck manufacturers over the past several years. The goal is to have a lead truck followed closely by one or more other trucks which follow all movements of the lead truck. Testing has shown the potential to greatly reduce fuel efficiency through the use of platooning; and because follower trucks do not necessarily have to be manned, the concept could help to alleviate driver shortages.
Read more about truck platooning in our article Follow the Leader
Epiroc wins large mining equipment orders
Epiroc has announced it received large mining equipment orders from customers in Turkey, Sweden and Canada.
IAMGOLD Corp. in Canada has placed an order for several pieces of surface mining equipment including Epiroc's Pit Viper 231 and SmartROC D65 drill rigs. The machines will be used in the company's open pit gold mine currently under construction and expected to begin production in the second half of 2023.
The Pit Viper drill rigs will be fully autonomous while the SmartROC D65 machines are prepared for remote operation, says Epiroc in its press release announcing the equipment order. These autonomous features will help the customer meet its goal of improving safety and productivity at its mine sites.
Epiroc's customer LKAB in Sweden has placed a large order for various underground mining drill rigs. These include Boomer face drilling rigs, Boltec rock reinforcement rigs and a Simba production drilling rig for use at LKAB's Malmberget and Kiruna underground iron ore mines in northern Sweden.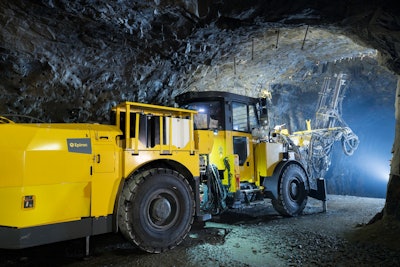 Several advanced automation features are included on the machines. The Simba production drill rig, for instance, allows remote operation from a control room located in the mine. Epiroc says in its press release announcing the order that one fo the Boltec machines will also be equipped with a new automated pumpable resin system, a key component in the company's automated bolting development. In addition, Epiroc says all the machines will be equipped with its telematics system Certiq, which allows for intelligent monitoring of machine performance and productivity in real-time. Epiroc expects to deliver the machines in 2022.
Eti Bakir in Turkey—considered the country's largest mining company—has placed a large order with Epiroc for drill rigs, mine trucks and loaders. The new equipment will help the mining company with its efforts to expand its three underground copper mines.
Per Epiroc's press release announcing the order, the machines ordered include Boomer face drilling rigs, Simba production drilling rigs, Boltec rock reinforcement rigs, Scooptram loaders and Minetruck haulers. Most of the units will be equipped with Epiroc's telematics system Certiq, which allows for intelligent monitoring of machine performance and productivity in real-time, and some of the machines will have Epiroc's Rig Control System, RCS, installed, which makes them ready for automation and remote control.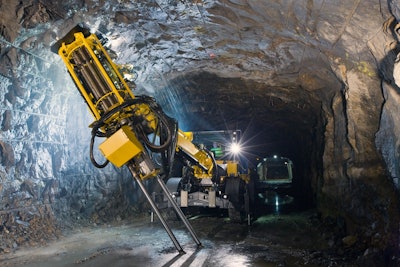 Yokohama appoints new country manager, announces price increase
Yokohama Off-Highway Tires (YOHT) has announced the appointment of Massimo Mori as the new Country Manager for Italy. In this position he will lead the aftermarket business in Italy for the company's Alliance and Galaxy brands. Mori has held several roles over the years in or related to the vehicle industry.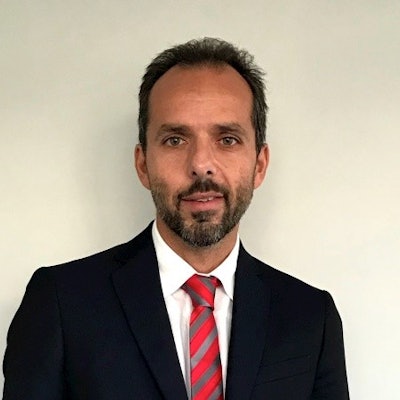 "I am very excited to join Yokohama Off-Highway Tires as Country Manager for Italy," says Mori in the company's press release announcing his appointment. "I think that this position offers an excellent opportunity to build on my abilities and knowledge, thus successfully managing and developing the equally interesting and important segment of Off-Highway tires for agriculture, forestry, municipalities, construction and various other uses in the Italian market. I am really looking forward to further getting involved and driving the business in Italy for both existing and off course new customers."
YOHT also recently announced its decision to initiate moderate price increases due to the rising cost of raw materials and freight. The company says it has made efforts to keep its customer costs as low as possible by absorbing many of the supply chain cost increases.
The company says there has been an average increase of 4.5% across its entire portfolio of tires, and it will work to pass along only a small part of these to its business partners. New prices will go into effect starting December 1, 2021.
JLG self-leveling boom lift now available
JLG Industries Inc. has announced its JLG 670SJ self-leveling boom lift is now available in the North American market. The boom lift comes equipped with the company's patented self-leveling technology which JLG says is engineered to automatically adapt to terrain on slopes up to 10 degrees in any direction. It is capable of doing with while driving with full functionality at a 67 ft. platform height.
Per JLG's press release announcing the boom lift's availability, the 670SJ's self-leveling technology is designed to adjust the boom lift's chassis to the ground conditions — rather than having to adjust the ground conditions to the machine. This allows the 670SJ to navigate uneven terrain while driving at height from one job to the other without lowering the boom, leading to significant productivity gains throughout the workday.
"On the underside of the machine, you can see that it has four independent axles, each controlled by its own smart hydraulic cylinders. These enable each wheel to separately follow the contour of the terrain and stay in constant contact with the ground. This not only allows the machine to continuously and seamlessly self-level, but it does so without requiring operator inputs," explains Shashank Bhatia, vice president of engineering for MEWPS, JLG, in the company's press release.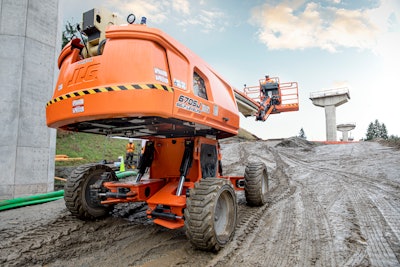 Tesla announces new production timeline for electric semi
On October 7, Tesla held its annual shareholders meeting during which the electric vehicle manufacturer addressed current supply chain challenges and a possible new date for its electric semi truck—now slated for 2023.
According to an article from Advanced Clean Tech News on the subject, the current microchip shortage is having an impact on production of the truck as well as other vehicles from the company. Musk said during the shareholder meeting the semi requires a large number of cells and chips, making it difficult to produce given the current supply environment. He added though he is optimistic the electric truck will be in production by 2023.
Tesla first introduced its electric truck concept in November 2017, and has since received numerous reservations from trucking fleets.
READ MORE: Driving a More Sustainable Transport Industry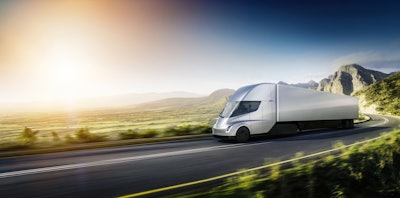 Companies in this article