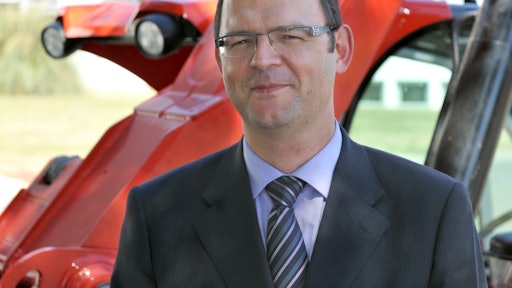 Effective May 23, Eric Lambert joins Manitou as President, RTH Division (Rough Terrain Handling) Ancenis-based, Loire-Atlantique. He replaces in this position Christian Caleca who recently left the group.
Jean-Christophe Giroux, President and CEO, says, "Eric Lambert brings a fresh look, a manufacturing background and a personal leadership which together represents real assets for our operational recovery. I am convinced he will be for RTH, Manitou's flagship, a powerful change agent to move away from the past and invent a better future."
Eric Lambert says, "I am very excited to join a proven market leader with still untapped growth potential. I am also eager to join a dynamic and ambitious leadership team, and to revisit RTH operational chain for a better support of our dealers and customers."
Eric Lambert graduated from Ecole Polytechnique (X88) and from Ecole Nationale des Ponts et Chaussées (1993). He subsequently joined Renault Group where he built between 1994 and 2009 his industrial track record: metal cutting in Sandouville, innovation project leader at the Guyancourt Technocentre, Logan project leader with Dacia in Rumania, and deputy director of the Douai factory as well as manufacturing coordinator for all Renault plants. Since 2009 he has been managing director of the Aix-les-bains site with Alstom Grid, specializing in high voltage gas isolated substation.