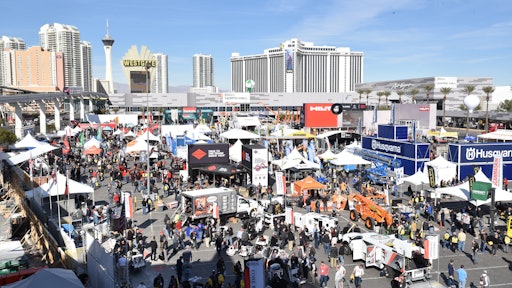 World of Concrete
This week saw the return of in-person trade shows for many in the construction equipment industry with World of Concrete (WOC), which took place June 8-10 in Las Vegas. Our colleagues at Concrete Contractor and ForConstructionPros.com attended this year's show, reporting a busy show floor—which indicates the industry is ready to get out there and start doing business in person once again.
Like many shows set to take place in person in 2021, the organizers of WOC ensured safety measures were in place and CDC guidance was followed. This is likely to take many different forms at shows during the year as the COVID-19 situation continues to evolve around the U.S. and the world. WOC organizers lists several safety measures on the event's website, among them being:
Availability of hand sanitizer and PPE
Extra cleaning and airflow throughout the convention center
Physical distancing by monitoring the number of attendees on the show floor and contactless registration
Temperature checks
Facemasks are recommended, but not required
With these new safety procedures in place, the show may have had a different feel to it, but news from the show demonstrated business is still moving in the industry.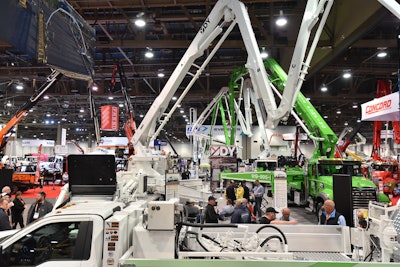 News highlights from World of Concrete
Doosan debuts new construction equipment
Doosan Infracore North America, LLC introduced two new pieces of construction equipment during the show—a wheel loader model in its new -7 Series and an updated crawler excavator.
The new DL380-7 wheel loader is a next-generation machine with a standard bucket capacity that is 7% greater than the DL350-5 model it is replacing. This helps customers to get more work accomplished during the day in less time. Stronger, larger axles, as well as a strengthened box frame, help to increase the wheel loader's capacity.
Doosan also exhibited its DX140LC-5 crawler excavator, a 14-metric-ton machine. The company says it features operator-focused comfort, fuel economy and jobsite durability, among other benefits. Smart Power Control (SPC) is available as a selectable feature on the excavator consisting of Variable Speed Control and Pump Torque Control; these two technologies work together to improve machine efficiency while also maintaining productivity and reducing fuel consumption says Doosan.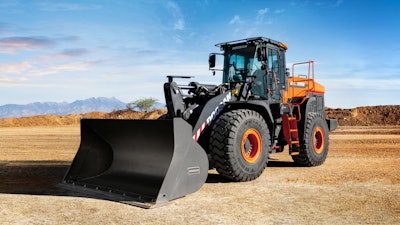 Mack mDRIVE HD available on Mack TerraPro concrete pumpers
Mack Trucks announced customers can now order a Mack mDRIVE HD automated manual transmission in Mack TerraPro cabover concrete pumpers powered by the Mack MP8 engine. Because the transmission is fully integrated with the engine and Mack axles, vehicle operators will be able to achieve performance benefits and a boost to productivity and safety the company says in its press release announcing availability of the transmission in this application.
For customers who need to use longer booms on their concrete pumpers, the transmission and engine pairing is able to provide the horsepower and torque required when utilizing these longer booms.
"Mack's firm belief in integrated components allows us to deliver high-performance features tailored to specific applications," said Tim Wrinkle, Mack Construction Product Manager, in the company's press release. "The integrated mDRIVE and MP8 engine pairing delivers on the needs of high horsepower concrete pumping applications and eliminates the need for traditional shifting, allowing drivers to focus on safely navigating jobsites and operating their equipment."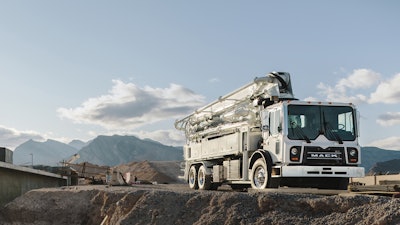 Honda Engines debuts electrified power unit
Honda Engines has expanded its offering to now include an electrified power unit for OEMs in the construction industry. The Honda eGX is a battery-powered motor which can easily be interchanged with Honda GX engines in certain types of equipment.
Initial applications for power unit include rammers, power trowels and vibratory plate compactors. Additional applications are also being planned and the company intends to test it in various other construction and other heavy-duty market segments.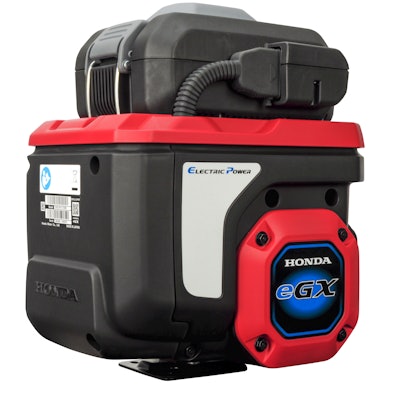 Freightliner Cascadia and M2 recognized for high residual values
Freightliner has received the 2021 Price Digests' Highest Retained Value Award for its Freightliner Cascadia and Freightliner M2 106. Per the company's press release on the subject, both trucks received recognition in the heavy-duty category for the conventional day cab tractor and conventional cab and chassis categories.
The award identifies commercial trucks which are expected to retain the highest residual value over a 5-year period.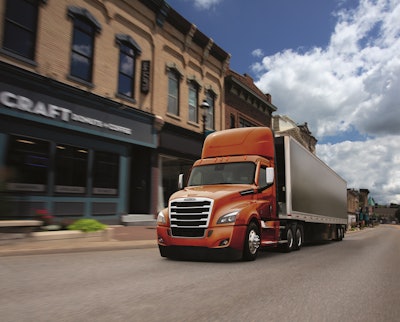 What in-person shows are next for the industry?
Besides WOC, several other conferences and trade shows have reported they will return to in-person formats, most of which are set to take place in late summer and during the fall.
For the OEM Off-Highway staff, August is looking to be when we'll be hitting the road again for the NFPA Industry & Economic Outlook Conference, for which registration just opened up. After that Farm Progress Show and then our biggest show of the year, MINExpo INTERNATIONAL® which takes place in Las Vegas in September.
MINExpo®, held once every 4 years, was put on hold in 2020 due to the pandemic but is set to return this year with an array of mining equipment and technologies scheduled to be on display. The show will encompass over 675,000 sq. ft. and 11 halls, providing attendees with plenty to see.
Other shows slated to be held in-person this year include:
SAE COMVEC
Motion + Power Expo
The Battery Show
GIE+EXPO
Read More: Events Prepare to Bring Heavy Equipment Industry Together Again in 2021
We want to hear from you!

What events are you looking forward to attending this year? How do you think trade shows and conferences will be different? Let us know!

Reach out to us on social media or send an email to editor@oemoffhighway.com

Twitter: @OEMOffHighway

Facebook: @OEMOffHighway

Instagram: @oemoffhighway

LinkedIn: @OEMOffHighway
Companies in this article