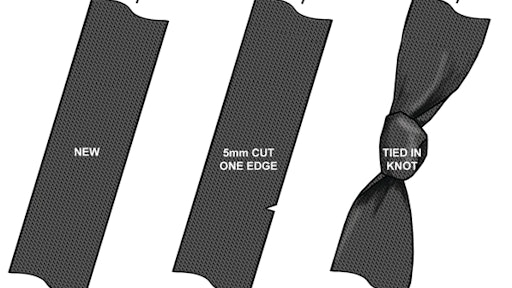 The measures equipment manufacturers go through to ensure an operator is safe seem endless. Back up cameras, alarms, kill-switches, operator protective structures, and seatbelts are just a few of the precautionary systems on heavy-duty equipment.
But, ultimately an operator's safety comes down to whether he or she chooses to utilize what is available.
Custom Products of Litchfield, Litchfield, MN, has been producing custom cabs and operator protection for the off-highway industry since 1962. Jim Schmitt, director of engineering and regulatory compliance says, "Designers and manufacturers of mobile off-highway vehicles inherently consider a broad scope of both passive and active safety systems that are individually selected and applied to protect the owner's investment in the equipment, as well as the employees who operate the equipment whose safety is dependent on the quality of these systems."
Companies such as Securon Ltd., Amersham, England, and Beam's Seatbelts of Oklahoma City, OK, and IMMI, Westfield, IN, provide seatbelts and harnesses for operators of heavy-duty mobile off-highway equipment.
"Foremost is the efficacy of roll-over protective structures (ROPS) when applied to off-highway vehicles. The protective quality of a ROPS is severely limited in the absence of a qualified operator restraint system," says Schmitt.
Peter Gent, Securon's Quality & Special Product Sales Director agrees, "Seat belts certainly protect the operator from ejection, but serious injuries can occur even if the operator is not thrown from the vehicle. The restraining of the occupant in the seat and minimizing the effect of the impact play major roles in reducing injury."
Comfort is key
Though basic seatbelt design has not significantly changed for many years, manufacturers are designing their systems to be more comfortable to promote daily wearing by operators.
Mike Bosley, president of Beam's Seatbelts says, "There is a continued strong interest … in operator comfort. The best seatbelt in the world is of no use if it's not worn. Thus, manufacturers are quite interested in operator compliance in terms of actually wearing the seatbelt and wearing it properly."
Typical belt (a.k.a. strap or web) widths are made of strands of polyester, 2 or 3 inches wide, depending on the application and harshness of the environment the operator will be subjected to for a specific amount of time. "Generally the minimum strap width is 46 mm (1.81 inches)," explains Schmitt.
He adds, "Poorly designed operator restrains that restrict normal required motion of the operator do not motivate operators to always use the restraint. Rough-riding equipment where the restraint does not follow the multi-axis movement of the operator can be quite uncomfortable.
"Frequently, users of off-highway equipment operate these machines in less than ideal environments for extended periods of time. Being alert and focused is essential to maximizing productivity. When an operator has to divert his attention to bracing himself so he doesn't fall off of the equipment or lose control, productivity is reduced while fatigue is increased."
To add extra comfort, manufacturers of seatbelts are working to combine restraint with movement. Retractors allow extra strap to be stored out of the way of the operator.
"A stretch buckle generally has an elastic element sewn into a fold in the webbing. The webbing still holds the ultimate load of the seatbelt, but the elastic provides a little extra extension. An anti-cinch retractor allows the webbing to extend further between locking positions. This helps the retractor avoid successive locking, or cinching when operated in a rough environment where the operator may bounce up and down in the chair," explains Bosley.
IMMI Commercial Div. offers an on-highway, three-point lap-shoulder seatbelt designed with the Komfort Latch, which reduces pressure of the shoulder belt on the driver and has a unique retractor (web-storage and controlled locking device), which reduces multiple lock-ups while driving.
Comfort Ride sleeves can be provided with IMMI's off-highway retractable lap belt systems on the latch side of the belt, or with mini anti-cinch retractor (MACR) devices on the retractor side. Built-in web extension increases operator comfort in rough ride conditions. The systems provide resistance to cinching, which can occur with conventional automatic locking lap belts, while permitting the operator a controlled amount of movement.
Smart seatbelts
The introduction of sensors into restraint systems allows an extra level of security for the operator. "Heath and safety legislation has increased in the installation of belts onto off-highway vehicles, but increasingly employers are concerned that, despite instructions to do so, employees do not use them. There is a general trend toward the use of micro-switches and colored webbing, even in areas where these are not required by legislation," says Gent.
Securon offers a micro-switch technology as an option for its twin release buckles, and has an IP67 rating. The assembly can be set so that the vehicle cannot be started, or warning lights are lit if the tongue is not inserted into the buckle. The switch has a voltage rating of 12, 24 or 42v DC, with resistive loads ranging from 0.5 to 2 A.
IMMI and Beam's Seatbelts also offer buckles with electrical switch capabilities that are integrated with machine safety systems to increase seatbelt usage and, too, are IP67 rated.
Designing and testing
Before the restraint system is put to the test in the field, physical capability tests are done on the system to ensure its durability and damage resistance. "Manufacturers of operator restraints apply labels to the restraints that specify the standards that [it] meets. Vehicle manufacturers are then responsible to demonstrate that the complete restraint system is qualified by physically testing a complete system in a vehicle," says Schmitt (see image on page 24).
Beyond physical capabilities, other tests include corrosion (salt spray) and dust, buckle compression, and life cycling of retractors and buckles.
There are many places on the restraint that can pose problematic if worn out or damaged. Webbing should always be checked to make sure there is no fluffing, fraying or broken strands, which like any material, will prove to be weak points.
Bosley states, "seatbelt webbing is the most common wear item" but much depends on the specific application. Environments that are extremely dirty, for example, will be more likely to contaminate a seatbelt component like the buckle before it wears the webbing.
Checking whether the tongue latches securely and if the webbing retracts well ensures the restraint system will work properly when it is needed most.
Retractor covers can consist of two pieces mechanically fixed in three places, or simply one piece. Covers which are one piece with a folding hinge are more likely to suffer from abuse. Buckle bodies that are made from one piece with a mechanically fixed top have proven to be more robust than two-piece-type covers which are ultrasonically welded and can be more prone to separation, says Gent.
"Worn, tattered, faded, heavily soiled or otherwise damaged restraints should be replaced with a direct, proper replacement specified by the manufacturer of the vehicle," says Schmitt.
"Like most critical safety systems, operator restraints only have one opportunity to fulfill their intended purpose. Prudent action when designing, selecting, testing, installing and maintaining operator restraint systems are part of a competent safety strategy that serve to preserve and protect off-highway vehicle operators," he concludes.
Organizations and regulations
There are many different standards for safety belts. They can vary from country to country, and from application to application.
Safety organizations and regulatory associations such as the Society of Automotive Engineers (SAE), International Organization for Standardization (ISO), and the Economic Commission for Europe (ECE) are a few government bodies responsible for regulating risks to health and safety in work places. Industry specific groups such as the Mining Safety and Health Administration (MSHA), the UK's Health and Safety Executive (HSE) and the Health and Safety Commission (HSC) ensure their industries are safe and informed on changing policies and regulations.
"Manufactures who sell haulage and earth-moving vehicles in the state of California will want to consider California Code of Regulations, Title 8, Section 1596 wherein the regulation specifies that the minimum strap width can be no less than 3 inches. California Code of Regulations, Title 8, Section 1593 would be appropriate reference for operator restraints applied to agricultural and industrial tractors," explains Jim Schmitt, director of engineering and regulatory compliance, Custom Products of Litchfield, Litchfield, MN.
The SAE standard, SAE J386: "Operator Restraint System for Off-Road Work Machines," according to the organization's website, "provides performance and test requirements for operator restraint systems provided for off-road self-propelled work machines. This document applies to pelvic restraint systems (Type 1) for off-road, self-propelled work machines fitted with ROPS and commonly used in construction, earthmoving, forestry, and mining as referred to in SAE J1040 and industrial machines fitted with ROPS as referred to in SAE J1042."
The full document can be purchased through SAE at www.sae.org.
In a 2005 report by TRL Ltd., commissioned by HSE, "Seatbelt performance in quarry vehicle incidents," it was cited that accidents with roll-over or an impact when earth-moving machinery is involved results in a substantial number of fatal and serious injuries worldwide. The report further states that "Industry standards have been implemented in the UK with respect to all round visibility from vehicles, edge protection and brake testing to reduce the number of casualties. The effectiveness of restrain systems is considered as the next step to achieving casualty reduction targets."
TRL's investigation was to find the effectiveness of occupant restraint systems in selected vehicle incidents in the quarrying industry with three objectives:
To review current standards and practices in the UK and overseas
To evaluate the performance of different restraint systems in different vehicle types and incident scenarios
To make recommendations as to the most effective restrain systems in order to minimize injury over a range of accident situations
Current standards and practices for operator restraints required, at minimum for earth-moving equipment in most countries were two point lap seatbelts, which were thought to have contributed to the severity or cause of the operator injuries.
The assessment of restraint systems was supplemented by a risk assessment of the interior of the cab with regards to hostile structures (handles, corners and edges, protruding devices) and their placement within the cab that could be potentially hazardous to the operator in the event of a roll-over or crash.
Further, the research identified a potential issue with seatbelt restraint locking mechanisms in the event of a slow roll where the mechanism did not lock.
Torso restraint, especially the harness-type restraint system, was discovered to provide additional benefits beyond what typical lap belts could provide. Securon Quality & Special Product Sales Director Peter Gent comments that "since the introduction of safety belts in the 1950s and the drawing up of the initial standards, such as SAE J4, their development has been driven by the desire to increase the occupant's safety and comfort, but also constrained by cost and the practicality of the occupant's required movement.
"The safety belt is only of any value when used, and practicality has to be taken into consideration when specifying the safety belt in any application. In almost every application, a full harness would be the safest restraint but this could affect usage rates and have a negative impact."
To view the full report, go to http://www.hse.gov.uk/research/rrpdf/rr406.pdf.