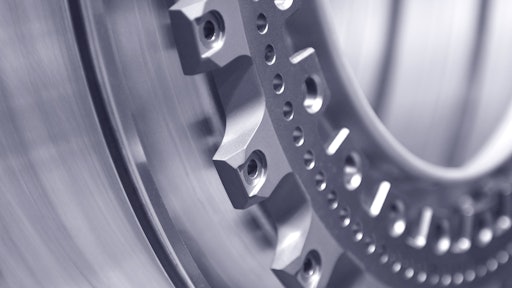 ©Steve Mann – stock.adobe.com
Even as the U.S. steel industry fights to keep tariffs in place, the equipment manufacturing industry faces an ongoing struggle as rising materials prices, and steel in particular, eat away at profit margins and delay or halt some projects due to runaway costs. And relief is unlikely to come in any form soon. Anirban Basu, chief economist, Sage Policy Group, believes the industry is on the edge of the precipice, with a "tsunami of demand" ahead as the U.S. economy opens further and continues to drive up material prices.
Steel has seen particularly dramatic increases over the past year, with price growth expected to continue for the foreseeable future. Demand for this material is strong from many sectors, including the heavy equipment manufacturing industry, leading to higher prices. Supply is also strained, as is the case with many materials and products currently, further exacerbating the issue.
In the May 2021 Precision Metalforming Association Business Conditions Report, metalforming companies indicated lead times due to challenges finding steel and other metals is causing concern for the industry. The report shows only 41% of companies expect improved economic activity in the next 3 months, which was down from April. More companies, 71% of respondents, said their lead times have increased compared to the April report.
A poll conducted by S&P Global Platts of 91 participants in its Steel Markets North America (SMNA) virtual conference showed more than half expect U.S. finished steel prices to remain at their current highs or rise further in the coming 6 months. Of the 44% who expect to see domestic finished steel prices increase, 22% expect prices to rise by more than 10%.
As long as demand stays high, so will prices. James Meil of ACT Research noted during a recent economic webinar hosted by the National Fluid Power Association (NFPA) the above-normal demand for steel is not likely to diminish anytime soon. He predicts year-end 2022 may be when we start seeing demand settle and supplies catching up, leading to a potential reduction in steel prices.
Four Contributing Factors
Gordian regularly collects, validates and analyzes North American construction material costs to maintain RSMeans data, its construction costs database. Its data team has identified four contributing factors for the unprecedented price increases in steel:
Steel Fabrication Costs: Fabrication costs are largely influenced by wage rates and the energy required to shape, cut, drill and weld. While some steel used in the U.S. is produced overseas, most of it is made domestically. This means that fabrication wages for the majority of domestic steel products will follow the rise and fall of the national working wage rate, which is growing. And while green technology is starting to reduce energy costs for many businesses, steel fabrication facilities require an impressive amount of power to operate.
Installation Labor: Installation costs, like fabrication costs, are directly linked to wages, and domestic wage rates are projected to continue their hike upward. The current employment levels in the U.S. have also created a shortage of available labor. This means that employers are paying extra to secure and keep workers on staff. Areas more affected by the labor shortage will likely see a correlating bump in installation costs.
Transportation Costs and Tariffs: Over its life, steel is moved from the mill to the fabricator then on to the jobsite. Each mile the material moves will add more to its cost. In addition to driver wages, transportation costs – including fuel, equipment maintenance and insurance coverage – tend to go up year over year. The providers will inevitably pass those costs along to the end user in the form of material price increases. Import taxes and duties, which include tariffs, also factor into transportation costs. The U.S. is currently carrying 25% tariffs on steel imports against many nations.
Supply and Demand: The impacts of the pandemic hit industrial manufacturers and factories hard, especially those that depend on workers whose jobs cannot be carried out remotely. The effect of public health requirements and COVID-19 outbreaks was a halt or delay in production and thousands of jobs lost. Through the worst of the pandemic, the U.S. saw thousands of iron and steel production jobs disappear nationwide. With businesses starting to ramp up operations, there is a nationwide clamor for commodities such as aluminum, drywall and lumber. The high-demand nature of the pandemic recovery has emptied stressed supply chains and inflated prices at a rate we have not seen in recent years.
While there are those who believe that steel demand, and prices, will taper in the coming months as more production comes online, others see no clear end in sight as domestic suppliers stumble in restoring capacities and imported suppliers take a double hit from tariffs and jumps in ocean freight costs. Should increased infrastructure funding legislation come to be passed, it only adds to the question of how high prices could go if the resulting increased demand can't be effectively met or delivered in a timely and cost-effective manner.