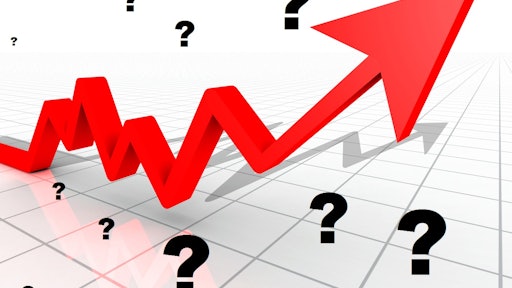 Just 5 months into the year, and already it appears 2017 may be headed in a more positive direction than 2016 for the heavy-duty equipment industry. Many were optimistic about the year leading up to, during and after March's CONEXPO-CON/AGG show. And as financial reports for the first three months of 2017 have started rolling out, many manufacturers have noted increased sales and outlooks for the remainder of the year.
AEM's post CONEXPO report highlights the pent-up buying demand seen during the show, also reflected by its increased attendance numbers over 2014.
Cummins Inc., for instance, reported a 7% increase in revenues compared to first quarter 2016 due in part to stronger demand from customers in the mining and construction markets. The company said this increase helped to offset weaker production from the North American market, which is anticipated to be down from last year.
OEMs Caterpillar, CNH and Volvo CE—as well as its parent company the Volvo Group—all reported first quarter increases. Volvo CE reported a 30% increase in net sales, with improved construction equipment market conditions in all regions except for South America. Europe had the strongest improvement at 17%, while North America was up 1% due to improved sales of compact equipment and large excavators.
On the agricultural equipment side, CNH Industrial saw a 10.5% sales increase resulting from a strong rebound in LATAM (Latin America) and continued market momentum in APAC (Asia-Pacific), both of which are regions of potential opportunity for the industry as they turn to more mechanized farm practices.
Titan International reported higher sales volumes of agricultural tires during the first quarter, further indicating potential market improvements. The higher sales volume helped the company achieve an 11% sales increase, its first quarterly increase after 18 consecutive quarters of year-over-year decline. "We are encouraged by these early signs of growth and cautiously optimistic about the future quarters of this fiscal year," said Paul Reitz, President and Chief Executive Officer, in Titan's quarterly report press release.
Cautious optimism was touted by many in their quarterly reports as the strong start to the year gave hope for growing economic activity, while factors such as political uncertainty in various parts of the world and a strong U.S. dollar could still have negative implications. "There are encouraging signs, with promising quoting activity in many of the markets we serve and retail sales to users turning positive for both machines and Energy & Transportation for the first time in several years," said Caterpillar CEO Jim Umpleby in the company's first quarter press release. However, the company also noted geopolitical and market uncertainty, along with volatility in commodity prices, will continue to present risks for the rest of the year.
Because of this, manufacturers who did readjust their full fiscal year outlook based on the strong first quarter results remained on the conservative side. Caterpillar, for instance, changed its full-year outlook from $36-$39 billion—announced in January—to a sales and revenues outlook of $38-$41 billion.
Even companies which did not see an increase during the first quarter still showed hope for the coming year. Meritor Inc.'s sales declined 2%--primarily due to lower commercial truck volume in North America, which the company said was down 20% year-over-year. However, CEO and President Jay Craig said in a press release the company had a strong quarter. "Continued operational performance, combined with signs of improvement in global end markets, gives us confidence that our 2017 financial performance will be better than previously planned."
In its latest article, "Global/North America Markets Promise More Growth in 2017," Power Systems Research (PSR) also notes cautious optimism about overall global performance for the rest of the year. Author Yosyf Sheremeta noted the U.S. election's outcome benefited the oil & gas industries, as well as the infrastructure and financial sectors. However, major turndowns have already taken place in the financial market as bill passage in Washington has thus far remained at a minimum.
According to Sheremeta, global economic drivers will remain stable in the near term. Brazil, which slid into a deep recession in 2015, is showing signs of positive change, and PSR anticipates a significant turnaround in 2017 and 2018, though it will take time to reach pre-recession levels.
Most markets, he said, are growing at a modest rate and that developed economies such as Europe and less developed markets such as India are in the middle up-trend of the global growth cycle. North America's general economy is doing well, but consumer markets are anticipated to hit their peaks and decline in production activity towards the end of 2017 in some segments is expected.
While 2016 saw little to no growth for the agricultural and construction markets, Sheremeta noted the past few months have been promising and are giving the industry an optimistic outlook for the near future. Regions such as Brazil, China and Russia have approached or are about to reach the bottom of their downturns and will see improvements in 2017 and 2018.
XCMG
Also of note is a slowdown PSR sees in demand from emerging markets for products and equipment made in the well-developed regions of North America and Europe. Strong demand from domestic markets, though, is compensating for the loss of exports. This is helping some of the smaller OEMs—who focus more domestically than their larger counterparts—do better than the larger/better known brands which often rely heavily on exports. In December, the Association of Equipment Manufacturers (AEM) reported U.S. construction equipment exports fell 25% during the first three quarters of 2016. How 2017 will fare is yet to be seen.
Chinese construction equipment manufacturer XCMG reported a 70% increase in first quarter sales after selling over 4,000 excavators worldwide. International markets are a strong segment for the company, particularly for its more advanced products; it announced over 20 intelligent excavators are about to be shipped to Ghana, Africa.
Along with strong excavator sales, the company also saw significant growth in sales of truck cranes, crawler cranes and road rollers during the first quarter. The global mobile crane market is anticipated to continuing growing over the next 5 years. A new report from Research and Markets shows it will grow at a CAGR of 3.89% due to increasing infrastructure development around the globe based on demographic changes in many parts of the world.
What about the truck market?
While predicted by some to be down in 2017—and as seen by Cummins' and Dana Inc.'s first quarter releases—the North American heavy-duty truck industry has fared relatively well so far this year. FTR reports preliminary Class 8 orders for April were up 4% over March and 77% from the same period last year; fleets are expecting better freight conditions in the second half of the year, which is helping current order activity.
April 2017 Class 8 ordersFTR
Truck OEM PACCAR reported good first quarter results, and said it benefited from increased truck production in both North America and Europe. Darrin Siver, PACCAR Senior Vice President said in the first quarter press release, "The truck market reflects the good economy and steady freight demand. Peterbilt and Kenworth achieved 32% share of U.S. and Canada Class 8 truck industry orders in the first quarter this year. Class 8 truck industry retail sales for the U.S. and Canada in 2017 are expected to be in a range of 190,000-220,000 vehicles."
Natural Gas Class 8 Retail Sales Have Healthy Start to 2017
Preliminary Class 5-8 Orders Moderate in April
In the release for its first quarter truck production index, PSR said global economic growth is expected to continue to improve by many economists. Regional commercial vehicle demand is anticipated to remain at historic replacement levels throughout 2017 in all regions except for South America. China and Southeast Asia are anticipated to see the highest improvements, in the range of 7%.
Of course, it's still too early to tell just what sort of a year it will truly be economically—and how, if at all, various factors such as politics will play a role in the coming months—but for the moment it appears 2017 is headed in a positive direction.
Read more recently released company quarterly reports.
Timken First Quarter Sales up 2.9%
Allison Transmission First Quarter Sales Increase 8%
Terex Announces First Quarter Results, Encouraged by Start of 2017
Curtis-Wright Achieves 4% Growth in First Quarter
Trimble First Quarter 2017 Revenues up 5%
PACCAR Reports Good First Quarter Revenues and Profits
Volvo Group First Quarter Sales Increase 8%
For more company financial information, and general market reports visit our Market Analysis channel. You can also sign up for our monthly Equipment Market Outlook newsletter to have economic and market information emailed directly to you.