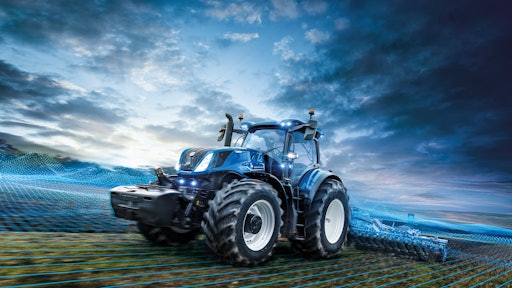 New Holland Agriculture
The annual Farm Progress Show highlights the latest equipment and technology geared toward the agricultural industry. Each year this 3-day outdoor event provides attendees a chance to see first hand an array of products from tires to GPS and precision ag systems to tractors and combines.
In addition to the products on display, several field demonstrations also take place during the show so attendees can see equipment, tires and other technology in use.
The 2021 show will once again see several new product introductions and technology showcases from a range of companies in the agricultural industry.
John Deere Featuring Latest Equipment
John Deere has announced it plans to show a variety of equipment and technology at the event. Its outdoor display will feature several pieces of equipment including:
9RX Tractor/2660VT
8RX Tractor/1775NT Planter with ExactRate
6R Tractor/1745 Planter
Deere 616R Sprayer with See & Spray Select
Hagie STS12 Sprayer
Airboom System John Deere Chassis
S780 Combine/C12F folding corn head
X9 Combine/HDF Draper
5M Tractor with M15 Rotary Cutter
6M Tractor with loader/560M Round Baler
1R Tractor with loader/implements
3R Tractor
Z-Track Mowers
Gator Utility Vehicles
324G Skid Steer
The company will also have field demos of its X9 Combine with C16F Header; S780 Combine with C12F Header; 8R Tractor with grain carts; 9RX Tractor with 2660VT Variable Intensity Tillage tool; and 9RX Tractor with 2680H High Performance Disk.
Read more about John Deere's most recent equipment introductions.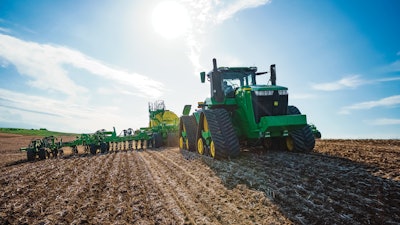 BKT Shows New AGRIMAX RI 818 Tire
BKT USA Inc. will display several tires designed specifically for the agricultural equipment industry. This includes its new AGRIMAX RI 818 radial tire for use on pivot irrigators. The tire is designed to provide optimal traction in wet and muddy conditions.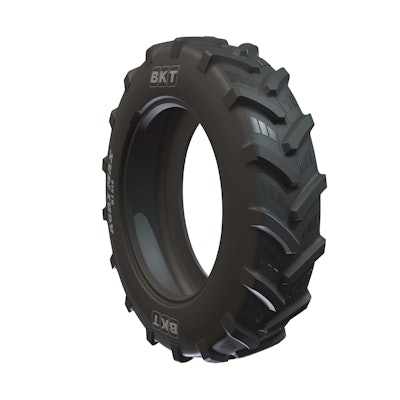 AGRIMAX RI 818 features self-cleaning capabilities provided by the specially designed tread pattern. Sizes include 280/85 R 24 and 320/85 R 38.
Also on display will be the AGRIMAX RT 855 for tractors, sprayers and vineyard harvesters. The tire can be used for both field and road transport, and is designed to provide good traction in various conditions. BKT intends to display its AGRIMAX SPARGO, as well, featuring VF technology which enables higher load carrying capacity at standard tire pressures to minimize soil compaction.
Additional tires on display will include:
AGRIMAX RT 955 for row crop applications
AGRIMAX TERIS for high-powered harvesters
FL 630 ULTRA flotation tire
New Holland Adds T7 Heavy Duty with PLM Intelligence to Tractor Line
New Holland North America has introduced its T7 Heavy Duty Tractor with PLM Intelligence to its line of agricultural tractors. Introduced during a virtual event at the end of July, the company plans to showcase the new tractors at Farm Progress Show.
The new tractor features a new Horizon Ultra operator cab and the next generation of New Holland's PLM Intelligence technology to help farmers be more productive. According to the company, the T7 Heavy Duty Tractor is ideal for those who need to multi-task in a variety of field and transport applications.
Ken Paul, High Horsepower Marketing Manager for New Holland Agriculture North America says inclusion of the PLM Intelligence technology helps farmers do more in their operations and remotely connect with dealers and support services to increase overall efficiency and profitability.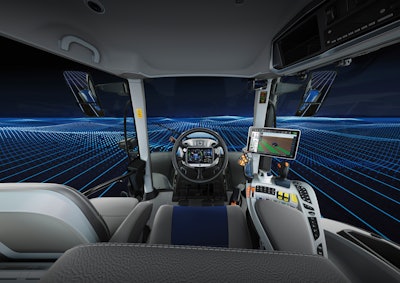 The Horizon Ultra cab offers a more spacious environment for operators; the cab has been lengthened to provide more room for operators as well as more floor space. Visibility has been improved, as well, to the front of the tractor and down to the rear hitch and implement, says New Holland in its press release announcing the tractor introduction. Cameras are included for further visibility around the machine while a new light package with up to 24 LED lights.
PLM Intelligence is an electronic architecture designed to provide real-time farm management to customers, and will be included on all of New Holland's next-generation equipment. It is part of the company's digital strategy aimed at making equipment and farm operations smarter and more connected to improve productivity.
Yokohama Off-Highway Tires America Inc. will feature a range of farm tires at its Farm Progress Show booth. Among them are the Alliance Agri Star II R-1W farm radial with two-layered lugs and the Alliance 550 Multiuse radial featuring a hybrid tread block design.
"We've gone so far beyond the days where the standard R-1 tractor lug tire and the rib implement tire were the only real options on the farm," says Blaine Cox, National Product Manager-Agriculture for Yokohama Off-Highway Tires America, Inc., in the company's press release announcing its presence at Farm Progress Show. "Today's farm tires are optimized for particular soil types, specific kinds of tasks, whether the machinery spends much time on the road—there's a tire designed to deliver the best way to tackle any challenges. Of course, there are also the all-around utility players because we know farmers need versatility. At our booth, people can see a variety of options and talk to our team about what would be best for their situation, and see why the Alliance and Galaxy brands can be their single source for all the tire needs on the farm or ranch."
The highlight of the company's booth, says Cox, will be the Alliance Agri Start II which features a deep-tread R-1W radial and thick, two-layered lugs to create multiple angles and longer wear. This design also creates a wider footprint to improve maneuverability through fields while reducing soil compaction.
Per the company's press release, additional tires on display include:
The Alliance 550 Multiuse radial, whose hybrid tread pattern combines the additional biting edges and wear resistance of industrial tread blocks with the traction and self-cleaning of curved tractor lugs.
The Galaxy Beefy Baby III, a rugged all-around performer for skid steer loaders working on dirt or pavement.
The Galaxy Garden Pro XTD, with extra tread depth and a hybrid tread pattern soft enough for turf but sure-footed enough for any challenge a compact tractor might face around the farm.
The Alliance Agriflex+ 363 VF Row Crop Radial, whose flexible sidewalls reduce soil compaction and improve wear resistance and roadability on tractors and sprayers. The 363 VF is part of

Yokohama Off-Highway Tires'

Whole Farm concept—along with the Alliance Agriflex+ 381 VF and Agriflex+ 881 VF implement tires and a broad line of other tires featuring very high flexion sidewall technology—providing low-compaction options for nearly every wheel on the farm to help protect soil health.
AGCO Brands Highlighting New Equipment
AGCO and its various brands will exhibit several new pieces of equipment during the Farm Progress Show.
Massey Ferguson will showcase its new 8S High Horsepower Tractor, available in four models from 205-265 hp (152.9-197.6 kW). The company is set to unveil the tractor during a virtual event on August 26. Stay tuned for more details!
Massey Ferguson plans to show several other pieces of equipment as well.
Massey Ferguson VE Series Planters – The VE Series Planters feature the redesigned Heads Up row unit that improves seed placement accuracy and allows for customization with the latest Precision Planting technology.
Massey Ferguson RB 4160P Protec Baler – A heavy-duty round baler combined with a bale-wrapping unit designed to allow producers to harvest nearly any forage, but especially high-moisture forage for silage, preserving it at peak nutritive value.
Massey Ferguson 1800M and 2800M Series Compact Tractors – Five models ranging from 35-60 hp (26.1-44.7 kW) include new turbocharged and liquid-cooled diesel engines for cleaner-burning, fuel-efficient power.
Massey Ferguson 1800E and 2800E Series Compact Tractors – Featuring 4-wheel drive and 18% greater hydraulic capacity than previous models, they handle a broad range of implements and attachments. Five models range from 24-57.3 hp (17.9-42.7 kW).
Fendt recently announced the introduction of new equipment for the North American market, all of which will be on display at Farm Progress Show.
Fendt

Rogator 900 Series – A self-propelled, rear-mounted boom applicator with two-position clearance, which means one machine can handle all-season application needs.
Fendt and FendtONE – The new FendtONE operating station

offers operators nearly limitless customization.

Fendt

300 Vario

Gen4 Series Tractors

–

With four models from 100-132 hp (74.6-98.4 kW), these agile tractors were built to tackle jobs like removing snow, haying and other farm chores.

Fendt

500 Vario Gen3 Series Tractors – Suited for use as a chore tractor, the 500 Gen3 Series is offered in four models from 124-163 hp (92.5-121.5 kW). Live, third-function loader operation enables three tasks with one joystick, making material and hay-handling chores easier.

Fendt

900 Vario Gen7 Series Tractors – Featuring five models from 296-415 hp (220.7-309.5 kW), the 900 Series tackles jobs like tillage, planting or towing a silage wagon.

Fendt

1000 Gen3 Series Tractors – A large fixed-frame wheeled tractor available in four fuel-efficient models from 396-517 hp (295.3-385.5 kW) and may be equipped with the largest tires offered on a row crop tractor.
Additional Fendt machines on display at the show will include:
Fendt

IDEAL 10T Combine with IDEALDrive – Internal sensing helps improve machinery efficiency, grain quality and total bushels harvested in a day. The 10T Combine also features IDEALDrive, the first joystick steering system that increases visibility and helps reduce operator stress and fatigue.
AutoDock header docking system for Fendt IDEAL combines – AutoDock is the first automatic system for connecting and disconnecting combine headers.

Fendt

700 Vario Gen6 Series Tractors – With six models ranging from 144-237 hp (107.4-176.7 kW), this tractor is ideal for everything from haying to livestock work and heavy-duty field or fleet operations.

Fendt

900 Vario MT Series Track Tractors – Available in three models from 380-431 hp (283.4-321.4 kW), these tractors are designed for year-round work. The MTS Smart Ride track system gives operators great ride quality without sacrificing power, control or traction.

Fendt

1100 Vario MT Series Track Tractors – With five models ranging from 511-618 hp (381.1-460.8 kW), these are the highest horsepower two-track tractors to offer a CVT transmission. They handle big crop production jobs like medium-to-high speed tillage and the largest planters.

Fendt

Momentum Planter – The most agronomically advanced planter available, the Momentum features the AGCO-exclusive SmartFrame system and Precision Planting technologies for precise positioning of seed for optimum emergence and productivity.
MAXAM Tire Exhibiting New Ag Tire Products
MAXAM Tire North America will exhibit its newest tires for the agricultural industry. In addition, it plans to show a new range of radial compact tires for farm support equipment.
Among the tires on display will be the AGRIXTRA series, including the AGRIXTRA 85 which is a standard aspect ratio tire. The AGRIXTRA N narrow tires and AGRIXTRA H super volume tires will also be displayed at the show.
MAXAM's FLOTXTRA all-steel radial flotation tire for agricultural implements will be exhibited, as well. It features a non-directional block tread pattern for optimized traction, lateral stability and minimal vibration when traveling at road speeds. The tire was recently OEM approved by JOSKIN.
Read about a recent project between JOSKIN and John Deere regarding development of an electric transmission.
The company also plans to exhibit its complete range of radial compact tires, which MAXAM says are a new offering for compact equipment such as skid steers, backhoes, compact wheel loaders, telehandlers and excavators.
"We look forward to introducing our newest agricultural series products at Farm Progress and celebrating the solutions that we have provided the industry thus far. Our radial agricultural tires are designed to deliver a simple, yet effective range of tires grouped by aspect ratio and size to meet current as well as future equipment's evolution," said Gregory Gilland, VP of MAXAM Global Agriculture, in the company's press release announcing its presence at Farm Progress.
READ MORE: MAXAM Tire Sees Growth in Agricultural Business
Companies in this article