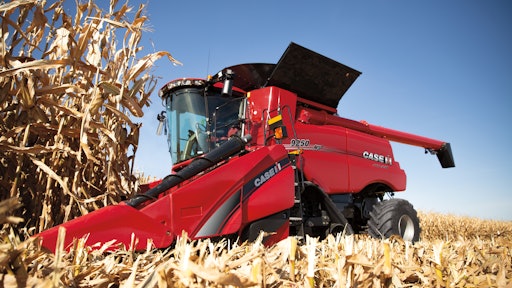 July 27, 2018
The new 250 Series combines include Case IH's AFS Harvest Command combine automation system which simplifies harvesting by sensing and optimizing machine settings.
August 29, 2018
Test results and market dynamics indicate super single tires will capture share from tracks in 2019 says Titan.
April 23, 2018
At INTERMAT 2018, Cummins introduced its range extended electric driveline which offers a balance of battery power with a compact engine-generator.
April 9, 2018
Komatsu America's new headquarters will have a new, open floorplan to foster better collaboration, and easy access to major highways and public transportation.
August 31, 2018
The proposed sale with Weiler Inc. includes the purpose-built forestry product line consisting of wheel skidders, track feller bunchers, wheel feller bunchers, knuckleboom loaders, and related operations facilities.
July 30, 2018
The acquisition adds complementary products and key electrification technologies for each of Dana's end markets.
December 17, 2017
The result of the agreement will be the first fleet of Cat autonomous trucks deployed by Rio Tinto.
February 13, 2018
MarketsandMarkets reports the global autonomous tractor market will grow at a CAGR of 24.89%, driven by the improved efficiency and productivity of crop yield offered and government incentives for adopting new technology.
November 1, 2017
The acquisition includes all Visedo subsidiaries globally and a design and manufacturing site.
November 17, 2017
Tesla has unveiled its electric semi truck concept which will use four separate motors to drive the four back wheels of the tractor and offer a range of 500 miles.