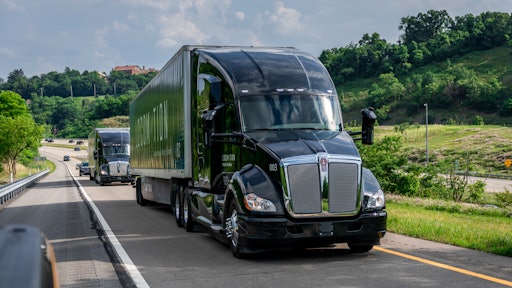 Locomation
OEM Industry News Briefs provides a weekly round up of the latest news and company announcements you may have missed in the heavy equipment engineering and manufacturing industries.
NFPA releases updated Fluid Power Technology Roadmap
The National Fluid Power Association (NFPA) has published the 2021 NFPA Technology Roadmap: Improving the Design, Manufacture and Function of Fluid Power Components and Systems. Released biannually, the roadmap provides member companies an industry-wide consensus on research and development needs for the fluid power industry.
It highlights seven key areas in which industry developments and improvements should be focused. These include:
Improve fluid power control systems (including through electrification)
Monitor, gather and use data generated from working fluid power products to add value
Improve fluid power's reliability and durability
Increase fluid power's energy efficiency
Increase fluid power's power density
Reduce the environmental impact of fluid power components and systems
Reduce lead time for fluid power components and their control elements
Research targets for each area are also outlined in the roadmap. The NFPA says copies can be downloaded from its website after a brief registration process.
Volvo Trucks acquires truck manufacturing operation in China
Volvo Trucks recently announced the acquisition JMC Heavy Duty Vehicle Co., Ltd., a subsidiary of Jiangling Motors Co., Ltd. The acquisition includes a manufacturing site in Taiyuan, Shanxi province, China, where the company plans to begin production of its new heavy-duty Volvo FH, Volvo FM and Volvo FMX trucks for customers in China by the end of 2022.
Growing logistics, including e-commerce, in the region has lead to an increase in truck sales for the company, leading to the need for expanded operations in China. The facility will include stamping, welding, manufacturing of cabs, painting and final assembly of Volvo trucks the company says in its press release announcing the acquisition. Volvo Trucks anticipates the facility will be able to produce 15,000 trucks per year once all investments are made. There will also be potential for further capacity increases.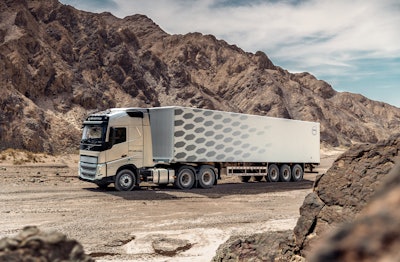 "We are committed to shaping the future of sustainable transport solutions. With our long-standing presence in China, we are growing our sales, and we are expanding our strong network of sales and service points together with our private dealer partners. Over the last couple of years, we have seen a fast development of the logistics markets and an increasing demand for our premium trucks and services. To meet the demand from Chinese transport operators, the time is right for us to establish a regional value chain with our own heavy-duty truck manufacturing in China," says Roger Alm, President Volvo Trucks, in the company's press release.
CNH acquiring Italian excavator manufacturer
CNH Industrial has agreed to purchase 90% of the capital stock of Italian company Sampierana S.p.A. which develops and manufactures earthmoving equipment, undercarriages and spare parts. CNH will obtain 100% control over 4 years after closing the transaction.
"This latest strategic acquisition will further accelerate the profitable growth of our construction equipment business. Sampierana's exceptional portfolio solidifies our presence in critical market segments and provides our dealers and customers access to industry-leading products backed by our brand, distribution, and manufacturing experience," said Scott Wine, Chief Executive Officer of CNH Industrial, in the company's press release announcing the acquisition. "I want to thank Stefano Pampalone, President Construction, and his team, both for driving this deal to completion and for their excellent work turning around our construction business, rightsizing the footprint and returning it to profitability – an impressive achievement given the challenging period."
Sampierana and its products have become well known in the construction sector, especially in Europe. CNH says Sampierana's broad product offering, customization and electric powered prototype machines will be a good fit with its current and future equipment development initiatives.
The company says the acquisition will help it to further grow its construction equipment business, particularly in the mini and midi excavator market which is seeing a high level of demand.
Doosan showcasing mini excavators at 2021 Rental Show
Doosan Infracore North America, LLC says it plans to display two mini excavators ideally suited for rental customers during the 2021 American Rental Association (ARA) trade show and convention. Equipment on display will include the Doosan DX62R-3 and DX85R-3 mini excavators.
Per Doosan's press release announcing its presence at the show, the Doosan DX62R-3 mini excavator allows operators to work in confined areas without sacrificing performance due to its reduced tail swing. The excavator's rear tail swing is just 4.9 in., making this mini excavator ideal for residential construction, landscaping and utility work.
About its DX85R-3 mini excavator, Doosan says the machine has excellent slew performance, making it an ideal machine for working on slopes. At the core of the machine is a smooth, refined hydraulic system that gives operators exceptional machine control. As the DX85R-3 moves, the auto-shift drive system automatically downshifts when the job demands more torque.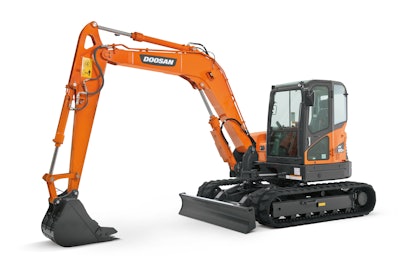 Navistar names new CEO and President
Navistar's Board of Directors have appointed Mathias Carlbaum as the company's new CEO and President. He will take over for Persio Lisboa September 1, 2021. Lisboa will retire after a short transition phase.
Carlbaum held several positions with Scania, and has been helping lead the post-merger management of Navistar for the TRATON GROUP since April 2021.
"Mathias Carlbaum is an internationally experienced Manager with the right skills and mindset to lead Navistar into this new era as part of TRATON GROUP. I am welcoming Mathias in his new responsibility. A great thanks goes to Persio Lisboa for his great support before, during and after the merger," said TRATON SE's CEO and member of Navistar's Board of Directors Matthias Gründler.
Toyota assembling fuel cells modules at Kentucky plant
Toyota Motor Manufacturing Kentucky (TMMK) is scheduled to begin assembling integrated dual fuel cell modules for heavy-duty commercial trucks in 2023. "Heavy-duty truck manufacturers will be able to buy a fully integrated and validated fuel cell electric drive system, allowing them to offer their customers an emissions-free option in the Class 8 heavy-duty segment," said Tetsuo Ogawa, President and Chief Executive Officer, Toyota Motor North America, in the company's press release announcing its manufacturing plans.
Toyota's fuel cell modules are designed to provide up to 160 kW of continuous power. The company provides a full kit to OEM customers which includes a high-voltage battery, electric motors, transmission and hydrogen storage assembly from key industry suppliers, helping to ease the component sourcing and installation process. Toyota says it will also provide its powertrain integration expertise.
In March 2021, the company announced development of a packaged fuel cell module which includes many necessary components to ease installation for OEMs. Toyota has also been working with truck OEMs such as Kenworth to research and develop hydrogen fuel cell powered commercial vehicles.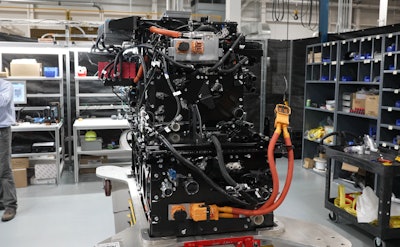 PSI partnering with Hexagon Agility on CNG and LPG fuel systems
Power Solutions International (PSI) has announced a development and collaboration agreement with Hexagon Agility in which the companies will work with medium-duty OEMs to provide compressed natural gas (CNG) and liquid petroleum gas (LPG) systems.
According to PSI's press release on the subject, Hexagon Agility will focus on the development and supply of CNG and LPG fuel systems while PSI will focus on the development and supply of engines and engine controls.
"This partnership helps us to better scale our engine platform," said PSI CEO Lance Arnett. "By utilizing Agility's experience with alternative fuel systems, we can focus our resources on our core engine and engine controls competence while broadening our reach into the expanding alternative fuel commercial vehicle market."
ZF partnering with Locomation on autonomous truck safety
ZF has announced an agreement with Locomation—a provider of autonomous truck technology—to jointly develop steering units designed to enhance the safety of autonomous trucks. The companies will develop Level 4 capable versions of ZF's ReAX steering systems and test them in real-world conditions.
According to ZF, the steering system includes advanced electronics technology with redundant hardware which is vital to ensure safety when deploying autonomous vehicles. The Level 4 capable ReAx features full redundancy to meet strict safety standards by ensuring system functionality. It also maintains safe operations at all times by detecting and managing faults, says ZF in its press release announcing the partnership.
Locomation plans to deploy its first product line, known as Autonomous Relay Convoy, in late 2022 with two trucking customers.
Companies in this article