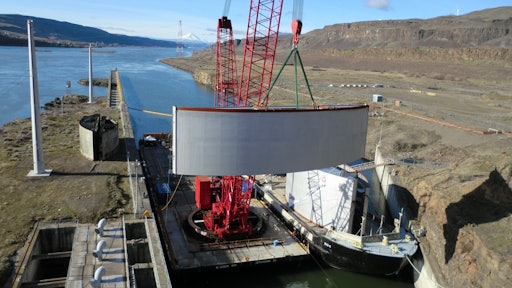 A Manitowoc 888 crawler crane mounted on a RINGER attachment helped replace a navigational lock gate at the John Day Dam on the Columbia River between Oregon and Washington. The downstream navigational lock gate is 113 ft. tall, making it the tallest lock in the United States.
The 1,000 USt gate was removed and replaced in four sections, with the heaviest load for the Model 888 weighing 572,400 lbs. The contractor faced various challenges when performing these heavy lifts because the crane was mounted on a barge.
Advanced American Construction, Inc., the contractor for the project, chose a Manitowoc 888 RINGER to reduce the load radius that would otherwise be required when lifting on land. Essex Crane Rental Corp. rented the Manitowoc 888 to Advanced American.
Advanced American chose the Manitowoc 888 not only to meet its capacity requirements, but also for its reach. The project required removing and replacing two components weighing 130,000 lbs. each from the roof of the lock towers more than 130 ft. above the barge.
The inherent instability of working on a barge also presented several challenges. The contractor used a self-contained ballast system to transfer water between hull tanks to steady the barge as the crane hoisted each load. Maintaining balance was critical because, for the crane to complete the picks, the bow of the barge needed to be secured within six inches of the dam.
Kainan Bodenlos, project superintendent for Advanced American Construction, Inc., says that support from Essex and Manitowoc made the project a success.
"This job had several sizable hurdles that we had to overcome to make this project a success," says Bodenlos. "Essex Crane's customer support was extraordinary. When we encountered challenges, Essex and Manitowoc worked closely together to ensure we didn't lose time on the job."
The Manitowoc 888 RINGER has a capacity of 661 USt and a maximum jib capacity of 275 USt. It has a 435 ft. maximum radius and a 45 ft. diameter ring. For this project, the crane was rigged with 250 ft. of boom and 1.4 million lbs. of counterweight.
The work on the John Day Dam is part of a larger maintenance and repair initiative including the John Day, Dalles, and Lower Monumental dams along the Columbia-Snake Rivers. The project, which includes replacement of the gates, drive machinery, and electrical systems, began in October 2010 and was completed in March 2011.