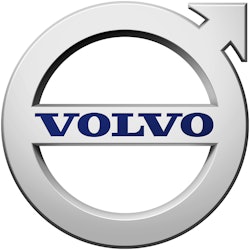 Volvo Trucks North America posted record results achieving all-time highs in 2015 for U.S., Canada and NAFTA Class 8 retail sales. In addition to its strong market performance, Volvo also achieved record penetration levels for Volvo power, I-Shift automated manual transmissions and XE eXceptional Efficiency powertrain packages.
Volvo U.S. retail market share was a record 12.4% in 2015, 0.4 percentage points higher than in 2014, with a retail volume of 30,930 vehicles compared with 26,555 in 2014, according to WardsAuto Group. Volvo also posted a record in Canada, where market share climbed 1.0 percentage point to 16.3% (4,884 vehicles) compared with 2014 (4,510), according to data compiled by the Canadian Vehicle Manufacturers' Association, IHS Automotive and Wards. Volvo also achieved a record 12.2% NAFTA market share (36,940 vehicles), compared with 11.9% (32,281) in 2014. Volvo market share in Mexico was 4.9%.
Volvo attributed its record-breaking 2015 to positive customer response to its fuel-efficient vehicles and powertrain, and its best-in-class Uptime support. The strong performance also resulted in the production of more commercial vehicles than ever before at its New River Valley Assembly plant, based in Dublin, VA, where all Volvo models for North America are assembled.
"We are very proud of our people, whose dedication allowed us to make these great achievements," says Gӧran Nyberg, President of Volvo Trucks North America. "It's clear from our strong performance that the market continues to see the fuel efficiency benefits offered by our powertrain and aerodynamic truck design, combined with our commitment to maximizing Uptime for customers. While we are very pleased with our 2015 results, we will continue to seek opportunities to make advancements in products, service and support that positively impact the bottom line of our customers."
Volvo engines were spec'd in a record 93% of the trucks sold in 2015, and Volvo I-Shift penetration was a record 83%. More than 27% of all trucks sold in 2015 featured an XE package.
The XE package, offered for Volvo's 11 L D11, 13 L D13 and 16 L D16 engines, improves fuel efficiency by lowering engine rpm at a given vehicle speed, a concept Volvo calls "downspeeding." Made possible through the combination of I-Shift and a Volvo engine with modified software, XE allows the engine to cruise about 200 rpm less than the average truck sold today.
Volvo's focus on Uptime also was a key driver of the strong performance. Volvo's North Uptime Center, based near its North American headquarters in Greensboro, NC, brings together key support employees and technology under one roof to help ensure that customers' trucks keep moving. The Uptime Center serves as the home for Volvo Action Service (VAS) staff, Volvo's 24/7 support experts, who receive alerts via Remote Diagnostics when monitored fault codes appear.
Remote Diagnostics is Volvo's telematics-based proactive diagnostic and repair planning system that monitors critical fault codes. When an issue is detected, the system identifies what parts will be needed and provides technicians with straightforward repair instructions – even before the truck arrives for service. Remote Diagnostics can reduce the diagnostic time by up to 70% and lower repair time by more than 20%. Nearly 100,000 Volvo trucks are equipped with the system, which has been standard on all Volvo-powered models since 2013.