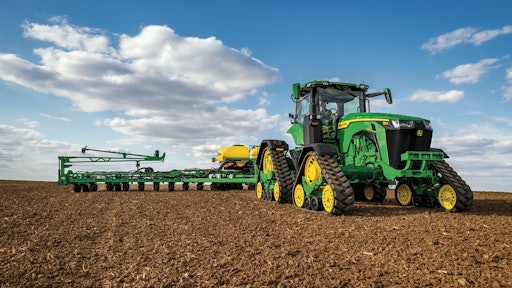 John Deere
CES—aka the Consumer Electronics Show—is dedicated to showcasing the latest technological advancements in a variety of industries. As manufacturers in or related to the heavy-duty on- and off-highway mobile equipment industries continue to create more advanced solutions, their presence at CES has increased.
The 2019 event saw the inaugural appearance of John Deere's agricultural division and the first Class 8 truck launch at CES by Freightliner.
In 2020, these and a growing number of other heavy-duty equipment manufacturers and component suppliers showcased their newest innovations at CES.
The future of off-road equipment and components
John Deere said its reason for exhibiting at CES was to identify and promote current and potential new technologies to agriculture that will enhance farm productivity, profitability and sustainability. As part of this, the company exhibited several of its own technology advancements to demonstrate their role in the agricultural market.
In addition, the company exhibited its R4038 self-propelled sprayer equipped with advanced technology and fitted with an ultra-wide 120-ft. carbon-fiber boom. John Deere's new 8RX fixed-frame four-track tractor was named a CES 2020 Innovation Award Honoree in the Tech for a Better World category. It was nominated due to the automation technologies it includes, as well as its emphasis on reducing environmental impacts through the use of tracks which help minimize soil compaction.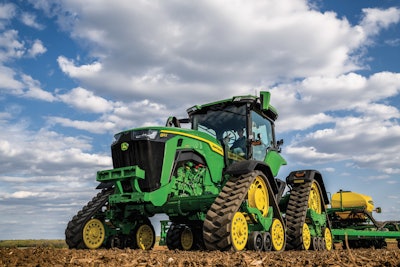 GUSS Automation's Global Unmanned Spray System (GUSS) was also named an Innovation Award Nominee. A combination of sensors, GPS and software enable fully autonomous operation of the machine, helping increase the productivity of spraying operations.
Read more: CES 2020 Innovation Awards Honor New Technological Advancements
The Quad City Times reported Deere & Co. CEO John May laid out the company's future plans during CES 2020. He said the company plans to further invest in autonomy, precision agriculture and other innovations to lead the next-generation of agricultural equipment.
Engine manufacturer FPT Industrial used CES 2020 as a means of showcasing its powertrain developments and vision for the future of heavy vehicle drive systems. The main focus of its exhibit was the Cursor X 4.0 Power Source Concept which is designed to be modular and capable of operating on various fuels or other alternative power sources.
As part of its exhibit and efforts to envision the future of powertrain designs, FPT announced in 2019 a partnership with Oscar-winning Italian composer Giorgio Moroder to create "the sound of the future." FPT and Moroder debuted at CES this sound known as Preludio, a 4-minute song which has become the unique and distinctive soundscape for FPT Industrial engines that was composed by Moroder after several visits and collaborations with FPT engineers. A special Spotify playlist was created by the team featuring the song, other music from Moroder, as well as four podcast episodes which focus on the four "themes" of the Cursor X.
On-highway vehicles continue autonomous, electric developments
Truck OEM PACCAR showcased autonomous and electric vehicle advancements. These included a Level 4 autonomous Kenworth T680; a battery-electric Peterbilt Model 520EV; and a battery-electric Kenworth K270E. PACCAR says the Kenworth T680 autonomous truck demonstrates its commitment to developing self-driving commercial vehicles for customers. Stephan Olsen, PACCAR Innovation Center general manager, noted in the company's press release from the show, "The PACCAR Innovation Center in Silicon Valley has become a central player in the truck innovation ecosystem. Peterbilt and Kenworth are the clear trucks of choice among the leading independent autonomous driving technology developers. We look forward to deepening our productive partnerships with these innovative companies in the future."
Peterbilt's battery-electric Model 520EV is a low-cab forward vehicle for the refuse industry. The truck is powered by a Meritor/TransPower Energy Storage Subsystem with a total storage capacity of 308 kWh. It is driven by a TransPower Mid-Ship Motor Drive Subsystem with up to 430 hp, features a range of about 100 mi. and a 4-hour charge time.
Meritor announced on Jan. 16 it would acquire TransPower as a means of increasing its electrification capabilities.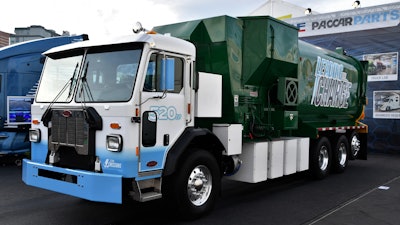 "Demonstrator units have been operating on residential and commercial routes, working a full day on a single charge, and charging overnight. Our customers have been very impressed with the 520EV's quiet operation, low maintenance cost and overall performance," said Jason Skoog, Peterbilt General Manager and PACCAR Inc. Vice President, in the company's press release from the show.
Peterbilt has thus far completed nearly 40,000 real-world miles with its fleet of 16 battery-electric vehicles (BEVs). "Mileage accumulation is an important component of the validation process leading up to our low-volume production starting in the fourth quarter of 2020," said Scott Newhouse, Peterbilt Chief Engineer, in a company press announcement. "All three platforms are performing well and customers are starting to see the benefits of these advanced vehicles."
Peterbilt and Kenworth are both partnering with Dana Inc. on their electric vehicles. The Dana Spicer® Electrified™ e-propulsion system is being integrated into Peterbilt's 220EV chassis. The truck is also equipped with two battery packs and an on-board charger.
Read more: Peterbilt Collaborating with Dana on Electric Truck Powertrain Development
Dana's system is also being utilized in the Kenworth K270E battery electric cabover vehicle. Configured as a direct drive system, the vehicle utilizes the Spicer Electrified e-propulsion system and a standard Dana drive axle and driveshaft. Dana is also supplying an e-power system which generates, stores and manages the energy for the vehicle. It consists of electrified auxiliary systems, an on-board charger, and two battery packs. Dana-developed software and controls enable the diagnostics and telemetry of the complete system.
The electric powertrain will be available with range options between 100 and 200 mi. The state-of-the-art, high-energy density battery packs can be recharged in about an hour using the vehicle's DC fast-charging system.
Read more: Connectivity, Electrification and Automation Continue to Drive On-Highway Vehicle Market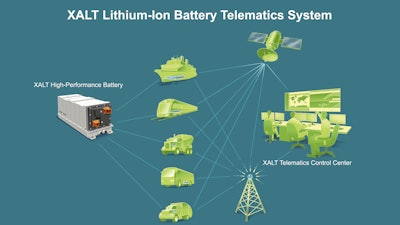 With the use of batteries increasing in many vehicles, tracking their performance is just as important as any other component or system. As such, XALT Energy collaborated with HED Inc. to develop the XALT Battery Viewer (XBV), a streamlined, powerful telematics solution for tracking the performance of today's battery-electric powered fleet vehicles which was introduced at CES 2020. It makes use of HED's CANect telematics technology to provide access to sophisticated system data in a simple-to-install-and-use telematics package.
Read more: Telematics Solution Tracks Performance of Battery-Electric Vehicles
Bosch and Continental both showcased advancements in technologies for the operator cab. While the technologies the companies introduced at CES were geared toward the automotive industry, they demonstrate the advances being made to increase driver comfort and safety; many of the technologies, such as heads up displays are also making their way to heavy-duty vehicles and equipment, as well.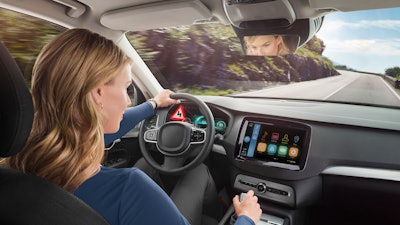 Bosch's technologies demonstrated strong emphasis on artificial intelligence (AI) and the Internet of Things (IoT), both of which the company has been advancing for a variety of industries. Its CES exhibit focused on these trends, and the company said it plans to continue advancing developments in these areas. Bosch said in its CES press release it plans to invest 100 million euros in the construction of a new AI campus in Tübingen, Germany. The move into the new research complex is planned for the end of 2022, and will offer some 700 AI experts space for creative and productive exchange.
The variety of technologies shown at CES 2020 demonstrate the heavy-duty on- and off-highway equipment industries are just as advanced as any other industry. It will be interesting to see what manufacturers will have in store for the next edition of the show, and how many more heavy-duty equipment and component manufacturers will exhibit at CES. The 2021 show will take place once again in Las Vegas, NV, January 6-9.