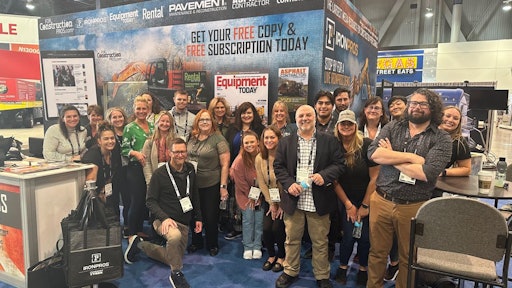 The madness of March was not limited to the basketball court. My first CONEXPO-CON/AGG (CONEXPO) experience was as advertised by my colleagues and coworkers: large square footage, miles of walking, sore feet all day, and great people and conversations at every booth.
However, some aspects of the event exceeded expectations, according to the Association of Equipment Manufacturers. More than 139,000 people attended the event, with 2,400 exhibitors sharing innovative technologies and introducing new brands. Many of the new equipment and brand updates follow.
During several events at CONEXPO, Caterpillar unveiled its new C13D engine. These events included a preshow press meeting, a dealer presentation at Allegiant Stadium and a booth unveiling where I interviewed experts to get more details about the engine.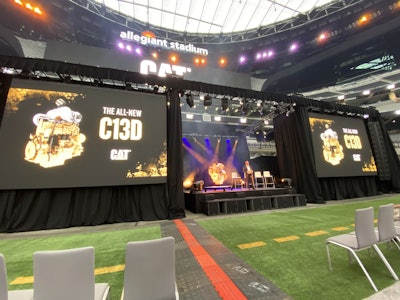 Engineered for reliability and productivity, the inline, six-cylinder Cat C13D engine platform will offer eight power ratings from 456 horsepower (hp) to 690 hp—340 kilowatts (kW) to 515 kW with up to 3,200 Newton meter of peak torque.
In addition to the new engine, the team discussed its focus on sustainability that includes:
Right sizing the engines in machines
Exploring all power options (diesel, alternative fuels, battery electric, and hydrogen)
Helping charge/fuel equipment
Supporting infrastructure for electric and alternative fuel accessibility
Using technology to manage idling time
New apps were also discussed, including:
The Cat Central App
A new companion to SIS2, SIS2GO
VISIONLINK
Learn more from this article.
Media also received a preview of the Global Operator Challenge and met the nine operators competing in the Operator Stadium during CONEXPO. Most of the operators began their love of equipment riding with their fathers at a young age. The competitors were:
Fernando Nasciemento – Brazil
John Schiedeck – U.S.
Lukasz Mokrynski – Poland
Masato Imai – Japan
Matt Ferris – U.S.
Nick Thompson – Australia
Patrick Doheny – Australia
Pontus Eriksson – Sweden
Sebastian Behr – German
During our conversation with the competitors, I asked what technology has most helped them do their jobs better. Most mentioned connective or IoT technology, saying it moved them from the stone age to the modern age. Some of the technologies highlighted were:
Graders
Trenchers and grade assist
GPS
3D and 2D systems (slope precision and geofencing)
Payload systems
On Tuesday, March 14, 2023, Patrick Doheny of Australia took the crown out of nine finalists from around the world who competed in the final round of the Global Operator Challenge in the Cat Operator Stadium in Las Vegas.
During the main show, we talked with the Cat team about the new technology at the show, including the small-footprint C13D. They also answered the five questions at CONEXPO.
Accelera the New Brand by Cummins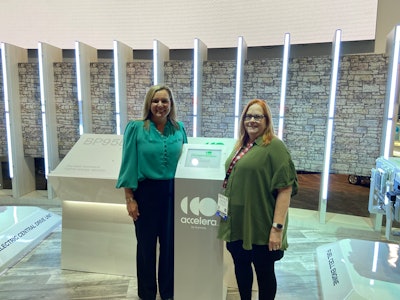 At a press conference during CONEXPO, the Cummins team discussed its plans for moving to zero emissions for its customers. Eric Neal, Cummins executive director, off highway, discussed the recent acquisitions and partnerships, including Meritor, and how they help Cummins move forward. These acquisitions provide:
Strategic partnerships to help decrease carbon emissions
Secured supply chain partners
Paths to electrification, alternative fuels and advanced internal combustion engine performance
"Cummins powers more types of machines and vehicles than anyone else. The breadth of our business across market segments and regions means that we are the ideal partner to help our customers through this transition," Neal said.
Learn more from this Cummins press release.
Then Amy Davis, president of Accelera, Cummins' new brand with a zero-emission mission talked about the goals and products of the brand, which represents a new era for Cummins.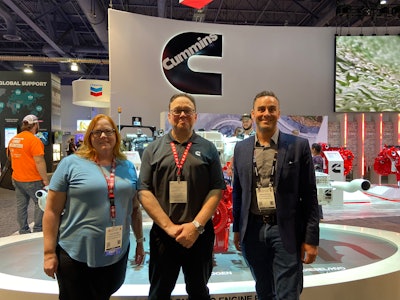 Davis echoed the sentiments that Cummins President and CEO Jennifer Rumsey shared during her keynote at the Green Truck Summit and in her podcast with OEM Off-Highway. There is no one answer for powering future off-highway equipment. Power providers must consider battery electric, hydrogen fuel cells, alternative fuels, and hydrogen combustion. Davis talked more about this in our exclusive interview following the press conference. Learn more with this article.
The OEM Off-Highway team also joined Cummins Marketing Communications Director Steve Nendik for a full tour of the equipment featured at the booth. One of the most popular was the fuel agnostic engine that detailed the common parts of the engine and the different parts (the top) for each fuel type.
Isuzu Motors America Presents Engines That Generate Power
During Monday's media day, we were happy to join the Isuzu Motors America team for lunch and a great conversation around what the company was exhibiting. The equipment included Open genset power units that help OEMs provide power to machines and standby power solutions. Learn more from this Isuzu engine brochure.
Yanmar Goes Green at CONEXPO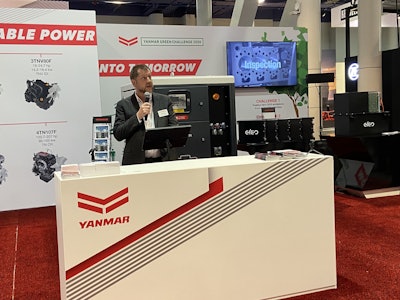 At its press conference, the Yanmar team presented its Green Challenge 2050 vision for the future. This included:
4TN107FTT Powerpack
HIPOWER SYSTEMS' EHR Battery Power Generator
ELEO modular, high-density battery
The vision includes new Yanmar products and acquisitions and partnerships. Learn more from this article.
JCB: All in on Hydrogen
The JCB team debuted its hydrogen combustion engine in North America during CONEXPO. The press conference covered the details that OEM Off-Highway featured in its March/April 2023 cover series. The hydrogen combustion engine was designed from the ground up, and features:
Hydrogen and air mixing—Using a gas as fuel required a uniform mixing of fuel and air.
Air compression—Forcing the air into the mixing/combustion chamber or cylinder required a turbocharger.
Spark ignition—Better sparkplugs were necessary.
Steam management—Since the only emission from the hydrogen combustion was steam, corrosion could occur.
Learn more from the cover series article.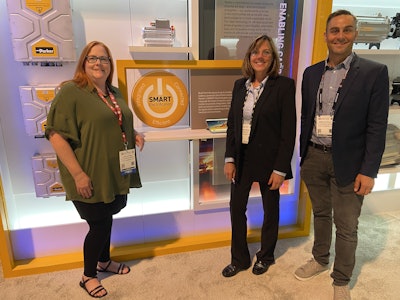 Our team was pleased to talk with Anne Marie Johlie, head of Internet of Things (IoT) and connected products, who gave us a tour of several technologies on exhibit. Among them was the technology through Parker's partnership with Camgian for machine learning, mobile IoT, converters, a controller module and mobile pumps.
Impact sensors, part of the mobile IoT, are important for equipment owners and operators. They monitor the magnitude of an impact, which is beneficial for operator safety and for warranties.
DEUTZ Shares Plans to Grow Classic Business and Move Toward Alternative Power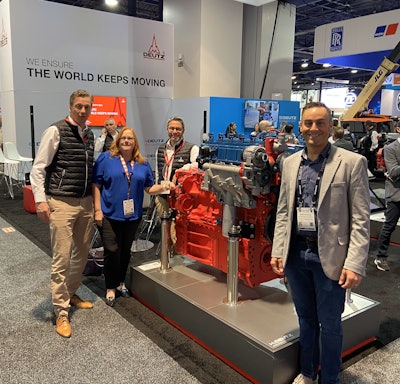 During a conversation with CEO Sebastian Schulte and senior vice president, communications and investor relations, our team learned more about DEUTZ and its future. Schulte discussed the need and desire to support and grow their classic diesel business, where the company produced 185,000 engines. The diesel engine range is 2.2 liter to 18 liter.
However, he knows that DEUTZ must look to the future. A carbon-zero future includes a mix of power alternatives: electric, alternative fuels, hydrogen fuel cells and hydrogen combustion. Schulte said he feels that hydrogen combustion is best for off-highway applications that require more power than battery electric energy can provide.
Also, a strength for DEUTZ is its partnerships. Specifically, the partnership with Daimler Truck to provide its medium-duty and heavy-duty engines has been positive and helped consolidate the market.
Bosch Rexroth Features Partnerships and Acquisitions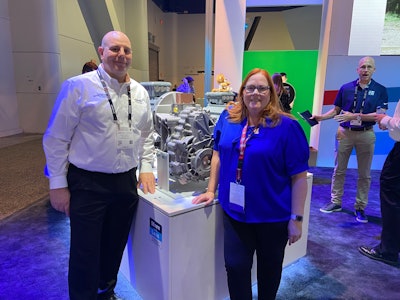 Providing breakfast and information, the Bosch Rexroth team hosted a press conference to discuss the recent Hydraforce acquisition, the partnership with Hägglunds and its electrified technology. President and CEO Greg Gumbs discussed the company's growth in Mexico and the goal of transforming mobile machines. Learn more about the technology from this detailed article.
JDPS Displays Battery Electric Technology
Our team took a booth tour with the John Deere Power Systems (JDPS) team. Expanding its sustainable technology, JDPS exhibited its growing battery portfolio that includes more modular power options and new electronics hardware solutions. As more of the industry moves to electric, JDPS is investing significant resources in battery and charging technologies for off-highway equipment applications. Together, JDPS and Kreisel Electric (Kreisel) are working to expand the production capacity of Kreisel and accelerate the development of the company's battery technology.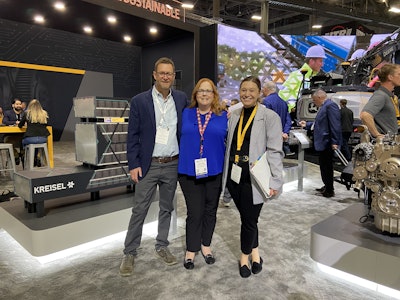 In addition to the 63 kWh Kreisel KBP63 battery that was displayed at bauma 2022, three new concept Kreisel batteries were displayed during CONEXPO, including 20 kWh and 40 kWh power options. These new models offer industrial and marine customers increased packaging flexibility and use the battery technology provider's scalable, modular architecture and patented immersion cooling technology. With this system, the coolant flows through the battery cells and helps extend the battery's life.
JDPS has also designed a family of electronics hardware that enables seamless connection to help deliver a complete system for original equipment manufacturers (OEMs). The newest technology, on display at the booth, was the Gb Ethernet Switch. This module manages the transfer of controls information, high-quality images and other data to multiple devices in a system, all in real time.
Volvo Penta & Gradall Share Fully Electric Excavator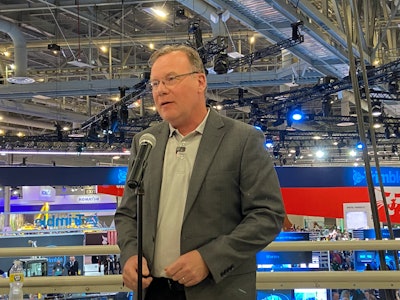 During a joint press conference during the show, Volvo Penta and Gradall shared a fully electric, highway-speed excavator powered by a Volva Penta electric driveline. The equipment experienced attention during the show, and the teams were celebrating their partnership. The excavator will go through another year of testing before it is available.
The Volvo Penta team took a systems approach to this project and provided a complete system including batteries, motors and cabling. According to Darren Tasker, vice president, industrial sales, for Volvo Penta, the product will evolve over time. The Volvo Penta team is committed to science-based sustainability.
Moog Construction Features Automation and Electric Technology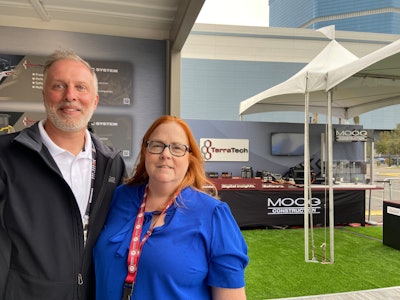 Moog Construction launched TerraTech during CONEXPO, an ecosystem for compact construction OEMs to design and build all-electric, zero-emissions vehicles, in some cases within six months. It is included on the newly launched Bobcat S7X. While at the booth, I had the opportunity to program a loader to perform a series of tasks. It doesn't matter what type of equipment is used. The system performs the same way. Check out this video (cut a little short because the skies emptied in Vegas) to see how I did.
Littelfuse Shares Equipment with Our Team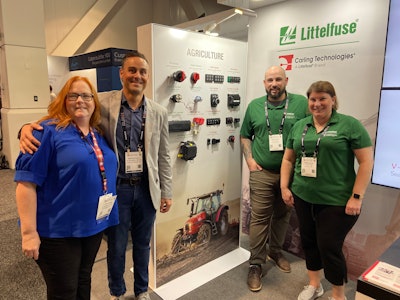 The OEM Off-Highway team enjoyed talking with the Littelfuse team. They told us about their portfolio of direct current contactors. In addition, we discussed the difference between fuses for the automotive industry and for the off-highway industry. The team showed us a fuse holder for up to 70 volts.
Danfoss Fluid Power Featured Dextreme for Excavators
When our team met with Danfoss Fluid Power, they shared the new Dextreme system. According to the press release, Dextreme systems improve excavator energy efficiency by 15% to 50%, regardless of the power source, while maximizing productivity.
The Dextreme pathway consists of three incremental system solutions: Swap, Flex, and Max. The simplest configuration of the system, Dextreme Swap, is now available. Dextreme Swap replaces the excavator's main hydraulic pump with a Digital Displacement pump, custom software and digital controller, delivering a 15% reduction in fuel use and carbon dioxide emissions compared to an excavator fitted with a conventional swash plate pump.
The team also shared the PC36 Controller and PC-Go Software. PC-GO is a propel solution for single pump/motor hydrostatic transmissions. Comprising the new PC036 safety controller and PC-GO propel software, the ready-to-use platform cuts propel subsystem development time by up to 35% while simplifying compliance with environmental and safety regulations. PC-GO is a propel system software solution that is configurable using the Danfoss PLUS+1 service tool for quick and simple customization. Housed on the PC036 controller, the system is designed to work with Danfoss hydrostatic pumps and motors.
The last new technology the team shared was a family of CAMLOBE motors. These motors took 4 years to produce and have improved life and efficiency, smooth operation for the operator and a compact design.
Hatz Diesel Showcased Digital Solutions, Concept Cube and Expanded Service
New digital solutions featured at the Hatz Diesel booth during CONEXPO included:
Vehicle performance tracking
Productivity
Maintenance planning
Geoposition/geofencing
Error codes
IoT dashboard
The digital solutions can be retrofit into equipment, and there are three levels subscription (basic, advanced and premium).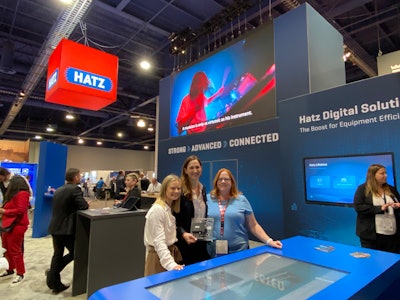 The Hatz Diesel team also shared their engineered solutions for electrifying drives. The E-Drive Concept was shown in a Concept Cube that replaces a roller in pavement applications. It includes vibratory plates and four electric motors. It was fully remote controlled and did not require an operator to walk behind it.
In addition, the team featured its new HDS2Lite smartphone diagnostic tool and HSP Smart Panel. These help owners and operators view engine and equipment information. The diagnostic tool provides engine information for maintenance in the owners' and operators' hands.
FPT Featured Its Full Range of Engines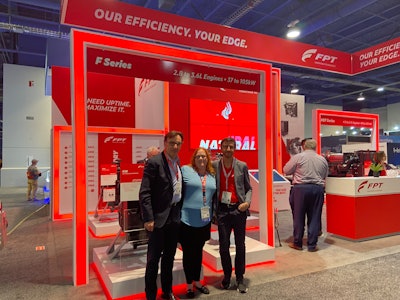 Our team caught up with FPT and learned about its range of engines, including the technology that operates on alternative fuels. These fuels include hydrotreated vegetable oil, biodiesel and natural gas. The team is working on a move to hydrogen and produced a 13-liter engine prototype last year.
They are also improving customer service with connectivity services, an extended warranty program, a lubricant line with Shell and remanufactured engines. Learn more from this article about FPT's presence at CONEXPO. You can learn more from this video from the show.
Similar to other manufacturers, Dana Incorporated continues to optimize legacy equipment, but the team is looking to the future with electrification. With electric options, they have added two new equipment categories to their portfolio: excavators and forklifts. Other developments include: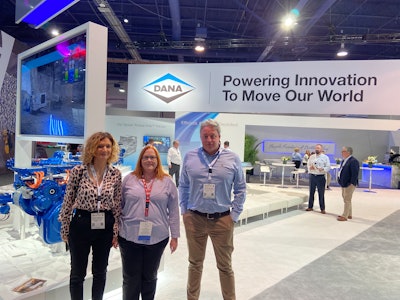 The Spicer Electrified eSP502 e-Transmission was debuted for the North American construction market. This platform is designed to support the electrification of mid-sized wheel loaders, rough terrain crane, and other off-highway vehicles.
The team also introduced a new modular Spicer drivetrain solution for telehandlers with 12,000-pound lifting capacities that enables OEMs to seamlessly transition from conventional vehicle designs to next-generation zero-emission powertrains.
Learn more from this Dana press release.
Schaeffler Applies Insight from Automotive Technology to Off-Highway Applications
We were happy to talk with Eric Berndt, mobility and electrification technologies engineer at Schaeffler Group USA (Schaeffler) about the new technology for off-highway electrification. Among the technology we discussed were its concentrated wound motors (more adaptive to different applications), hairpin-wound electric motors, and hub motors.
In addition, Schaeffler has thermal management solutions for internal combustion engines, but these systems are also needed for electric power, including for the battery and the inverter. The team is also converting other functions to electric, such as electric actuators instead of hydraulic. An excellent tip shared by Berndt during our conversation was that, for a compact solution, electric rotary actuators can be used instead of a rod-style actuator. Check out this video where he shares how this works.
Learn more from this Schaeffler press release.
New Honda AWV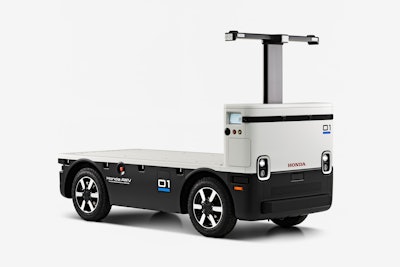 Honda showcased the new capabilities of its prototype Honda Autonomous Work Vehicle (AWV) to improve construction industry and worksite efficiencies. The fully programmable, all-electric Honda AWV takes advantage of the company's emerging advanced autonomous technology to create a rugged off-road work vehicle that is designed to support construction-related activities and enhance workforce productivity. Learn more from the Honda press release.
Hallite Seals New Technology
Hallite hosted a press conference during CONEXPO that introduced the new 683 low friction rod seal, 565 precision bearings and the 777 piston seal.
"We recognize that sustainability has never been a more relevant, important, or debated topic," said Andrew Iddeson, global technical director for Hallite. "So, by optimizing our manufacturing processes, we reduce waste and optimize product deliverables. This is the case with the design of the 565, which is a new range of Hallite bearings."
The 565 uses available, sustainable materials, such as advanced polymers and renewably sourced nylons. It will also be available in reinforced polyoxymethylene for applications in water-based fluids. The 683 low friction rod seal is an asymmetric single-lipped rod seal designed with precision-trimmed sealing lips to provide a dry sealing solution in light and medium-duty applications. Its design provides low friction to help lower fuel consumption, reduce emissions and optimize performance.
The 777 reintroduces the double-acting, energized piston seal. It has been redesigned to include imperial sizes to fit a range of industry-standard grooves. In addition, it is now available in more cost-effective material options for less demanding applications.
Delta-Q Features Charging Systems
At CONEXPO Delta-Q Technologies exhibited with ZAPI GROUP. As a part of ZAPI GROUP companies, Delta-Q and ZAPI GROUP collaborate to design comprehensive charging platforms to target main OEMs in industrial, commercial and recreational applications. During CONEXPO Delta-Q Technologies showcased its 3-in-1 mid-power charging system, the XV3300.