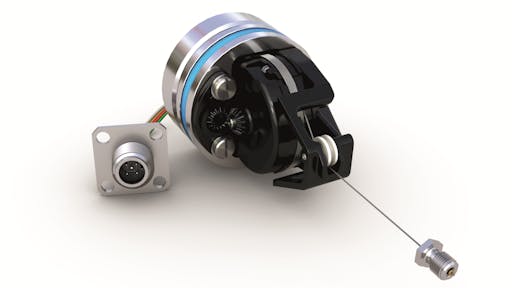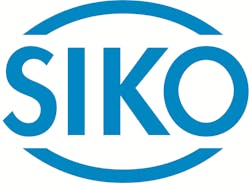 SIKO GmbH from Buchenbach, the German specialist producer of sensors for linear and rotary path and angle measurement, has given its SGH10 position sensor a technical facelift. The SGH10 position sensor, which can be integrated into hydraulic cylinders with a stroke length of up to 1 m, has recently been certified by the German Federal Motor Transport Authority in accordance with EN ECE R10 and now has E1 certification for road vehicles. It can also be used when the heat is turned up. The increase in its temperature range to 105 C makes this possible and sets a new record.
E1 certification from the Federal Motor Transport Authority in accordance with EN ECE R10
The integrable position sensor for hydraulic cylinders had been tested by the Federal Motor Transport Authority (Kraftfahrtbundesmt – KBA) in accordance with EN ECE R10 and now has E1 certification for road traffic. The sensor can therefore be used for applications in which it operates during active driving of a vehicle on public roads. With the E1 certification, the sensor can be used in utility vehicles without affecting the operating license for the vehicle as a whole. The high EMC requirements that must be met and the load dump test, in which voltage spikes of up to 400V are applied to the sensor, demonstrate its electronic sturdiness. "Not only does this certification allow our customers to deploy the sensor flexibly in utility vehicles for a wide range of applications, it also shows the high level of quality to which the sensor has been developed, produced and tested," emphasizes Mathias Roth, Mobile Automation Sector Manager at SIKO.

PURE.MOBILE technology
Among other things, the strengths of the sensor are down to a unique SIKO technology platform called PURE.MOBILE. This technological platform for special SIKO sensors has been designed and developed exclusively for position detection systems in utility vehicles. Unlike many of the sensors currently available on the market, which originate in industry or traditional machine construction and are then adapted for utility vehicles, sensors from SIKO that bear the PURE.MOBILE label have been designed and tested exclusively for heavy use in mobile machines. Every sensor with the PURE.MOBILE label therefore meets the EMC requirements for construction machines, forestry machines and agricultural machines, the requirements of E1, and is based on magnetic, wear-free and sturdy sensing technology.
Fluid temperature range up to 105 C
The sensor also impresses in terms of the maximum permissible temperature of the fluid used. The SGH10 standard sensor, which has been available since 2015, is already resistant to fluid temperatures up to 100 C. With an optional special deal of the customer's choice, fluid temperatures up to 105 C can now be used without giving cause for concern. To be precise, the sensor can now be used in media from -30-105 C, which is a real strength.
The SGH10 position sensor is available with the characteristics described above with immediate effect. For larger strokes, an extended measuring range up to 2.5 m is available with the SGH25 from SIKO, and up to 5 m with its big brother, the SGH50. All SGH sensors can also be used in telescopic cylinders and piston accumulators.