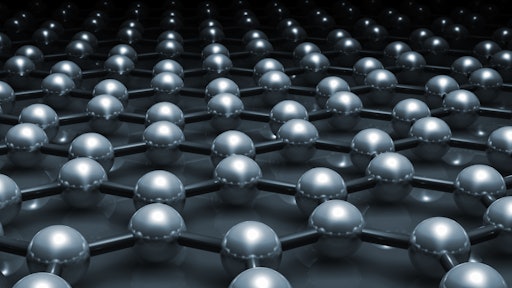 For several years, graphene has been touted as 'the next big thing' in materials development, especially in regards to battery applications. However, its use is not limited to just batteries. Several manufacturers have already found, or are currently researching, other applications for graphene.
LiuGong Machinery Corp., for instance, announced in July it has established the Technical Standards Development and Application Demonstration Base of Graphene-Modified Lubricant at its Global R&D Center in Liuzhou, China. "Studies have found that graphene can significantly improve the anti-wear and anti-friction performance of lubricating oil under extreme pressure, reduce fricative wear and noise of a machine, so it can improve the reliability of construction machinery and the lifetime of components," explains Abby Lin, Deputy Director of New Tech R&D at LiuGong.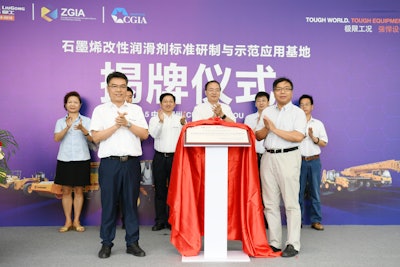 She notes that as lubricating oil is vital for construction machinery, developing graphene-based lubricants which can help improve machine reliability will enable LiuGong to increase its product competitiveness.
IDTechEx Research released a report earlier this year assessing the 2021-2022 timeframe will likely be the inflection point for graphene due in part to increasing industry experience with the material, as well as increasing availability and affordability.
According to Aaron Blake, Business Technology Liaison at Global Graphene Group (G3), graphene is the thinnest imaginable material and comprised of a single layer of carbon atoms arranged in a hexagonal honeycomb pattern. He says the material's unique two-dimensional (2D) structure, and resulting sp2 orbital hybridization, results in the strongest material ever examined—100-300 times stronger than steel. In addition, it is the best conductor of heat at room temperature, 13 times higher than copper, and the best conductor of electricity, about 100 times that of silicon crystal.
"One of the biggest advantages of graphene is its ability to enhance the mechanical strength of other materials it is combined with, such as plastics, while maintaining a lightweight characteristic – the addition of carbon fibers as an alternative, for example, often detriments the latter aspect," says Blake.
Another benefit graphene offers is heat dissipation; Blake notes a thermal paste or sheet with graphene can remove or dissipate heat very efficiently. This heat dissipation capability, as well as its ability to be a conductor of electricity, is among the reasons graphene is seen as a beneficial material for batteries.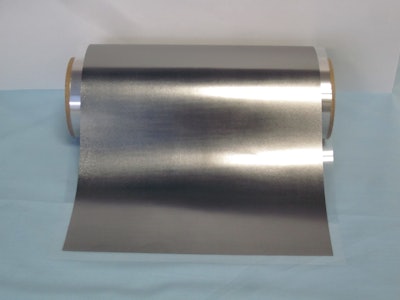 Reducing machine and component wear
Blake says use of a graphene dispersion for anti-corrosion properties in paints and coatings is one of the ways the material can be applied in heavy-duty mobile equipment applications.
G3 graphene dispersions can be directly hand mixed into a customer's products without the need for additional processing steps, says Nathan Holliday, Product Development Engineer at G3. In addition, he says the graphene dispersion format minimizes inventory for the customer. "Thus, there is a significant advantage in terms of ease of integration for graphene into existing processes for anti-corrosion paints and coatings.
"The benefits it offers in heavy-duty applications are primarily in relation to severe corrosive conditions where metal surfaces are in need of protection," he adds.
Holliday says the introduction of graphene into coatings provides several anti-corrosion benefits including shielding, inhibition and the ability to act as a sacrificial layer. "Graphene is very attractive for the coatings industry because it has superior conductivity and mechanical properties, it's easy to disperse into final products, it's cost effective, and it's environmentally friendly," he says. "Moreover, the loading amount of graphene can be as little as 1-2 wt% (weight percent) to see a significant improvement in physical properties." For instance, if working with 1 gal. (5 kg) of paint, then a 1-2 wt% loading of graphene amounts to between 0.05 and 0.10 kg mixed into the paint.
Lin says the benefit of using graphene in lubricants is the fact that the material can form an adsorption layer on the surface of a friction pair and play a stable lubricating role in both dry and wet lubrication conditions within a range of loads and temperatures. "Therefore, it has a wider application range than other extreme pressure anti-wear additives commonly used, and the extreme pressure, anti-wear and anti-friction characteristics can be improved simultaneously," she says.
She notes that in 2014, Argonne National Laboratory reported a one atom thick layer of graphene can last for more than 6,500 wear cycles in between a steel ball and a steel disc, a dramatic improvement over conventional lubricants such as graphite and molybdenum disulfide.
In the graphene-modified lubricants being developed by LiuGong, Lin explains that the graphene is chemically modified to improve compatibility with the lubricant and used as an additive within the lubricant. Additionally, it can be stably dispersed for a long time.
LiuGong will be developing three types of graphene-modified lubricants—grease, transmission oils and hydraulic oils, all of which are necessary for the performance and reliability of articulation joints, swing, transmission systems and hydraulic systems, says Lin. "Previous studies showed the graphene additive's compatibilities are quite different in various oil formulations, which would greatly influence the effect," she explains. "But the key performances of the three lubricant [types] have proved to be significant, thus we [have given] priority to their development."
In addition to reduced component wear, Lin says graphene-modified transmission oil has a stable coefficient of friction under different loads, ensuring the gearbox runs more smoothly and extends the oil change interval by 50%. Graphene-modified hydraulic oil also offers reduced system wear and a stable coefficient of friction, as well as relieves cylinder "stick-slip" and noise.
The company has fully considered machine designs and requirements while developing the graphene-modified lubricants; as such, there will be no need to make any changes to existing equipment, components or systems in order to use the lubricants.
Lin says LiuGong plans to complete the formulation development of the lubricants within 2 years, and massive applications and sales within 5 years. The company plans to put the lubricants through various bench tests, reliability tests and field tests under different working conditions. "Based on current development progress, we have achieved key technology breakthroughs, thus we expect the launch time of the lubricants' application and sales will be advanced," she says.
New tire materials
Tire compounds are another area in which use of graphene is making headway, including for the heavy equipment industry. Among the many graphene-based products G3 offers are graphene-enhanced rubber composites for tires. Evan Beale, Technical Marketing Engineer at G3, says graphene-enhanced rubber offers three key performance improvements—enhanced thermal conductivity, gas barrier properties, and mechanical strength and wear resistance. "The enhanced thermal conductivity in tires enhances thermal distribution which dissipates localized hot spots when braking," he explains. "The gas barrier enhancement reduces the chance of air leakage in tires, and the mechanical strength enhancement reinforces the rubber, improving wearability."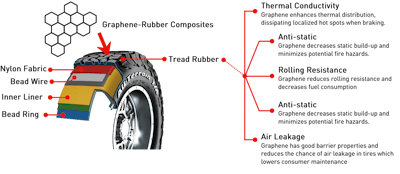 While rubber itself is an insulating material, Beale says it does not dissipate heat well. "Graphene, on the other hand, has an intrinsically high thermal conductivity (5,300 W/m·K), which can be leveraged to improve the thermal conductivity of a graphene-rubber composite," he says. Graphene's 2D structure enables it to form an overlapping network within rubber to increase the tortuous path for gas diffusion, further reducing the chance of air leaks in tires.
Additional improvements Beale says graphene can offer include:
Antistatic: Graphene works to decrease the static buildup on tires and minimizes potential fire hazards.
Rolling Resistance: Graphene reduces the rolling resistance of tires which helps decrease fuel consumption.
How much graphene is added to the tire rubber is dependent upon the performance demand of the product, he notes. If, for example, thermal conductivity is important to a tire's performance, then higher loading of graphene will be required in order to more quickly dissipate heat from the source. "The physical properties manifested by graphene—whether its form be mono-layer, bilayer, few layer or multi-layer (nanoplatelets), or even functionalized with different surface moieties—will differ based on its morphology when composited at different loadings with rubber," says Beale.
"When uniformly dispersed in rubber, graphene fills in the gaps left between adjacent rubber molecules and acts as a reinforcement particle to restrain movement of the matrix phase, thus strengthening the overall material," he continues. "The degree of mechanical improvement that results, however, is contingent on the compatibility of the rubber matrix with the graphene particles."
He says graphene's intrinsic mechanical strength, due to its 2D structure, is what makes it an ideal reinforcement material. "Similarly, graphene's ability to establish a percolating network throughout the rubber matrix (when properly mixed) allows one to take advantage of its thermal conductivity and barrier properties, as well."
Beale notes that one of graphene's many benefits is that it's widely applicable; as such, all tire types can benefit from using graphene-enhanced rubber. He says graphene has been used in commercial tire products to enhance their performance.
"We are also researching farm applications, especially those operations where stub penetration is a major issue," he adds.
While graphene offers many potential benefits, Vaidya also notes the challenges associated with using graphene. The first is the difficulty in dispersing the material during the compounding process. "BKT is solving this dispersion-related problem by optimizing several mixing parameters using a carrier for graphene and modified graphene oxide," he says.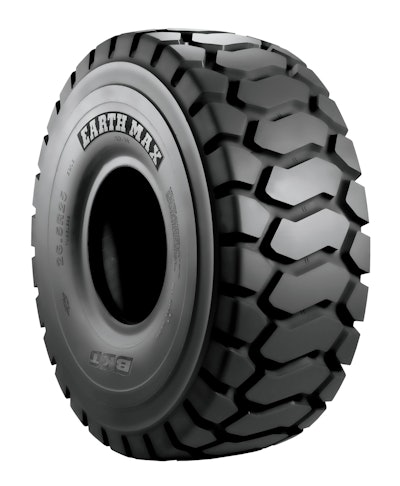 The second challenge is the higher material costs. To help minimize this, Vaidya says BKT is also researching new processes based on the synthesis of graphene and graphene derivatives. However, he says "a slightly higher cost will have to be explained and demonstrated in the field. It is to be confirmed by a balanced cost-performance ratio."
Currently BKT's graphene project schedule has a timeframe of 5 years. "We believe this is the time necessary for introducing these new compounds into the market," says Vaidya.
BKT has been researching the use of graphene for about a year now, aided in part by the opening of its new Suresh Poddar Innovation Hub (SPIH) at the company's Bhuj production site. The new R&D center was specifically built for the purpose of further enhancing tire performance criteria for products already in the market, as well as new tire development. "It is the driving force for researching into always-new solutions that make BKT products reliable, competitive and highly technological," concludes Vaidya.
Companies in this article