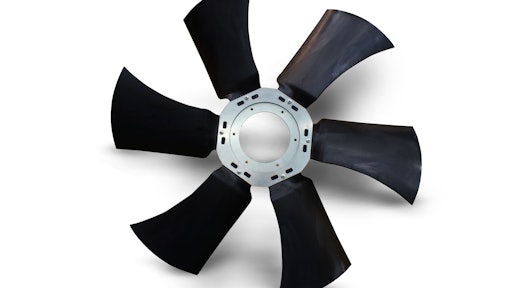 Phillips & Temro Industries
Fans and cooling systems play an important part in ensuring a machine's engine doesn't overheat and cause unplanned downtime. In addition, they can also play a role in reducing noise and helping increase efficiency.
Emissions regulations have brought about smaller engine compartments and other machine design changes, adding even more requirements for fans and cooling systems. Due to this, cooling product manufacturers are continually evaluating their products and looking for ways to meet these new requirements such as through different types of fan drives, as well as new fan shapes and materials from which to manufacture products.
New fan blade profiles target specific industry challenges such as high pressure demands, narrow space, reduced noise emission and high efficiency, says Claus Christensen-Dalsgaard, Senior R&D Engineer at Multi-Wing. "When designing the PMAX3 for engine cooling, the main criteria was to fit into the more and more compact engine compartments, while still creating high pressure rates," he explains. "It [has] a unique profile with a very narrow depth and a minimum axial deflection which makes it fit into tight engine compartments."
Advancements in fan designs
The PMAX3 features a large blade area, strong foot and ability to run at a high speed which Christensen-Dalsgaard says enables high pressure rates to be achieved. This need for higher pressure rates and performance capabilities has come about because radiators have become more complex. "The customers need fans that can generate more pressure in less space and with reduced noise," he explains.
Reduced turbulence across the fan blade also aids with efficiency improvements and noise reduction.
To achieve even higher performance and efficiency, as well as reduce noise, he says the Multi-Wing ƐPS can be added to the blade tip. "It has been taken into account in the design process that ƐPS combined with the large blade area meets the requirements for emissions and noise reduction." This is due to the tips—which consist of adding bristles to the end of the fan blade—closing the gap between the shroud and fan tip and further reducing turbulence over the fan blade. He also notes that the PMAX3 is designed to fit a clutch and that fan-clutch combinations will reduce fuel consumption.
This is because ƐPS seals the tip gap, preventing the losses caused by the gap. At the same time, he says it prevents the generation of the tip-vortex which is a contributor to noise.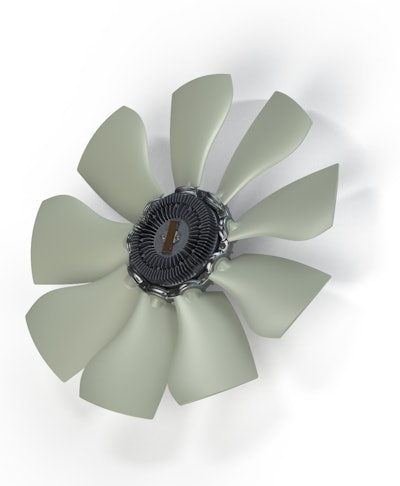 Multi-Wing announced in December that demand for its PMAX3 has grown rapidly for use in a wide range of applications with restricted space. Christensen-Dalsgaard says this has largely been driven by the industry's need to meet Tier 4 Final and other emissions requirements. "The demand for the PMAX3 is seen among large manufacturers of small-medium size tractors, mining trucks, mini-skidders and mobile compressors and generators," he says.
Greg Ahlstrom, North American Sales Manager, Cooling & Ventilation Products at Phillips & Temro Industries, agrees that there has been an increased request from customers for higher efficiency and lower noise products. In addition, lower mass fans, as well as lighter weight drive and mounting systems are of interest to help reduce not only component costs for OEMs but also fuel use for machine end users.
To help meet these requirements, Phillips & Temro developed its Truflo Hybrid Fan. "Our hybrids are plastic-bladed fans with a galvanized center plate to which reinforced sickle or tapered-shaped blades are fastened," explains Ahlstrom. "The blade size and geometry is custom, and there are thousands of potential configurations to meet customer requirements."
It is termed a 'hybrid' because the fan is made from a combination of steel (the central hubs) and plastic (glass filled nylon blades). Ahlstrom says this allows the company to provide thousands of potential configurations using primarily standard components. The metal hubs are almost always unique due to customer specific mounting preferences, but are a simple part to make as it requires only a program change rather than tooling adjustment.
The ability to adjust the blade angle in 1-degree increments enables the company to customize the fan to individual customer needs, which is especially important with so many requirements being placed on cooling products today. "Each application has its own set of challenges. It could be pressure, space, required air flow, or any other number of factors," says Ahlstrom. "Our ability to offer thousands of configurations allows each customer to choose the optimum fan for their specific application."
Manish Virmani, Vice President, Marketing and International Sales at Horton Inc., says hybrid fans such as the company's High Efficiency Hybrid Flow (HEHF) fan are beneficial for applications in which a very thick radiator is utilized. The fan is a cross between a mixed flow and a radial fan, enabling it to provide extremely high efficiency and low noise. This is due to its ability to move more air at a slower speed, creating less air turbulence. In addition, the HEHF does not have the dead spot commonly found with axial fans.
He says the fan has so far only been used in very niche applications but will likely be more widely adopted into the market within the next 5 years. This is because in both the on- and off-highway markets the nose of the vehicle is getting pointier. In the on-highway space, it's due to greenhouse gas (GHG) emissions regulations and a desire for improved fuel efficiency leading OEMs to design more aerodynamic vehicles. For off-highway vehicles, manufacturers are looking to improve visibility for operators in the cab, and thus safety, by creating a shorter, lower nose.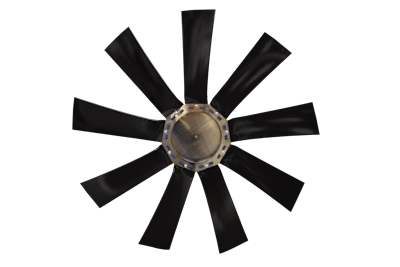 The pointier nose means the radiator needs to be smaller. And in order to get the same cooling capacity as a larger one, the radiator has to be thicker. Virmani says the HEHF works well with these types of radiator designs because the hybrid design and high number of blades enable it to move air efficiently in high restriction environments.
He notes that the material from which a fan is made is also evolving to meet noise and efficiency requirements. A majority of the time, metal cooling fans are used in large equipment such as mine haul trucks. However, Virmani says metal is hard to work with—it's difficult to bend in an aerodynamic way and to do so consistently well, blade after blade.
Plastic has also been an option for some, but he says can be an issue when making larger fans. "When you make a fan that's 8 ft. (2.4 m) in diameter, the blade deflects a lot…[and] starts hitting the radiator cage," he explains. "There's a lot of issues using fans that size."
Additionally, those types of fans crack easily if a rock or other object hits a blade, increasing the risk for injury.
"We wanted to solve that problem, we wanted something that was designed optimally for efficiency, less noise, and also [was] durable, could handle impact from rocks," he says. Horton created a composite material that belongs to a class of materials that, although not new to the world, are new to the industry. Its base is similar to plastic but has other chemicals which work in tandem with the way the fan is manufactured to provide the highest strength to weight ratio among fan materials.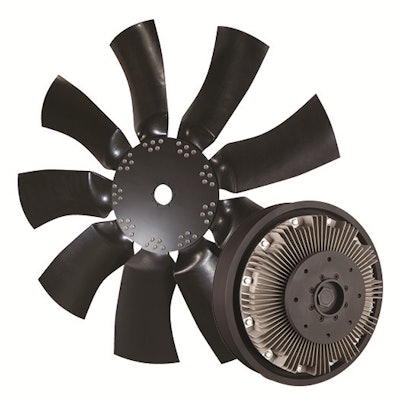 The Horton Thermoset Engineered Composites (HTEC) fan family is very rigid and does not deflect as plastic fans would because it is manufactured using an additive process instead of through injection molding as is typically the case with plastic fans. Injection molding creates long fibers going in a single direction whereas the additive process—as well as the chemical makeup of the material—creates a lot of cross linking in the material, says Virmani. This creates a more durable, as well as highly efficient fan. Unlike metal, the composite structure allows Horton to more effectively optimize blade characteristics like length, pitch, shape and tip design. "We've seen a lot of demand in the aftermarket, especially mining and construction," he says. "That's a big trend in the industry, moving away from metal to this composite material."
Efficiently driving a fan
Fan drives—which are either direct or variable speed—are another area where manufacturers are looking to make improvements to efficiency and noise.
Virmani says with direct drive fan systems, equipment is designed to work in the worst-case scenarios or conditions. Doing so means the cooling system is being designed to run at 100% of the rated load and at the most extreme condition, which is usually the hottest condition in which it would work well. "The reality is those conditions are very rare," he says. "So what you're doing is running the cooling system at full capacity to cool the engine down when you don't need to."
There are several issues associated with this. The first is that more fuel is being burned than necessary, compromising a machine's overall fuel efficiency. Also, when a fan is being run at full speed, a lot of noise is created. "I would say 50%, maybe more, [of noise] in a piece of equipment comes from the fan rather than the engine," says Virmani.
Reliability is also an issue. When operating in places which experience colder temperatures, operators want the engine to warm up, and quickly. But if a fan is spinning at full speed blowing cold air on the engine, Virmani says it will take the engine longer to warm up which burns more fuel and can cause damage to the engine such as the destruction of seals. "The life of different engine components [is] reduced because of not running the engine at an optimal temperature," he explains.
Read Horton's case study on the use of variable-speed fan drives in cold weather conditions.
Variable speed fan drives, on the other hand, are designed to provide cooling only when it's needed. Horton has developed variable speed fan drives such as its RCV1000 which use the machine's engine controller to determine at what speed to drive the fan, and move it only as directed. Using this type of fan drive eliminates any unnecessary noise or fuel use.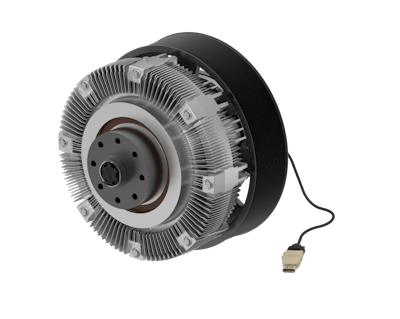 Virmani says the Horton variable speed fan drives are self-contained, simple bolt-on systems which do not interact much with the rest of the machine in which they're installed. "If a clutch were to fail, it's not going to take the rest of the equipment down," he explains. "If our clutches fail, they'll basically turn on full speed and, worst-case scenario, are not as efficient and more noise is made."
Other variable speed fan drives are hydraulically or electrically operated. Virmani says that if the piece of equipment already has a hydraulic system built into it, that system's pump and motors can be used to operate the fan drive. However, an extra hydraulic circuit will need to be added which could potentially leak. Depending on the size of the machine, this could also add cost to the design of the machine. He notes hydraulic systems also have lower efficiency as they run the whole time and tend to have a lot of parasitic losses.
In addition, he says an OEM may not be as comfortable with the reliability of another manufacturer's hydraulic components and the potential for unplanned downtime for customers.
An electric variable speed fan drive consists of an electric motor with a fan, and the speed of the motor is controlled by the machine. Virmani says these systems only work in smaller equipment where the motors won't be too large. "Once [the motors] get too big they need a lot of current, [and] you don't have the batteries on these kinds of equipment to provide th[e necessary amount of] current." He also notes the motors tend to get very hot, so liquid cooled versions are necessary which can be expensive.
Virmani says there is also a wet clutch in the market, used primarily on mining equipment, that is driven by engine oil. However, customers using this technology Horton has spoken with have noted leaking issues, as well as the potential for contaminants to be collected and sent back to the engine where they could potentially destroy it.
Along with efficiency, Virmani says productivity is also an important factor for many customers, sometimes even more so than fuel efficiency. The variable speed fan drive helps meet this requirement as it does not draw as much power from the engine, enabling there to be more available for operating the machine faster or carrying more load.
As noise has become an increasingly bigger issue due to the larger fan systems required by the implementation of Tier 4 engines and various municipalities enacting noise regulations, Virmani says the industry is moving more toward the use of variable speed fan drives. "What we've seen over the last 2 years is that when we get different applications to bid on, there's a lot of focus on noise these days," he concludes. "And the reliability piece has driven a lot of people to variable speed fan drives."
Companies in this article