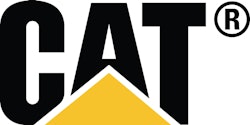 Caterpillar Logistics Inc. (Cat Logistics), a wholly owned subsidiary of Caterpillar Inc., has announced plans to further enhance its global service parts distribution network with the addition of a new parts distribution center in California. The site is located in the Tejon Ranch Commerce Center at the junction of Interstate 5 and Highway 99 in Central California. With excellent accessibility to major airports and highways, this location will ensure rapid delivery of Cat service parts to dealers and customers. The new 400,000-square-foot facility will employ 100 to 150 people and is scheduled to be operational in late 2012.
The California Distribution Center and the new Spokane, WA, facility announced earlier this year along with new facilities opened in Waco, TX, and Clayton, OH, in 2009 and 2011 respectively, will represent a significant increase in capacity and capability for Caterpillar's best-in-class service parts distribution network in the United States.
"This investment, part of a multiyear expansion and enhancement of the global Cat parts distribution network, demonstrates our deep commitment to Caterpillar customers. We are ensuring that our service parts distribution system serves customer needs better than any competitor, now and in the future," explains Steve Larson, vice president of Caterpillar Inc. and chairman and president of Cat Logistics.
Like the Spokane and Clayton facilities, the California facility will utilize Service Parts Management (SPM), a global solution that replaces multiple legacy software systems supporting the Cat parts network. Common systems and processes developed and optimized through previous facility implementations will be leveraged to maximize the efficiency of the start-up and ongoing operations.
"We're pleased to welcome Caterpillar to the Tejon Ranch Commerce Center," says Robert A. Stine, president and CEO of Tejon Ranch Co. "Caterpillar is an industry leader, and as such, will be in good company, joining the ranks of other world-class companies, like IKEA and Famous Footwear, who have located major distribution facilities at Tejon."
Cat Logistics is also implementing network enhancements in Dubai, United Arab Emirates; Grimbergen, Belgium; Melbourne, Australia; and Shanghai, China, and has additional projects in the planning stage in key growth markets.
"Our focus on enhancing service parts distribution globally ensures that no matter where our customers are operating, Caterpillar and Cat dealers are there to provide the support they need to be successful," adds Larson.