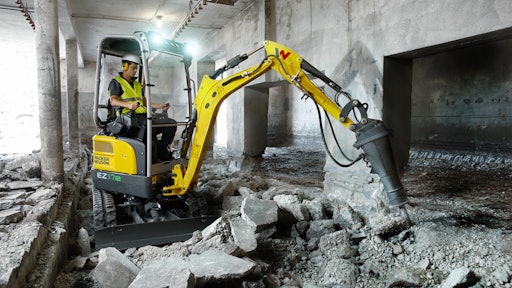 This year's edition of INTERMAT once again presented the latest technologies and trends within the global construction equipment industry.
Check out our media gallery to see some of the sights from the show.
With the construction market doing well in most markets, Europe in particular, a sense of optimism could be felt throughout the show and when talking with companies, especially in comparison to the last time the show was held in 2018. During its press conference at INTERMAT, CECE reported sales of construction equipment in Europe grew 15% in 2017, and sales within the first 3 months of 2018 were up, as well. The association expects another 5-10% increase in 2018.
"This is a very good economic environment for INTERMAT to take place," said Enrico Prandini, CECE President at the CECE press conference on April 24 in Paris. He added that the trade show would give companies another push, especially from customers from the booming French market and the French communities in the MENA region. The main findings of the Annual Economic Report were presented in a new CECE animation video, shown for the first time to the press the morning of the press conference.
The €100 billion Grand Paris project in France is an example of the current infrastructure, and thus construction industry, growth currently taking place in Europe, and across many parts of the globe. According to Volvo Construction Equipment—who along with other Volvo Group companies is aiding the Grand Paris project—said it is the city's most momentous infrastructure project in more than a century. The ongoing megaproject will involve the construction of 200 km of new railways (90% underground) and 68 new train stations, as well as the deployment of 4,000 fully electric buses. This is essentially double Paris's existing public transport network. The aim is to connect Paris' suburbs with the city center and each other, facilitating ease of movement and economic growth for the entire metropolitan area. When completed it is expected to boost the French economy by creating well over 115,000 jobs.
During a press conference held by CMTM, speakers noted the impact infrastructure projects such as the Grand Paris project are having on manufacturers in all parts of the globe such as China. France is one of the most open countries for the construction industry, making it easy for manufacturers to export their equipment there. It was also said the Chinese construction equipment industry is expected to have a continued positive outlook with 5-10% improvement over the next 3 years.
Emissions reduction a theme for many
With the EU's Stage V emissions regulations set to go into effect in 2019, many engine manufacturers exhibited their range of emissions-compliant engines. Cummins announced during the show that is latest B6.7 and L9 Stage V engines are now fully certified and in production at its Darlington UK plant. Volvo Penta introduced its full range of Stage V engines offering power ranges from 105-565 kW (143-770 hp). In addition, the company announced that after first introducing its 5-L Stage V engine last year, it has made adjustments to the engine's design and an upgrade in available power from an initial output of 160 kW (218 hp) to a new maximum level of 175 kW (238 hp) has been achieved. Volvo Penta says the alterations have been made in order to offer customers a superior product with enhanced performance, and the new maximum output has been verified through extensive testing.
John Deere Power Systems was another which exhibited its range of Stage V ready engines, including its upcoming 13.6 L engine. The company used a clean-sheet design when developing the 13.6 L engine in order to optimize performance, and provides installation flexibility and compact packaging, allowing for easy machine integration.
More Stage V engine news:
Perkins Exhibits EU Stage V/U.S EPA Tier 4 Final Engines at INTERMAT 2018
FPT Engines Power CASE Construction Equipment at INTERMAT 2018
Yanmar Introduces Two High-Power Industrial Diesel Engines
Dana Rexroth announced it's working with engine manufacturers to support Stage V developments, and that the company's hydromechanical variable transmission (HVT) platform "is already prepared for Stage V emissions standards, and we are collaborating with leading engine manufacturers to develop transmission control software that will allow us to deliver a fully compliant solution," said Bernd Schmidt, General Manager of Dana Rexroth Transmission Systems, in the recent announcement.
In addition, Dana exhibited its range of electrification products which can be used separately or in conjunction with one another to provide a complete system solution. The company also had many of these products installed on a demonstration vehicle to show how they can be integrated into current machine designs.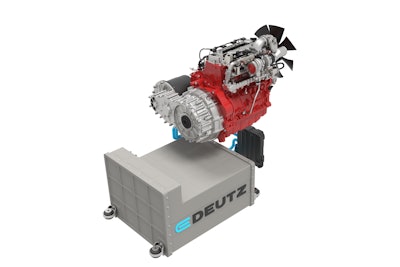 Electrification was a highlight for many manufacturers at the show as a means of developing products which help to reduce emissions.
Also on the powertrain side of things, both Cummins and Deutz unveiled their concept electrification products. Cummins' range extended electric driveline (REEV) is comprised of a zero emission battery electric system and F3.8 Stage V powered generator. The system is modular in design and can be used on a range of equipment. The Deutz system, on the other hand, combines a TCD 2.9 diesel engine and a 55 kW electric motor, as well as plus power electronics and a battery pack specially designed for this combination.
Several OEMs exhibited electric machines, as well, including Volvo and Kobelco.
Mecalac announced it is offering its first 100%-electric machine, the e12 excavator powered by LiFePO4 battery technology—iron and phosphate for three times as many charge cycles—in place of a combustion engine.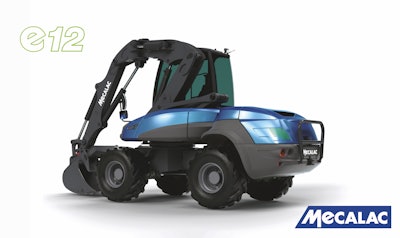 Meanwhile, Wacker Neuson had an entire section of its booth dedicated to its electric machine lineup, including the new electric, zero-tail EZ17e mini excavator. The machine is designed to perform like its diesel counterpart, but produces no emissions.
With the construction industry growing and advancing in various technological ways, it will be interesting to see what will be the highlights at the next INTERMAT show in 3 years.
Be sure to search 'Intermat' on our website to find even more news from the show.