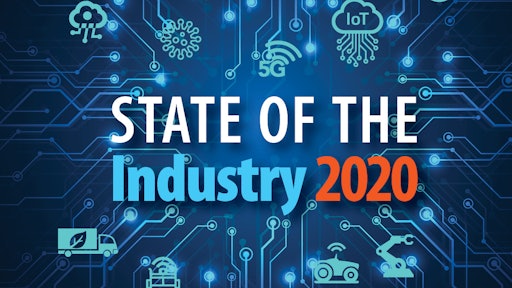 ©alexmu – stock.adobe.com • Peacefully7 | iStock/Getty Images Plus • AlexKaplun | iStock/Getty Images Plus • chokkicx | DigitalVision Vectors • bounward | iStock/Getty Images Plus • Yuriy Bucharskiy | iStock/Getty Images Plus
Data was a prevailing theme in many of this year's responses, indicating its continued importance to the heavy-duty equipment industries. Creating actionable data is integral to ensuring end-use customers can get the most out of their machines. Data is also a critical component of automation and connectivity, which are becoming increasingly more common in the industry—and will continue to do so in the coming years. This year's State of the Industry interviews provide insight into how OEMs and component suppliers are working to improve the way they collect and provide data to benefit themselves, customers, and meet the technology needs of the future.
Interview topics for 2020 include:
Global Markets, Government & Trade
Impacts of COVID-19
Diesel, Electric & Other Power Alternatives
Data, IoT & Connectivity
Automation & Smart Systems
Challenges & Opportunities
All of this year's full-length Q&As can be found below.
APEM Inc.: Tony Solis, Director of Sales
Bosch Rexroth Corp.: Terry Hershberger, Director, Sales Product Management & eSystems
CNH Industrial: Jay Iyengar, Chief Technology Officer
Committee for European Construction Equipment (CECE): Riccardo Viaggi, Secretary General
Cummins Inc.: Eric Neal, Executive Director, Cummins Off-Highway Business
Dana Inc.: Marcus King, Manager of Dana China and Vice President of Dana's Off-Highway Global Sales, Business Development, Strategy, and Program Management
Danfoss Power Solutions: Mike Hill, Sr. Vice President, Sales & Marketing
Eaton: Paulo Ruiz, President, Hydraulics Group
Hatz Diesel: Michael Hartoonian, President and CEO, Hatz Diesel of North America, Inc., and Dr. Maren Hellwig, loT-Architect, Motorenfabrik Hatz GmbH & Co. KG, Inc.
HED Inc.: Chad Repp, Business Development Manager, CANect Telematics, and John Kitzerow, Product Manager
Horton Inc.: Erik Roell, Vice President of Global Market Development, and Dave Hennessy, Vice President of Engineering and R&D
John Deere Power Systems: Nick Block, Director, Worldwide Marketing & Sales
Left Hand Robotics: Mike Ott, Co-Founder & CTO
Oilgear: Naimesh Dave, President
Schaeffler: Brian Kreifels, Vice President OEM Sales North America, and Jeff Hemphill, Chief Technical Officer
Southco Inc.: John Snyder, General Manager, Transportation
Sy-Klone International: Amy F. Rice, CEO
Terzo Power Systems, LLC: Michael Terzo, CEO
Topcon Agriculture: Michael Gomes, Vice President of Business Development
Companies in this article