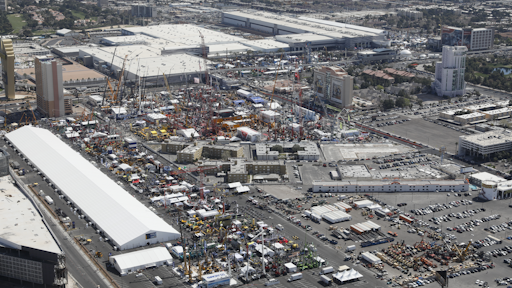 Association of Equipment Manufacturers
*Editor's Note: This article was first published on March 20 and updated May 14 with new information. 
The 2020 edition of CONEXPO & IFPE—the year's largest construction industry shows—seems a long-ago memory at this point as much of the world went into stay at home orders not long after the show, particularly those located in the U.S. At the time the situation was extremely uncertain and many in the industry were still anticipating having a whole year of travel ahead of us in 2020.
For the OEM Off-Highway staff and many of our readers, travel to trade shows, conferences and seminars provides an opportunity to see what is happening in the industry. 
However, in light of current health concerns regarding COVID-19, and the continued uncertainty going into the months ahead as there are still many health and safety concerns surrounding the virus in most parts of the world, several industry events have been postponed. While some have been pushed back to later in 2020, others will not be held again until 2021.
In an effort to keep our OEM Off-Highway readers informed, we have collected a list of upcoming events that have been postponed or cancelled and their new dates, if available. We will continue to update this list as more information is announced, as well as update our Events page where you can find these and all other relevant industry events.
Upcoming events which have been postponed 
The National Mining Association (NMA), organizers of MINExpo International announced on May 14 their decision to postpone the show until September 2021. According to a statement on the event's website, continued uncertainty over the COVID-19 pandemic has made holding the show in September 2020 "impractical under the circumstances." NMA says in that statement "its highest priority [is] the health, well-being and safety of exhibitors, attendees, stakeholders and their respective families and colleagues" and that it is in the best interest of all concerned to postpone the show until next year. 
NMA still currently plans on holding the show in Las Vegas, and says it will announce exact dates once all logistics arrangements have been made. 
AEM's Product Safety & Compliance and Product Liability seminars
Originally scheduled to take place April 27-30, 2020, the Association of Equipment Manufacturers (AEM) has decided to reschedule these annual seminars. The seminars are now scheduled to take place August 24-27, 2020 and will be held at the Westin Chicago Northwest.
Organizers for the Advanced Clean Transportation (ACT) Expo have announced the 2020 is rescheduled for 2021. It is set to take place May 3-6. A notice on its website says all current registrations will be transferred to the new dates.
This year's NIWeek, initially rescheduled to take place August 3-5, has now been cancelled. Organizer of the event NI (National Instruments) notes the decision was made in order to keep all involved safe due to continued uncertainty surrounding the COVID-19 situation. It is evaluating alternative means of brining information to its engineering customer such as webinars and livestreams. 
Organizers for EIMA International, a biennial agricultural industry event which takes place in Italy, recently announced the show has been postponed until February 2021. 
"The decision to postpone the great traditional EIMA until the beginning of next year stems from a careful logistical and economic assessment, since it is extremely likely that exhibitions may still be affected in autumn by specific government ordinances, and the transport and services system may still be slowed down due to the precautionary measures that will still be in place both in Italy and abroad," explains Alessandro Malavolti, President of FederUnacoma, the federation of Italian manufacturers that is the direct organizer of the event in a press release announcing the postponement.
However, there are plans to host a virtual pre-show event November 11-15, 2020 when the show as originally scheduled to take place. The "EIMA Digital Preview" aims to provide a new experience for highlighting many of the technologies which will be shown at the live event which takes place February 3-7, 2021.
The annual event which typically takes place in April has been postponed until 2021. While a July 2020 date was first proposed, continued uncertainty regarding COVID-19 and the safety of all involved with the show has lead organizers to postpone the show. It will now take place April 12-1, 2021. 
In the meantime, several manufacturers are presenting the new technologies they would have premiered at the 2020 show on the Hannover Messe website. You can also follow the social media hashtag #HM20 to see these technology premieres directly from the companies themselves. 
Organizers of the Movin'On Summit—a sustainable mobility event organized in part by Michelin—has been cancelled for 2020. Florent Menegaux, President of the Michelin Group, and Honorary President of Movin'On, said in a press release on the cancellation, "Faced with this unprecedented global health crisis, the main priority of the Movin'On team is to protect the health of our employees, our ecosystem partners and our participants. This is why we have decided to cancel the Movin'On World Summit, which was planned to take place in Montreal."
Instead, digital meetings have been scheduled for June 3-4, 2020 which will provide insight into some of the sustainability work that would have otherwise been highlighted during the show in Montreal. 
While originally postponed, organizers of the AEF Plugfest have decided to cancel the spring event due to the continued health and safety concerns associated with COVID-19. AEF is currently still anticipating holding its fall event in Europe which is set to take place October 13-16, 2020, in Stuttgart. 
Organizers for the show say the decision to postpone the 2020 show until 2021 was a difficult one but that "In light of today's extraordinary circumstances and with an abundance of caution, this decision has been made with the health and safety of our attendees, exhibitors, employees, and show partners in mind. "MATS has a proud tradition…[and] will return stronger than ever in 2021, and will focus on an unforgettable 50th-anniversary event – March 25-27, 2021 in Louisville, KY."
The WCX 2020 World Congress Experience, originally scheduled for April 21-23, in Detroit, has been cancelled. Formerly known as SAE World Congress, the show currently does not have new dates; once available, they will be posted on our Events page. 
The biennial event PaintExpo was originally set to take place in April, but has been postponed until October 12-15, 2020. It will still take place at the Karlsruhe Exhibition Center in Karlsruhe, Germany.
SPIE Defense + Commercial Sensing 2020
This annual event focused on sensing technologies has taken a different approach; instead of cancelling or postponing its event, scheduled for late April, organizers are making the conference a digital forum instead of an in-person event. In this way, attendees can still get the information they would have received. 
Initially scheduled to take place in May, organizers of WasteExpo have rescheduled for August 10-13, 2020.
International Truck showcased its latest refuse vehicles during WasteExpo 2019.International Truck

Organizers of the show announced on March 13 the show—scheduled to take place May—would be postponed until October 21-25, 2020. The event will now be held alongside Oil&nonoil, an energy, fuel and mobility services trade fair scheduled for October 21-23. This will provide attendees of both shows an even wider breadth of new products to see. 
The Battery Show Europe and Electric & Hybrid Vehicle Technology Expo Europe
The European editions of these shows are typically held in the spring. However, organizers have decided to postpone until October 15-17, 2020—just one month after the U.S. versions of the shows. They say they "are committed to running the conference and exhibition in 2020 and are currently working with the Messe Stuttgart venue and are constantly monitoring communications from local, state, and federal agencies to proceed with the event in a safe manner." 
Expo Grands Travaux and Atlantic Heavy Equipment Show 
Both Canadian-based heavy equipment events are put on by Master Promotions, which has decided to postpone the shows for the time being. It will announce new dates when possible. 
Originally set to take place in early May, the organizers of Agritechnica Asia have chosen to postpone the show until October. "Moving the event to October gives us confidence that we can deliver AGRITECHNICA ASIA and Horti ASIA [a co-located show] to our international standard and maximize business opportunities to all parties," said the organizers in a statement regarding the postponement. 
The 2020 edition of the biennial Hillhead—which is held in a quarry in the U.K.—has been postponed until June 2021. Hillhead Event Director Richard Bradbury explains, "The health and safety of exhibitors, visitors, contractors and employees is our number one priority and with the peak of the epidemic predicted to coincide with the show in June, this would be severely compromised.
"Following an extensive consultation process, the decision has been taken to delay the event by a year to allow market conditions to stabilize and to best support the construction and quarrying industry during this challenging period."
Have other events you think we should add to our page or you know that has changed dates? Let us know by emailing editor@oemoffhighway.com.