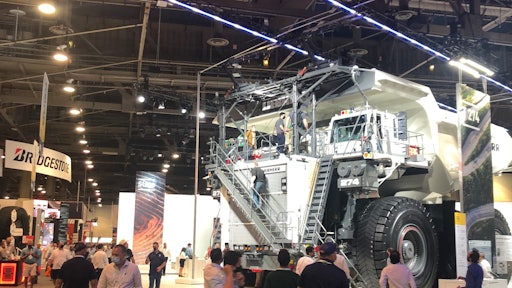 S. Jensen
MINExpo INTERNATIONAL 2021 was a return to trade shows for many in the heavy equipment industry (this author included). While it was a slightly more subdued and less attended show than in years past, there was still plenty of mining equipment to see and new technology to learn about.
And despite the lighter foot traffic, several companies the OEM Off-Highway team spoke to during the show said the discussions being had were quality ones. Many people, myself included, were also excited to be out in the industry again networking and interacting with others in person instead of via Teams or Zoom.
If there was a theme for this year's show, it would be sustainability and automation. Though not new trends in mining—and certainly not exclusive to this industry—there seemed to be an especially strong emphasis on them.
Technology for alternative power systems and autonomous systems and vehicles have advanced greatly in recent years. The mining industry is also looking to be more environmentally friendly as well as productive, driving the need for technologies which can help achieve these goals.
Be sure to visit our dedicated MINExpo 2021 channel for all news, articles and product launches from the show as well as content related to the mining industry.
Emissions reduction targets drive equipment design
Per a 2020 article from McKinsey, the mining industry accounts for 4-7% of global greenhouse gas (GHG) emissions. The industry has begun to set emissions-reduction goals the article states, in the range of 0-30% by 2030. Much of this will be achieved through improvements in operational efficiency, electrification and use of renewable energy say the article's authors.
Several OEMs exhibited new and existing zero-emissions equipment during MINExpo, demonstrating their commitment to helping mining customers achieve these emissions reduction goals. Caterpillar Inc., for instance, introduced its battery-electric loader, the Cat R1700 XE LHD. The loader is 100% battery driven, enabling it to provide emissions-free operation as well as reduced noise and heat which is particularly important when operating in underground mining applications.
Watch Wayne Grayson, Editor in Chief of our sister website ForConstructionPros.com discuss the technology behind the new R1700 XE LHD and how electrification in mining could aid the transition to electric power systems in construction.
Caterpillar also announced during the show that 100% of its new products will be more sustainable than the previous generation. This is one of several goals the company has set for its self to help reduce carbon emissions by 2030. According to Marc Cameron, [title] at Caterpillar Inc., this will be achieved through the development of equipment which reduces emissions and offers improved efficiency. In addition, the company will work to better design its products for rebuild to help reduce waste.
To create a zero-emissions mine site—the ultimate goal for many mining operations—it will take more than just an electric truck, said Cameron. Fully integrated end-to-end solutions will be required, which is something manufacturers like Caterpillar are looking to offer. Caterpillar offers many products which can help customers achieve this goal, including solar panels and battery powered equipment.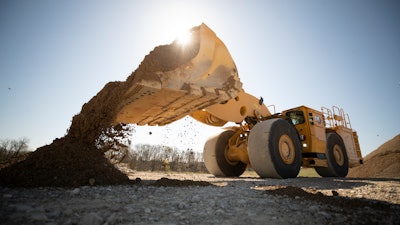 At MINExpo, the company also introduced its new portable Cat MEC500 Mobile Equipment Charger which is capable of charging the R1700 XE in 20 minutes. Its fast charging capability helps mine site stay productive, and the portability of the charger eliminates the need for battery swapping as is common with some other types of electric mining equipment.
Electrification is nothing new in the mining industry, but is certainly on the upswing as reducing global emissions becomes a greater concern for much of society. And for mining, electrification is seen as a good fit, particularly in underground operations because of the increased safety it provides for workers. Ventilation systems used in underground mines are costly, as well, adding a further benefit—cost savings—to transitioning to electric powered vehicles. And because underground mines already have electric infrastructure, installing charging is easier than in some other industries.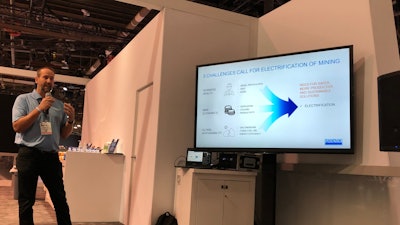 There are three main things driving the mining industry toward electrification, said Brian Huff, Vice President of Technology, Battery and Hybrid Electric Vehicles, Sandvik Mining and Rock Solutions. And electrification has the chance to solve all of them:
worker health
global sustainability
improved energy efficiency of operations.
He said Sandvik is working to make the drive to electrification as easy as possible so customers can quickly overcome these industry challenges. One way in which the company is doing so is through development of electric powered equipment and technology like its self-swapping system for batteries known as AutoSwap. This system makes it quick and easy to swap batteries without the use of an overhead crane so miners can work with minimal interruption. As the company explains, a machine will disconnect and put down a depleted battery, tram to pick up a new one and automatically connect to the new, fully charged battery without the operator ever having to leave the equipment cab. This helps to keep the mining operation running efficiently as well as improving worker safety and productivity.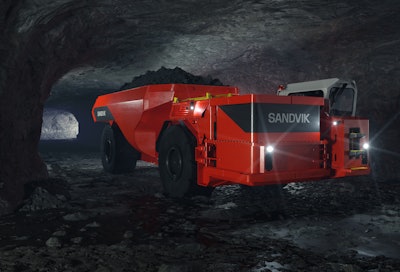 The move to electrification can also minimize how much electricity a mine site uses. Huff said it may seem counterintuitive, but moving from a diesel powered fleet to an electric powered one can reduce electrical energy consumption. "The reality is, by removing diesel particulates and reducing heat produced in the underground environment, you can use less ventilation and achieve the same comfort level for the operators and dramatically reduce your power usage," he explained.
Read about the new products and technologies Sandvik introduced at this year's show, including several battery-electric powered machines.
To aid companies making the move to electrification, Dana Inc. introduced at MINExpo its new Spicer Electrified e-Powershift transmission which according to the company is a modular and flexible two-speed solution that offers power take-off (PTO) functionality for electrified heavy-duty equipment vehicles.
The transmission offers the option of incorporating one or two electric motors, depending on the power needs required of the application. An inverter and controller for the motors is included, as well, to provide OEM customers with a full system solution which Dana says more companies are looking for these days. Not all manufacturers have the capability to develop their own electric drive systems, so by working with a company like Dana they can more easily get the product they need and ensure it will meet the requirements of end use customers.
Currently the transmission is in the prototype phase and will be tested with OEMs this year, and production is expected to begin in 2023.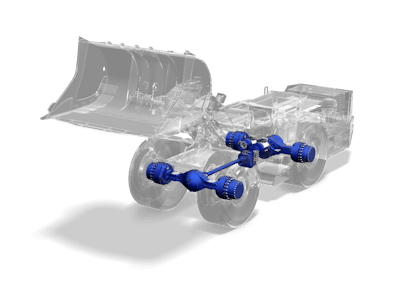 Hybridization and other power alternatives
While full electrification is the goal for many manufacturers and their customers, there are other power alternatives as well which can help mining operations meet their sustainability goals. During its press conference at MINExpo, Liebherr discussed the many power systems it is currently investigating including electric drive and hydrogen. The company said it believes in having open development into several options to meet low- and zero-emissions targets.
This is a common mentality for many in the off-highway equipment industries, as several companies we have spoken to in recent years have emphasized that no one solution will work in all applications.
READ MORE: Hydrogen is Here for the Long Haul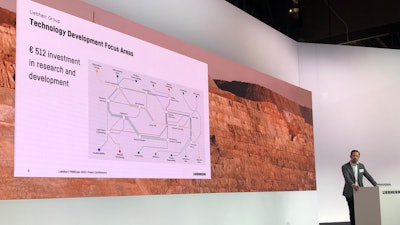 Leading up to MINExpo, Komatsu announced formation of an alliance to develop zero-emissions mining equipment. The company will work together with several of its customers to plan, develop, test and deploy mining equipment and related technology which reduces emissions.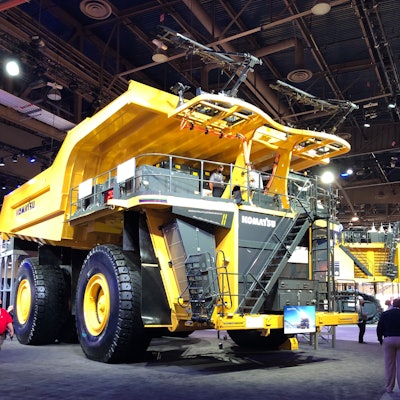 First on the agenda is developing a power agnostic mine haul truck concept capable of running on various power sources. At MINExpo, Komatsu showed the first iteration of this concept truck which was equipped with electric power and trolley operation.
Rolls-Royce's Power System business unit also presented its vision for a concept mine haul truck; the mtu concept machine aims to reduce carbon dioxide (CO2) emissions by up to 30%, the company says. The concept truck features an mtu 12V 2000 mining engine combined with an mtu EnergyPack battery system. This hybrid system was displayed for the first time at MINExpo. According to the company, the batteries on the concept truck will be recharged using regenerative braking. Not only will this keep the batteries charged, but it will also allow the use of a downsized engine which will help to reduce fuel use as well as emissions.
Hybridization is seen by many in mining and other heavy-duty off-highway equipment industries as a more feasible means of meeting emissions reduction targets in the near term. Technologies which are available today can be utilized, making it easier to deploy for customers. And for larger equipment which may not yet be able to be electrified, hybridization provides a solution that can be used more immediately and help reduce emissions now.
As this year's MINExpo demonstrated, reducing emissions is of vital importance to the mining industry and there are many options for doing so. How electrification, hybridization and alternative fuels for this market will progress remains to be seen, but their development journey will remain an interesting one to watch.
We want to hear from you!

Did you attend this year's MINExpo? If so what were some of your highlights from the show? What new things did you learn about the mining industry? Couldn't make it to the show this year? What do you want to know more about? Let us know!

Reach out to us on social media or send an email to editor@oemoffhighway.com

Twitter: @OEMOffHighway

Facebook: @OEMOffHighway

Instagram: @oemoffhighway

LinkedIn: @OEMOffHighway
Companies in this article