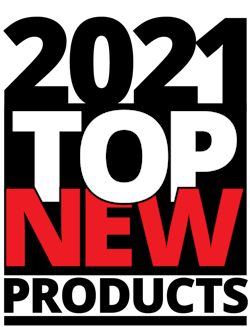 Each year the Top New Products award winners provide insight into the components and engineering services or technologies our readers find most interesting. Winners also offer a look at some of the current trends in the heavy equipment industries, and what design teams are potentially most interested in as they develop their new machine designs.
OEM Off-Highway compiles this list of top products based on page views over the past year. One winner is selected from each of the six main categories we cover on our website:
Engines
Drivetrains
Fluid Power
Electrical & Electronics,
Operator Cab
Engineering & Manufacturing
Engines
Cummins High-Horsepower QSK95 Engine for Mining Applications
For its new QSK95 engine, Cummins chose to utilize a clean-sheet modular design which ensures easy servicing and average 15% better life to overhaul. The high-horsepower engine meets many of the requirements of heavy-duty mining applications.
Features of the engine include:
Produces up to 4,400 hp (3,281.1 kW)
Offers optimum power-to-weight ratio for 400T haul trucks
Provides 3,800 hp (2,833.7 kW) rating for increased fuel efficiency
Specially designed single-stage turbocharging ensures power at high altitude
Learn more about the High-Horsepower QSK95 Engine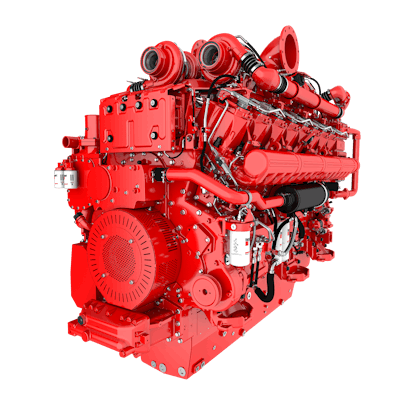 Runners up in the Engines category
Yanmar 3TN86CHT and 4TN86CHT Industrial Diesel Engines
Kubota D902-K Electronically Controlled Engine
Drivetrains
ZF eTRAC Electric Drive System for Wheeled Excavators
Like many manufacturers, ZF foresees electrification increasing in the off-highway equipment market, and thus continues to develop components for use in these machines. Its eTRAC electric drive system for wheeled excavators provides a 100% electric solution for OEMs. It is modular in design and consists of a 2-speed powershift transmission, electric motor and inverter.
According to the company, the system matches the performance and productivity of traditional drivelines. This helps to ensure OEMs and their customers will get the benefits of electrification while still being able to use machines as they always have.
Features of the electric drive system include:
Compact installation space
Can be scaled up to peak torque 850 Nm (626.9 ft.-lb.) and continuous power of 80 kW (107.3 hp)
Modular design can easily be adapted for various vehicle applications like backhoe loaders, telehandler, forestry equipment, etc. as well
Learn more about the eTRAC Electric Drive System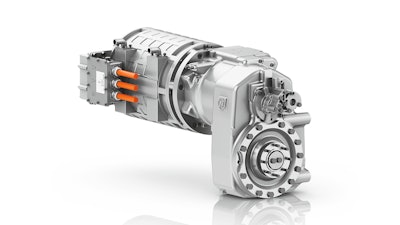 Runners up in the Drivetrains category
Carraro eFLS 3.2 Transmissions
Omni Powertrain Technologies Electric Drive
Allison Transmission FracTran Hydraulic Fracturing Transmission
Dana Heavy-Duty Drivetrain for Rough-Terrain Cranes and Terminal Tractors
Fluid Power
Eaton SLV20 Load-Sensing Proportional Directional Valve
The Eaton SLV20 load-sensing proportional directional valve is designed to provide more flexibility and control than traditional cast iron control valves. According to the company, designing it in sections enables stacking of multiple functions which can greatly benefit system and overall machine designs.
"Our new SLV20 valve is a compact, lightweight solution for low-flow applications compared to a traditional cast iron sectional mobile valve, which can be large and heavy," said Tolu Oluwatudimu, EMEA product manager, screw-in cartridge valves, Eaton, in the company's press release announcing the introduction of the valves. "The valve can help original equipment manufacturers consolidate and reduce the size of main system circuits on mini and micro platforms. It's also an ideal solution for upgrading from manual to electrohydraulic actuation."
Features of the valves include:
Brings priority flow sharing to low-flow machinery with the versatility and serviceability of screw-in cartridge valves
Utilizes

Eaton's

new ESV9 four-way three-position proportional solenoid cartridge valve in a hydraulic integrated circuit concept
Meter-out or meter-in control is achieved through logic elements, which enables flow sharing and flow prioritization in the same valve bank
Learn more about the SLV20 Load-Sensing Proportional Directional Valve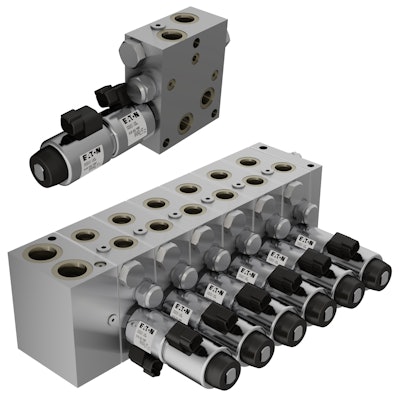 Runners up in the Fluid Power category
Sun Hydraulics FLeX Series FREP Solenoid-Operated, 3-Way Proportional Flow Control Valve
Bosch Rexroth Pre-Compensated Valve Platform
Bosch Rexroth Hägglunds Atom hydraulic motor
Eaton X3 Medium-Duty Pump and Motor
Electronics
Equipmake HTM 3500 High Torque Electric Motor
The Equipmake HTM 3500 motor is designed specifically for heavy-duty commercial vehicles, offering the high torque and low motor speed to best suite these vehicles. As it fits directly onto the propshaft of large electric vehicles, there is no need to use a separate gearbox which can help simplify designs and reduce wear points for OEMs.
This motor is available as a standalone unit or as part of Equipmake's EBus retrofit electric bus chassis. The retrofit chassis helps bus manufacturers quickly convert their vehicles to electric power.
Features of the electric motor include:
Direct drive design negates need for separate gearbox, allowing for more efficient packaging
Produces maximum torque of 3,500 Nm (2,581.5 lb.-ft.) at 1,000 rpm
Designed for multiple heavy-duty vehicle applications, including electric buses, heavy-duty on-road trucks and mining equipment, where high torque and start/stop duty cycles are required
Learn more about the HTM 3500 High Torque Electric Motor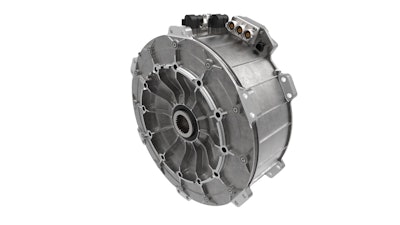 Runners up in the Electronics category
Dana TM4 SUMO HP Electric Motors and Inverters
BorgWarner HVH 320 800V Electric Motor
T/CCI Manufacturing Electric Compressors
Appareo Gateway 370 Telematics Control Unit
Operator Cab
Sure Grip Controls, a subsidiary of Bailey Hydraulics, designed its JSC CAN Series Joystick for rugged off-road equipment applications. Its IP69K and IP67 sealing ensure durability; testing has shown the joysticks to be durable to more than 5 million cycles or 20 million operations.
"This dual axis Hall effect joystick operates with all our current handles and increases our ability to support higher volume applications," said Mark Vandersluis, Product Manager of Sure Grip Controls, in the company's press release announcing the launch of the joystick.
Features of the joystick include:
Dual axis joystick
Offers minimum below-panel depth
Integrated connector
Learn more about the JSC CAN Series Joystick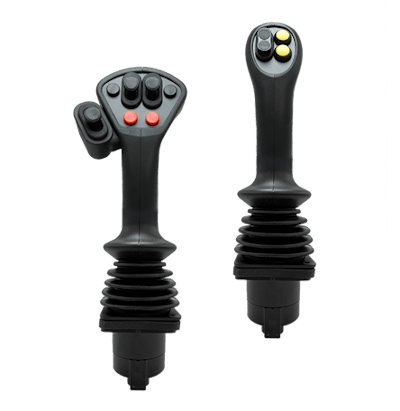 Runners up in the Operator Cab category
Curtis Industries All-Steel Cab for New Holland Workmaster 25S Sub-Compact Tractor
EAO Series 09 LIN Bus Switch Panel and Universal Switches
OTTO K1S ON-ON-ON Triple Throw Rocker Switch
Grote Industries Disinfecting Light for Bus HVAC Systems
Engineering & Manufacturing
Siemens Simcenter 3D 2021
Siemens Digital Industries Software's Simcenter 3D software is part of its Simcenter portfolio of simulation and test products. Simcenter 3D provides a shared engineering platform for simulation; the latest version includes enhancements to the AI-driven user experience as well as new simulation types.
According to the company's press release announcing availability of the new simulation solution, its Simcenter Multimech tool can help engineers see where cracks are developing in their designs and how it could change materials, and thus the final structure.
Features of the simulation software include:
Includes full representative volume element (RVE) separation and 2D and 3D automatic insertion of cracks or cohesive zones in materials
Auralization post-processing tool allows users to listen to simulated pressure results to evaluate sound quality
Acoustics engineers can hear the noise produced from various vibrating components or products as opposed to having to visually evaluate through charts or graphs
Learn more about Simcenter 3D 2021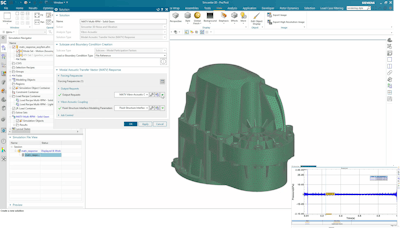 Runners up in the Engineering & Manufacturing category
dSPACE MicroAutoBox III AC Motor Control Solution
Vertex 3D Visualization Platform
Siemens Digital Industries Software Teamcenter Quality Software
EAO Emergency Stop Switch Configurator
If you're a component manufacturer interested in submitting a product for next year's awards, contact editor@oemoffhighway.com for more information.
Companies in this article